Software Development Company
Compartmentalized working is no solution in developing software. No team is an island. None can work in isolation. Work is team-play. Break down the barriers. Ensure your software development team is not at logger heads with Testing team or Operations Team. Put them on the same page –always. Push out legacy IT process mindset, ring in tighter integration to increase process efficiencies, teamwork, collaboration, and overall business value. Our DevOps Engineers automate and evangelize software development life cycles to improve
Get a Quote
I'm looking for:
DevOps Engineers
We at Tvisha provide integrated DevOps Engineering to achieve 360-degree view of processes and build a culture of shared responsibility, transparency and faster feedback.
Faster product deliveries imply more work flow and better capital turnover. Our Enterprise DevOps Platform lateralizes processes ensuring development, quality and infrastructure personnel are working in tandem at every stage and are proactive in problem resolution and providing uninterrupted feedback.
Get "best" business value by choosing DevOps Cloud Computing from Tvisha – the process to deliver best products or services in the shortest possible time frame. We offer DevOps as a Software as a Service (SaaS) freeing existing staff to focus on analysing and acting on the real-time business insights generated by DevOps.
Break down silos
AT WORKPLACE
Benefits of DevOps:
Our DevOps Engineering ensure
- Shorter development cycles.
- Increased deployment frequency.
- Dependable releases.
- Continuous attention to technical excellence and good design.
- Ideal cross-team bondingi
- All-round skill development across functions
- Optimized capacity utilization of Enterprise
-Maximised predictability, efficiency, security and sustainability of operational processes.
- Perfect coordination between developing and deploying software.
- Client satisfaction through early and continuous delivery of valuable software
- Best architectures, requirements, and designs emerge from self-organizing teams
A DevOps Lifecycle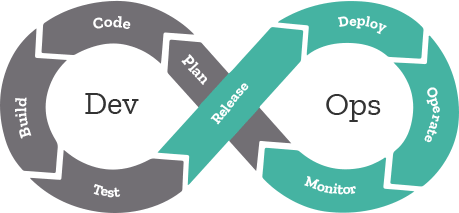 - Deploy 200 times faster
- 24times faster recovery times
- 50% less time on solving security issues
More Services
This truly is a milestone for our team and we are excited for the future as things begin to get more and more hectic and continue to grow.