Ios App Development Company
We Offer Custom Iphone App Development Services For Businesses & Startups To Engage Users Effectively
Get a Quote
I'm looking for:
Introduction
Innovation and technology intertwine at Tvisha for an exhilarating experience for clients. Our professional iPhone app developers have it in them to give what the enterprises need. Being a leading iOS app development company, Tvisha Technologies caters world-class iPhone applications within least turnaround time coupled with a most economical price tag.
Make in Tvisha:
Planning and Requirement Analysis: Our development strategy hinges on understanding the client and the need perfectly. Furthermore, the expert team at Tvisha works very closely with clients for requirement, clarification. Finally they freeze specified features after due consent from clients before starting on the building work.
Digital transition: This is our base to kick start a project. First off all, we develop a digital format and an application blueprint for all technical needs with utmost care before stepping in. In addition, novelty and out of box ideas form the core elements to provide efficiency and utility to the end product.
Testing: The diversity of your needs is the bedrock of our effort. Our app development strategy targets at designing and building a fully functional yet an appealing application to more than match your need and user engagement. Hence, we always go with recent version of XCode to leverage all the iOS functionality advancements that enriches your application's productivity. We are adept at Customization to provide utmost value to your budget.
Coding: Now it's time for the final touch. Our testing team implements and adheres to strict quality control tests to achieve maximum precision. Moreover, we perform both manual and automation testing consequently with apt testing tools. As a result, we cater complete bug free iOS apps that ensure your business is suitably served with our apps.
Delivery: You get a fully fit and trim app free from bugs and hitches, all well within the estimated timeline. It is not the conclusion; it is the beginning of our client relationship. We offer technical and maintenance support to our customer with round the clock expert assistance.
Cost effectiveness: We offer app development packages at most economical terms as compared to current market trend without compromising with app quality.
Customization: Customization is what that makes us stand ahead of competitors. No wastage of resources, time as client requirements are the fountainhead of our development strategy.
Experience: We have 19+ years of experience in world class iOS app development to serve varied regions worldwide.
Flexibility: our iOS app development professionals have hands on experience - Both native and hybrid iPhone app development.
Loyalty: We value our customers to involve them throughout the entire development process of app designing till perfection.
Maintenance and support: We consider App development as only a starting point of a long journey. We offer 24/7 - 365 days expert assistance and back up support.
Mirror effect: We offer exactly what you are looking for to convert your thought in to reality incorporating latest technical breakthroughs.
On time delivery: Time and tide waits for none. We value your time, hence complete the entire process without time overruns thus meeting your schedules to the last minute.
Perfection: Design and technical perfection is our promise for the client when the relationship begins and we are proud of our work culture.
Security: Security is the soul of applications. We have extra eyes on app security form a very early stage of designing and coding process. As a result of which, all the app users may keep their data and transactions secured and use your app without and risk involvement.
Advantages
We are living in times of Technology. Technology is driving people like never before. The prolific growth in usage of smartphones and technology devices calls for consistent and commiserate growth in apps.
The platform that businesses choose the most is the iPhone. iPhone applications help to promote businesses and establish market leaders. The growth of apps is led by iPhone app development. Get them done from the right iPhone app development company to serve your customers with seamless UX.
Take the leap. Let Tvisha make it happen for you.
Our Proposition
Tvisha is adept at developing android apps across business verticals such as:
Hospitality
Education
Fashion
Retail
Automotive
Travel
Health Care
Banking
Entertainment
e-Commerce
More Services
This truly is a milestone for our team and we are excited for the future as things begin to get more and more hectic and continue to grow.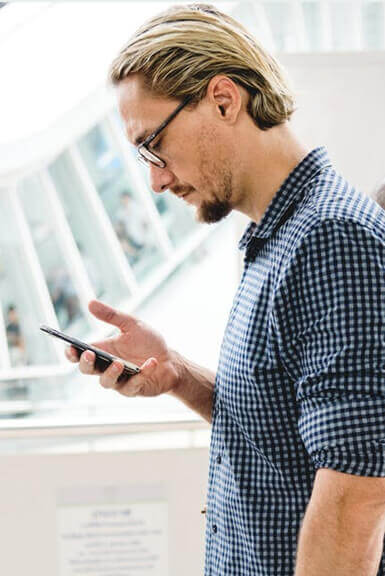 We are Listed
This truly is a milestone for our team and we are excited for the future as things begin to get more and more hectic and continue to grow.