Android App Development Services
We Offer Custom Android App Development Services For Businesses & Startups To Engage Users Effectively
Get a Quote
I'm looking for:
Fast and Furious - that describes best the current Android application development activity status. The ever evolving technology is being put to use to cater to the burgeoning needs of clients across the globe. We at Tvisha Technologies take a lead role in developing user friendly apps for users transcending geographical boundaries. We made a mark in the competitive world of app development by designing and developing scalable and robust applications with the goal of increased business productivity and initial return on investment.
Knowledge upgradation is the only sure and assured way forward in any competitive field. Android application development is no exception to this rule at Tvisha. Our Professional App developers are ever in mission-mode to keep themselves abreast with current developments in the Android platform with the usage of cutting edge technologies. Be it be a native android app or a hybrid android app, your requirements get the best of treatment at Tvisha.
Experience, innovation and reliability- the three main features associated with Tvisha. As a leading mobile app development company, we offer effective and reliable services that meet all your business objectives. Our highly skilled app developers create unique and interactive apps that are sure to enhance the utility of your device.
- We offer 'IDE' (Integrated Development Environment'), which provide you with all the necessary tools in one place and streamline the process with helpful tips, flawless testing.
- Our technical team considers all necessary parameters for designing and developing and delivers within affordable budget.
- Our technical team considers all necessary parameters for designing and developing and delivers within affordable budget.
Advantages
Custom Android Apps Development
Android Games Development
Android Healthcare Apps
Enterprise Android Applications
Android M-commerce Applications
Android Social Media Applications
Android Support, Maintenance, Testing
Our Proposition
Tvisha is adept at developing android apps across business verticals such as:
Case Studies
Continuous collaboration for garnering requirements and delivering flaw-free technical solutions backed up with 24/7 technical support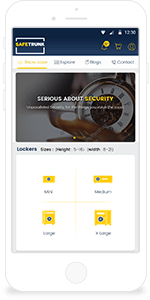 Safe trunk
Industry : Finance
SAFETRUNK – an independent ultra secure purpose built safe deposit locker facility, with cutting edge technology & security integration that surpasses industry standards, we are dedicated to delivering unrivaled security to our customers accompanied with world class service.

More Services
This truly is a milestone for our team and we are excited for the future as things begin to get more and more hectic and continue to grow.