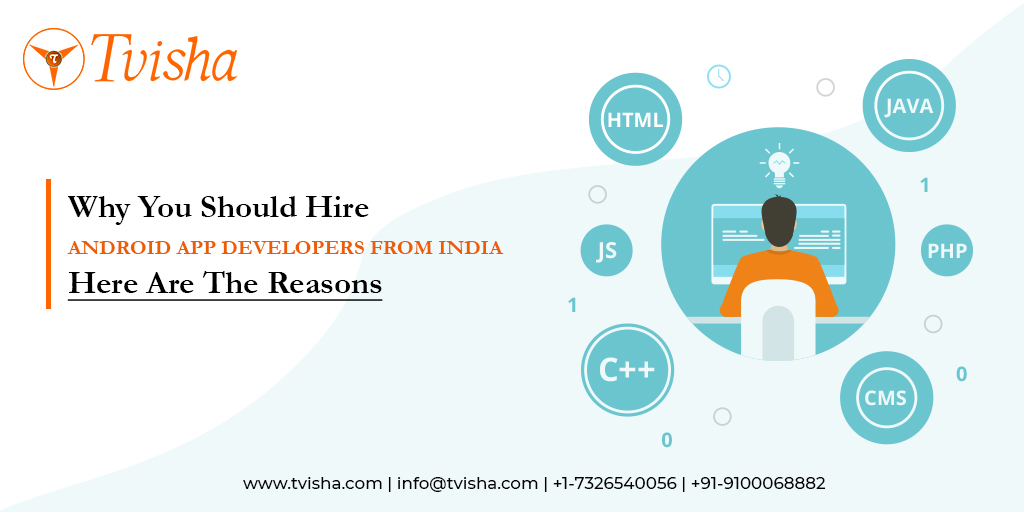 Published October 25,2018 by
Tvisha
Why You Should Hire Android App Developers from India – Here Are The Reasons
Ever since the advent of the internet India has slowly been evolving as one of the hubs for IT business. This rising trend was given a new boom with the introduction of smartphones and their apps. Currently, India is home to various IT companies, web developers and top mobile app development companies. These Indian app developers were given a boost by the ever-expanding enterprises and budding startups who looked towards mobile as one of their potential market. The mobile app space today is cluttered with various apps, regardless of their platforms, providing varied services to billions of users worldwide. If you are one of those businesses who are turning their heads toward mobile devices, then having an app is certainly the way to go.
However, once you have decided to go mobile and hire mobile app developers, the biggest immediate challenge in-front of you is the choice of developers. Mobile app development is a very big business and the options are plenty. Choosing the correct app development company for your needs can become a very daunting task in such a scenario. There are plenty of developers all around the world, be it in the USA, Europe, India, China etc., who hold the ability to convert your business idea into a very attractive, feature rich app. So, which country do you choose to base your app development project in? It is very simple, or at least, it sounds very simple: Choose a company and region where you can generate the maximum RoI for your app.
Here, today, we are going to take look at why you should hire Indian app developers. Often times, you might think that I am based in XYZ country, so I should hire a developer from my country itself. This sounds quite logical too. You can have easy accessibility, real-time communication, joint ventures, and the like. However, here is an alternate train of thought: You should outsource your app development project to India. Naturally, the question arises, why? Here, let's take a look at why you should outsource your app development project to India.
Benefits of Hiring Indian App Developers for Your Project
Budget: Indian app development companies are quite budget friendly. The cost of developing an app in the Indian subcontinent can range around half to one third of that charged by an American or European developer. So, if you have a budget constraint, think no more, pack your things and head to India to see your problem being solved effectively and once for all.

Client Satisfaction: Top mobile app development companies in India have been established on the ethos of customer satisfaction. India is a fairly well-known technology hub, and as such is home to numerous companies of similar profiles who are competing tooth and nails with each other for a bigger pie of the market. And in such competitive scenarios, keeping and attracting new clients can be a challenge if client satisfaction is not the prime USP of a company. Indian developers are known to take various client friendly measures.

Effective Communication: In this era of technological advancements, communication across the world is not a very difficult task. You can very easily establish real-time communication lines with your development team from anywhere in the world using Skype or similar communication tools. You can provide instant suggestions and feedback to your development team down in India to implement necessary changes as per your discretion. The bonus point for you here is that almost all Indian developers are well versed in English, something which can be rare in developing countries.

Skilled Workforce: It is a known fact that India is an IT hub. Therefore, there is no shortage of talented developers and top mobile app development companies. These developers are not only one of the best in the business, they are ever ready to learn newer ideas and technologies and can adapt to the changes quite well. They can seamlessly transition from one version of a platform to the next without much fuss.

No downtime: If you are from western countries and have decided to hire Indian app developers, you can fully exploit the difference in time zones to the fullest. The difference in time zones can be as much as 12 hours and if that is the case, you can have two teams working at different times in different parts of the world on your project. This can give you an uptime of almost 24 hours. This will be quite similar to having a team work on your project after the Flexible work hours. You can rest assuredly that your project will be completed on time.

Human Resource: As we have established in a point earlier, being an established IT hub, Indian app development companies have no dearth of talented pool of developers. In other words, there is no lack of human resource for your project. Additionally, due to their commitment to customer satisfaction, they even allow you to hire developers of choice. You are provided an opportunity to interview and select from a pool of developers the talents you deem best suited to your project.

Engagement models: An engagement model is a working model that outlines your interaction with your developers as the work progresses. Top mobile app development companies based in India are quite flexible in this regard and will work according to your preferences. These engagement models and hiring models can help you finish your project within its set timeline.

NDA based contract: It has already been established that Indian app development companies are super customer friendly. They can go to any lengths to in order to satisfy your needs. Quite a few times, you may require your ground-breaking ideas to be confidential. Indian developers will sign the Non-disclosure agreement if you wish to quite willingly. They won't show your project in their portfolio. Your project will be in safe hands and you can have your peace of mind knowing it.
In the end, it is only you and your judgment based on which you are going to hire mobile app developers. The market is afloat with plenty of options, and you should select the one best suited for you based on the above-mentioned checkboxes top mobile app development companies check.