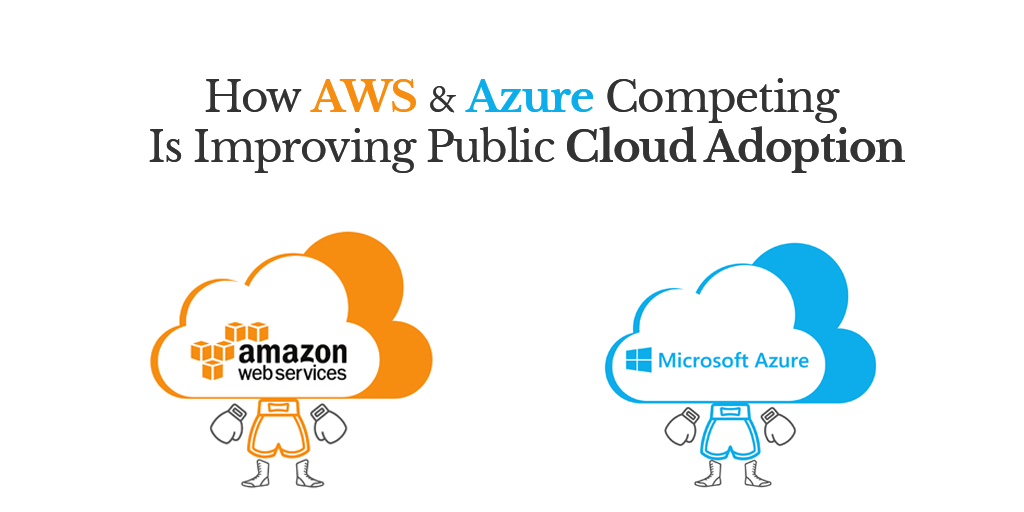 Published September 06,2018 by
Tvisha
How AWS and Azure Competing Is Improving Public Cloud Adoption - Cloud Service
Considering the rate at which Computer Sciences and Information Technology have grown, it is no surprise that people, businesses, and enterprises are looking toward cloud for their computation and storage needs. Buoyed by this demand for Public Cloud Adoption, major tech enterprises have entered this market.
The competition for customer acquisitions is fierce, and thankfully, there is no shortage of investment in this field. The fact that major players like Google, Microsoft, Amazon, IBM, etc. are betting their money and future on the cloud is a testament to its huge potential.
Although there are a number of options for the public to look at for their cloud needs, Amazon Web Services and Microsoft's Azure cloud service have stood head and shoulders above from the rest of the pack.
They are the two leading cloud service providers, and as things stand now, Microsoft Azure services have a narrow lead on its competition, AWS, with an annual revenue run rate just north of $21 billion as compared to Amazon Web Services' $20.4 billion.
A distant third in this race for public cloud adoption is IBM, whose revenue run rate is just a half when compared to second-placed AWS's, at $10 billion. These revenue numbers certainly suggest that the competition for the top spot is quite fierce, and it is this competition that drives the innovation in the field of cloud services.
It is not exactly surprising to see such meteoric rise of the cloud services. If we classify existing companies on the basis of the number of employees, companies with a workforce of less than 5000 can be classified as Small and Medium Businesses (SMBs), and those with greater than the specified number can be labelled as enterprises.
Improving Public Cloud Adoption By The Enterprises
This is where major distinctions begin between the two behemoths of the cloud universe. AWS has a strong awareness level among SMBs, whereas Microsoft Azure services and Microsoft Azure Cloud managed service providers are often preferred by the enterprises.
This distinction in consumer base has helped the companies design their products with an increasing focus on their own USP while also integrating newer and better features in order to entice other consumer bases.
Traditionally, ever since its launch in 2006, AWS and Amazon cloud computing products have been the market leaders with regard to the total revenue generated until 2017. Even today, if we are to go by the sheer market presence and total consumer numbers, it is by far the largest cloud service provider present with a 34% market share, almost three times the market share of Microsoft Azure (11% market share). The mere number of AWS consumers is a worry for Microsoft and other competitors, which in turn spurs them to improve their products, which, ultimately, boosts the market for these products.
The same can be said for the Amazon Web Services when pitted against Azure cloud service providers on the basis of revenue as well as yearly growth rate.
The enterprise-first nature of Microsoft Azure Services means despite a lower market share, Azure cloud services have pipped AWS in terms of revenue, which, coupled with the fact that Azure's growth year on year has seen no decrement and currently stands higher than that of AWS, should motivate Amazon to invest in innovation and public friendly products, which again works for the benefit of the users.
The fight between the companies to stay on top and grow faster than ever has certainly boosted innovation and public perception of the product. Today, customers are no longer reluctant to spend on cloud services, which can be testified by a recent study, which suggests that public cloud spending will grow at more than 16% year on year (SMBs at 18%, enterprises at 13%). This is music to ears for the proponents of public cloud adoption.