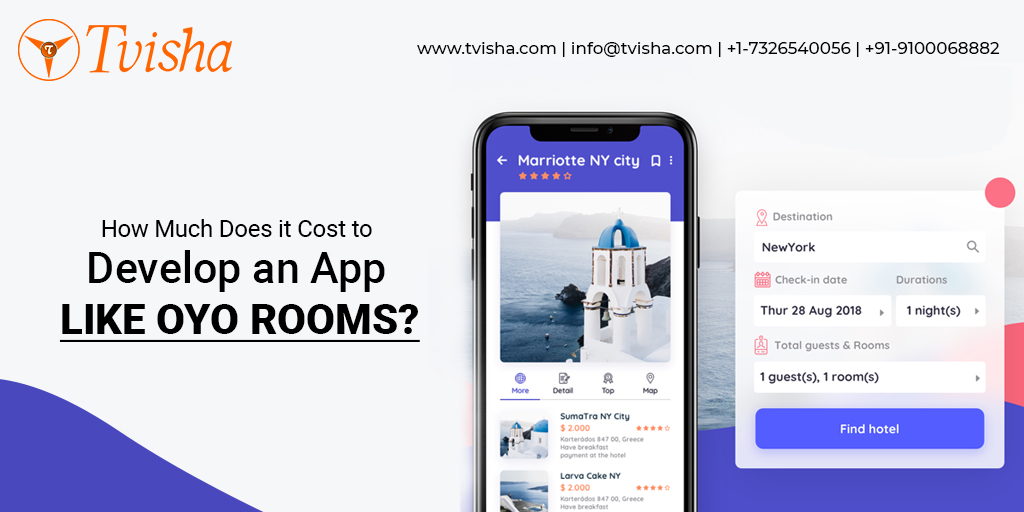 Published October 26,2018 by
Tvisha
How Much Does it Cost to Develop an App like Oyo Rooms?
Oyo rooms is one of the premiere hotel booking app currently functioning in India. It is the default destination for a lot of users, especially amongst the younger generation. Currently, Oyo app is the largest platform-based hotel network in India and operates more or less in the budget section of the hotel industry. Its success and scale can be easily gauged by the fact that it has been able to cater to the needs of a country as big and as diverse as India without much hassle. The fact that according to Oyo's website, it is going to start operations in Malaysia too in the near future only serves to add glory to its already glowing reputation.
Oyo rooms was launched in 2013. If you look at it now, you might notice this is not a very long time ago. However, they have since grown by leaps and bounds and are currently operating in almost every major city in the country. They have achieved a market presence in 160 cities in India, a growth which is unprecedented in this sector. Ever since the launch of their services, they have constantly received backing of various venture firms and capital investments by investors like Softbank groups, Greenoaks Capital, Seqouia Capitals and Lightspeed India. They are an app-based service and serve to connect hotels and guests. Oyo rooms is considered one of the best Indian startups and this fact has been validated in a research carried out by CB Insights for The Newyork Times.
What to Expect When Developing an Oyo-like Hotel Reservation App: Trivialities and Costs
The success of Oyo rooms has spawned a number of similar apps and more importantly, has acted as a catalyst for on demand hotel booking app development. People have tried to emulate Oyo rooms, its operations and most importantly the app. So, if you are planning to develop a hotel reservation app, you should start by knowing its trivialities and the cost of developing one. Here, let us take a look at what can you expect from you Oyo like app:
Registration and login access: Registration and login options are very important features to have if you want to retain your customers. It helps you to organize a user's activity into a single profile. This can further be used to contact the user via push notifications or e-mails regarding any grievances or personalized offers. Such customer business interactions often keep the users engaged with the company and as a result, they are more inclined to return to you in case they require your service.

Search feature: Your hotel booking app should have search feature in it, so that potential customers can search a specific hotel according to their own wishes. The search bar, additionally, should have various filters too so that the guests can narrow down potential hotels according to their own preferences. These filters can be anything, from location based, geo-tagged search to budget filter. This feature goes a long way in making your app customer friendly.

Comparison: Your app should have a feature where the users can compare hotels based on various parameters of their choices so that they can get a better deal. This will help them register your app in their good books and check it out again when they need to in the future.

Booking services: Booking services might look to be a very obvious feature to you, something around which hotel booking mobile app developmentindustry revolves. However, you should be surprised to know that many overlook this step. A lot of apps out there are simply a comparison business, but your Oyo like app won't make the cut without it.

Payments: Having a payment portal is going to be big bonus for your app. This will not only allow the user hassle free online transactions, but also save your trusted hotels from customers who might haggle or are extremely rude. Another thing to note, since we are here, is that your payment gateway should be completely secure and should abide by all the current market standards. Additionally, you can also have your own wallet services.

Customer Services: A hotel booking app is basically a service provider. It matches guests to their hotels, and helps them with the entire process of booking a hotel. However, often times you might find that customers are left with a bad taste due to some slack along the process of their stay. This may leave them gruntled, which is not good for your business. So, having a customer service functionality can help you satisfy a disgruntled customer.
Now that you have gone through various aspects of hotel booking mobile app development, you should have a clearer picture in your mind about all the things that you can have in your app. And once you have an outline of the functionalities of your app ready, you can move onto the development stage and the cost of making the app.
Factors that Determine the Cost of Custom Application Development
A custom application development company charges for their services based on multiple factors:
Platform: The platform for which your app is being developed can make a difference on your wallet. Usually, Android developers charge more for a similar app as compared to iOS developers.

Design: Oyo Rooms has a very attractive design which is quite easy on the eye. A similar on demand hotel booking app development venture is a must if you are to attract and engage users. Having an attractive design needs a lot of refinement and as a result will push your budget up by a margin.

Size: Size of an app basically refers to its functionalities and features. A bigger app is certainly going to pack a lot more juice in it and as such requires a lot more effort to build.

Location: The location of your custom application development company can affect your budget by a huge margin. Asian developers usually come cheaper than European or American developers.
So, now that you have an outlook of the technicalities and an estimate of the budget for hotel booking mobile app development, you can go ahead with the development of your Oyo app.