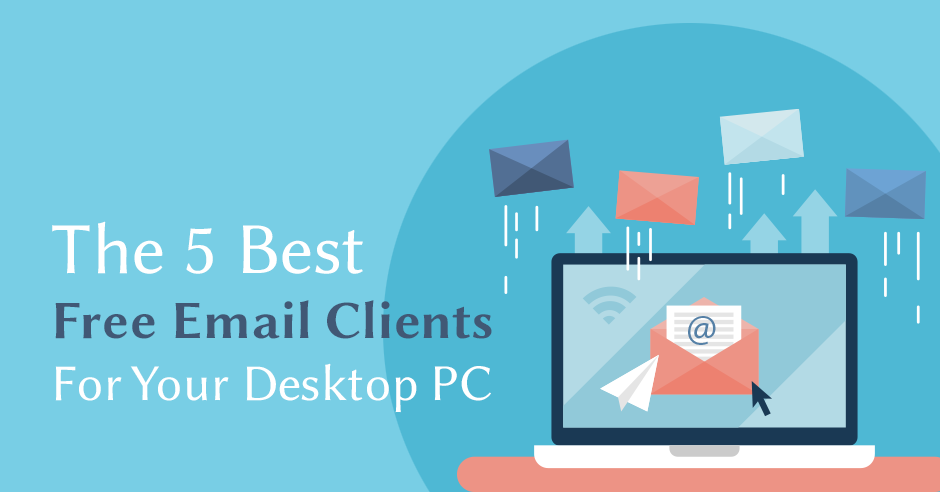 Published September 26,2022 by
Tvisha Technologies
The Best 10 Open Source Desktop Email Clients
Do Email Clients Really Matter?
Email is a stand-alone communication mode for any business. However, having multiple accounts and managing them on different platforms consumes precious money.
Got confused?
Time is Money, Right?
Here comes the advantage of open source email client that organizes emails and keep your inbox sorted through a single user interface. These email clients windows save a lot of time for businesses (in other terms, gains you profits). So, it has become the need of the hour to pick the best email software to boost your productivity.Let's get into some depth about email clients.
Introduction
Although technology is advancing, many people still use emails for professional communications. They made the formal interactions seem simplified and accessible. It will be quite challenging to communicate inside and outside the organizations without the help of emails. It is necessary to use email for effective interaction because it acts as a secure medium for transmitting data. So an open source email client allows enterprises and users to set up a secure and safe interaction.
You know that Open Source Desktop Email Clients play an important role in the effective communication. Specific characteristics they possess make them easy to utilize and reliable.
Email clients offer a platform to make companies interact with their users efficiently. They also offer internal communication within a certain organization.
They utilize strong encryption keys and complicated algorithms to make secure and safe data transmission.
Using them, you can enhance your company's work efficiency and productivity.
So,elevate your small businesses with one of today's popular open source desktop email clients mentioned here.
All email clients render almost the same features, but some of them come with additional features.
Read on to Know More About Best Free Email Clients
1. Thunderbird: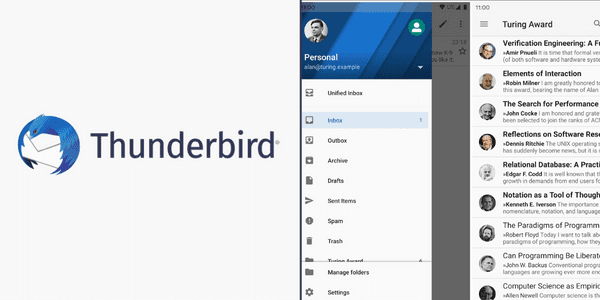 It is available for Windows, Mac, and Linux. Thunderbird is the only free and open source mail clients that is viable for everyday personal use. If you don't want to go for a premium in your lifetime, it is the best option. Linux users get the maximum benefit out of this email client.
Features
No clunky interface, glitchy performance, and lack of advanced features!.

You can have add-ons, extensions, and plug-ins within this single interface.

Attachments: No need to bother about the huge stack of files as this sends bulk amounts of attachments without any hassles.

Integrations include Manoderecha, RadioGNU protocol, Cardbook, and TbSync.

Customized Interface: This Open Source Desktop Email Clients customized interface lets you change the way of the view of email as you want.

Autorespond:This open source email client feature provides a reply automatically thus saves time.

Message Filters: You can have advanced filters that

Avatars: This feature lets you download this app at ease.

Read and Send Receipts: It lets you confirm on emails whether they were delivered/read or not.
2. Evolution: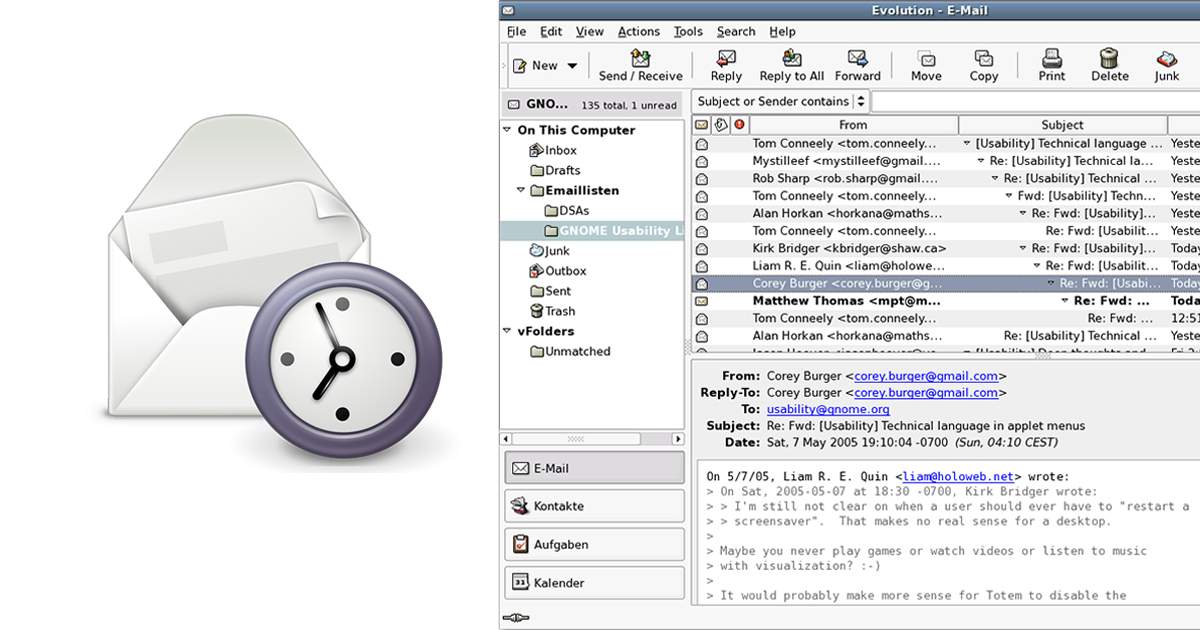 It is a personal information management application that offers calendars, address books, task list functionality, and integrated mail. Evolution is an open-source email client that supports different network protocols and industry-standard data formats for exchanging information. It can integrate with Microsoft Exchange smoothly. It also operates well with Gmail too.
Features
Calendar view: This email client has a built-in calendar view. It is to have clarity about the overview of your information over time.
Calendar integration allows you to synchronize your events and tasks with the calendar app.
Multiple account support: It supports various accounts without needing to log in and log out.
Ad-free: It doesn't have any type of external advertising.
GPG Encryption: Evolution supports GnuPG(GPG) for encrypting messages, files, emails etc.
Reminders: It lets you set reminders for events, actions, and tasks depending on time, condition, or place parameters.
Sync with Google Calendar: You can synchronize the evolution email client with Google Calendar.
Spam Filter: It can detect unwanted, virus-infected, unsolicited calls, files, emails etc.
3. Claws Mail: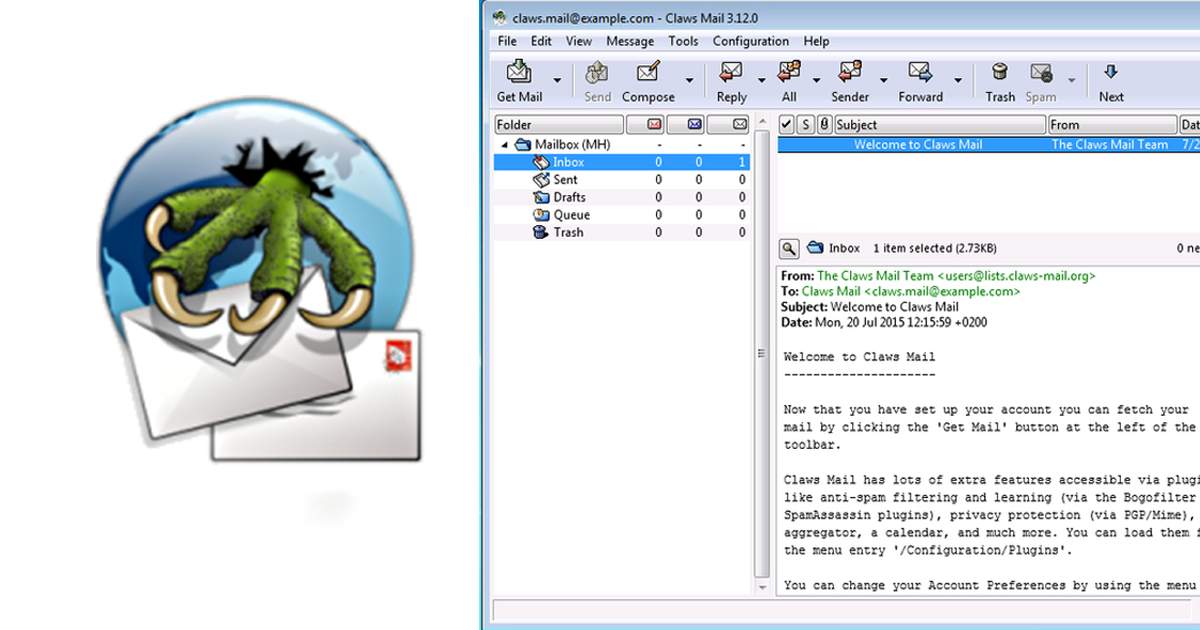 It is another best open-source email client software for Fedora, Debian, Ubuntu, FreeBSD, and Windows. It is a fast and user-friendly email client through which you can do every task that is email related. It is utilised to maintain your multiple email account emails. You can produce various accounts and configure claws-mail with your email service. For this, you can use the configuration tab. After configuration, use the Get Mail option to acquire all your email accounts in one place.
Features
Message: It enables you to pick whether you wish to receive messages from all your accounts or your current account. It will also allow you to compose email messages, forward the email, reply to emails, move emails to trash, and forward attachments etc.
Side Tools Panel: You can access your inbox, drafts, sent mail folder, trash etc., from the side tools panel.
Filters: You can filter your emails based on parameters like keywords, date, etc.
View: It is the best feature that is handy and allows you to alter this software look. It provides features such as thread view, fullscreen, hide all threads, show all headers, and expand all threads etc.
Offline Mode: You can disconnect this email client from the internet and use it offline. It also stops the synchronization between the email service provider and the client.
4. Sylpheed: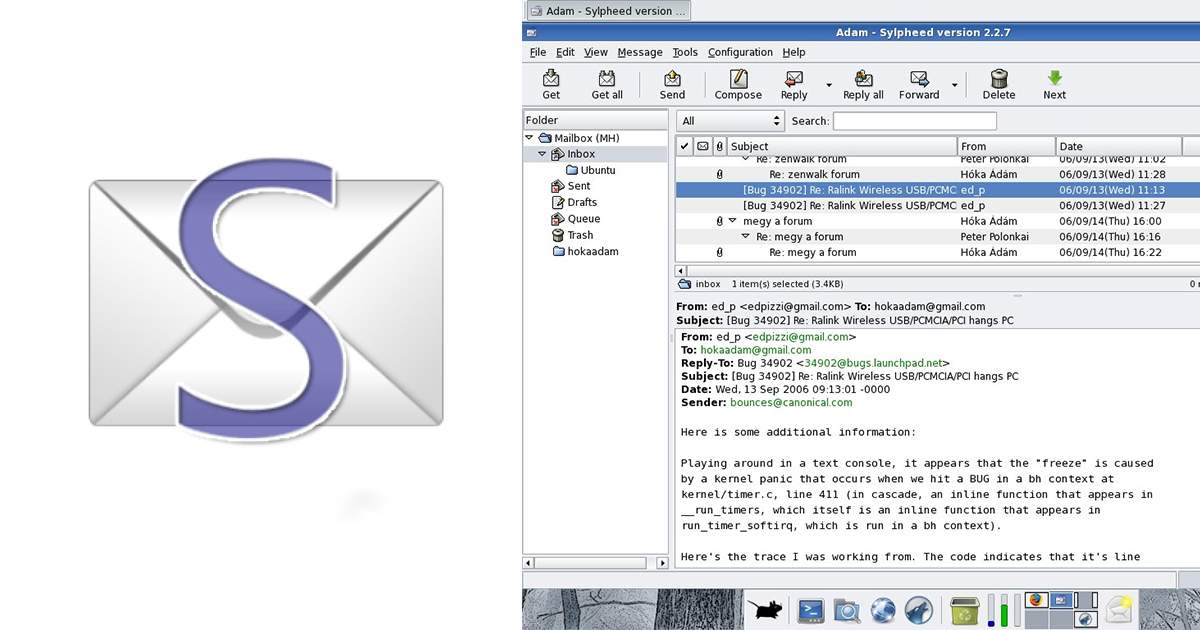 It is another open source mail client software for Unix, BSD, Linux, and Windows. It is lightweight and simple that you can get with a dated user interface. It doesn't support any email having graphics. But you can find significant management features like Address Book, Email Tools Panel, Mailbox support etc.
Features
Address book: This email client's address book helps you manage, store, and retrieve your contacts.
Email Tools Panel: You can access your sent mail, inbox, junk mail, and trash from this panel.
Inbox: You can use the inbox feature to pick from which account you wish to receive emails and messages. It also offers you options for replying to emails, composing mail, and forward emails.
View: It helps you optimize the email layout based on your requirements using thread view, collapse threads, expand all threads, separate folder trees etc.
Get All option: You can receive all your emails from every account in one place.
Delete duplicate messages: It is the best feature through which you can find and eliminate all the duplicated messages.
5. MailSpring: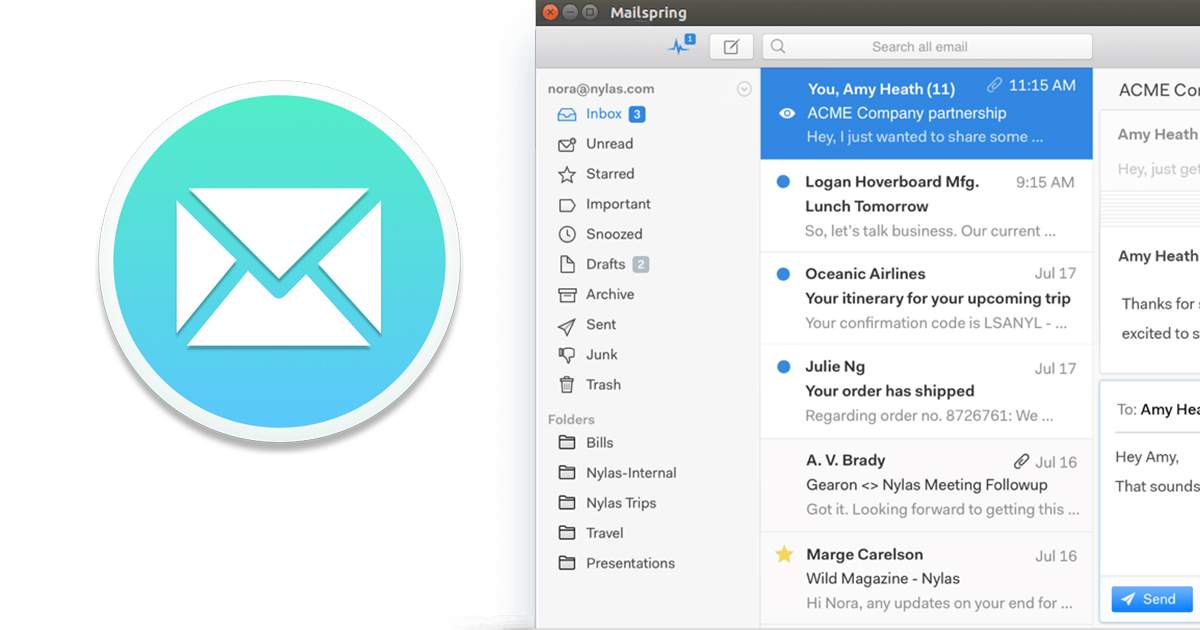 It is a desktop best email client mainly designed by Windows 10, Linux, and macOS High Sierra. It has modern characteristics like snoozing, templates, offline, search, inbox, and support for the labels of Gmail. It is free and supports every IMAP provider, including iCloud, Gmail, and Office 365. It also has a pro version with many features: contact profiles, read receipts, link tracking, etc.
Features
Dark Mode: It supports dark mode for convenient usage in low-light conditions.
Unified Inbox: View emails from every account in one unified view with this email client.
Support to multiple accounts: It supports various accounts without logging out and logging in.
Theme support: You can utilize templates and themes to change the look and feel of this open-source email client.
Email Organizer: It enables you to take control of your unified inbox by using controlling and filtering tools.
Extensible by Plugins/ Extensions: It can be extended with extensions, plugins, and add-ons.
6. KMail: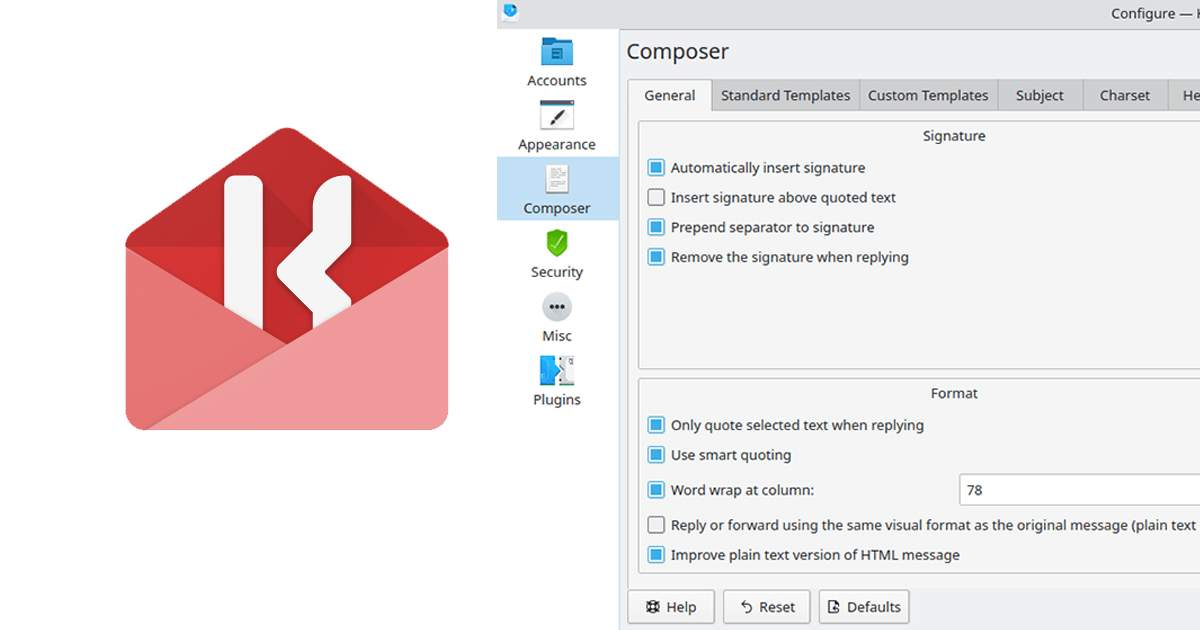 It is a state-of-the-art open-source email client windows which integrates well with widely utilized email providers like Gmail. It offers various features and tools for maximizing your productivity. It makes it easy and fast for you to work with large email accounts. KMail greatly supports different email protocols like Microsoft Exchange, POP3, IMAP etc.
Features
Secure default settings: It provides specific default settings for great end-to-end encryption support, safeguarding your privacy, and detecting spam.
Integration: The meeting invitations can be added easily in the form of events into address auto-completion, KOrganizer, crypto preferences, avatars etc., that are loaded from KAddressBook.
Standard Compliant: It supports standard push email, mail protocols, jnline OpenPGP, server site filtering, S/MIME, and PGP/MIME.
Other powerful features: It also has many features, which include multiple sender identities, offline support, powerful filtering, searching, multiple language support, mailing list management, tagging functionality, and flexible configuration.
7. Spike: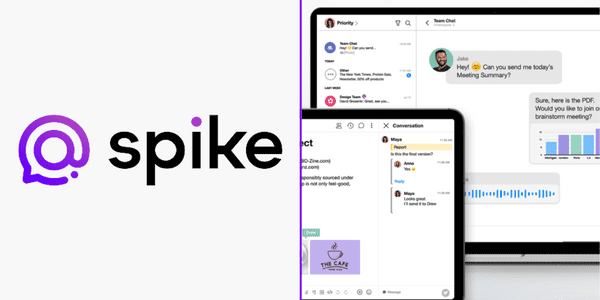 Spike is a cloud-based email client that is available for Windows 10, macOS, iOS, and Android. It's rich-feature set include:
Features
Built-in Group Chat: No need to ping a single message in this open source email clients windows to multiple people of your team instead you can have a group chat that speeds up the workflow. Even the people who don't use Spike can join the group.

You can connect all your Gmail, Yahoo, iCloud, Hotmail, Office/Outlook 365, GoDaddy email, AOL, IONOS mail, Exchange, and all IMAP mail accounts to Spike's unified inbox.

Calendar, Notes, Task: Create tasks, events, or appointments and add notes to them for more productive email management.

Advanced Search: This open source email client lets you find any file in a blink of an eye.

Video and Audio Calls: This feature lets you connect with your team/clients via audio/video calls.

Real-Time Messaging: read receipts, send later, undo send, snooze are the basic features that streamline the way of emails. You can include multi-media to emails. You can also use translate, text-to-speech, and voice notes for better email management.

Priority Inbox: It lets you concentrate on important mails by sending other unimportant messages and newsletters into another inbox.

File Preview: You can view the content of a file without opening or downloading it.

Reminders: This open source email client feature alerts you on incoming emails and to-do lists.

Instant Unsubscribe: It enables you to unsubscribe from unnecessary promotional emails and other subscribed newsletters in a fly.

Email Encryption: It lets your confidential data, attachments, and emails even more confidential.
8. Mailtrim: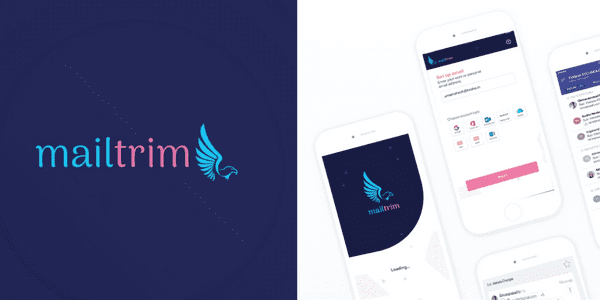 Mailtrim is the best free email client that works for all desktops-Mac, Windows, and Linux. It is a perfect tool for both small businesses and big giants.This open source email can support IMAP and POP3 servers. The features that vie anybody's attention are.
Features
Great UI: This open source email client is designed with simple and stylish icons and a good layout that fits the monitor of any size. Hence, it can be accessed at ease and quickly.
Clutter-free inbox: No restrictions on the number of accounts. It lets you manage multiple email accounts within a single inbox and classify them separately for quick access. You can access all contacts in this single interface as well.
Integrations: Cloud storage apps like Google Drive and Dropbox and CRM that enables you to build a strong and long-term relationship with your clients are integrated into this application.
Excellent E-mailing: You can label emails with a flag, add a note, and schedule emails. You can create signatures that will be added directly while composing a message. The advanced filters let you find out the required file wherever it is.
Preview: You can preview emails, images, and documents without opening them through this Open Source Desktop Email Clients.
Advanced Search: This feature lets you retrieve the required mails in a fraction of seconds. No need to go through the entire inbox.
Security: PGP support makes emails more secure and confidential.
Respond later: This reminds you of important emails that need to be replied in due time.
Customization: Display, reminders, and interface can be customizable as per your preferences.
EventCalendar: It lets you schedule emails with notes, highlights, and colors and get notified on the same.
9. eM Client: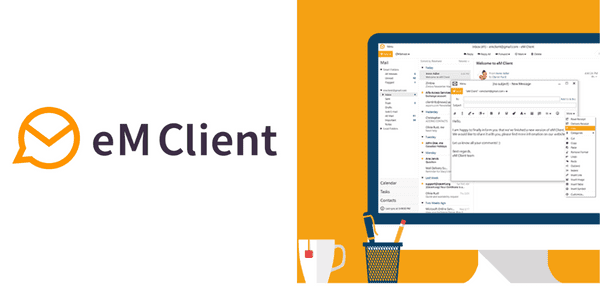 It is another desktop email client that is available for Windows and Mac OS and compatible with multiple mail servers. This email client open source comes with full support for all email services like Hotmail, Gmail, Yahoo, etc. and also with RSS feed support.
Features
Message encryption: This open source email client feature enables more security to your most confidential emails.

Calendar and Tasks: You can customize various views and interface, send invitations, and get reminders for all.

Contacts organization: Contacts can be synchronized with Gmail, Exchange, iCloud, Office 365, and Outlook. Users can view and manage communication and attachment history for each contact.

Advanced search and filters: These features in this Open Source Desktop Email Clients let you retrieve the exact email or attachment that you want.

Templates & Signatures: eM Client has a wide variety of email templates to design appealing emails and you can add signatures so that you need not to sign each time you compose a mail.

Conversation view: With this feature, all the messages are grouped automatically for easy access.

Integration: Chat services like Facebook, Google Talk, and Jabber. Thus, it is considered as an instant messenger.

Backup: All the data can be backed up when you need it. YOU no need have the fear of loss of important mail threads.

Spell Checker: Just go on writing. The spell checker will let you know when there are grammatical errors.

Offline Access: You can manage emails even in offline through this open source email client.

Message Encryption: You can sendPGP or S/MIME encrypted emails easily.

Premium features include unlimited email accounts, Email translator, VIP support, and Access to the license manager.
10. Mailbird: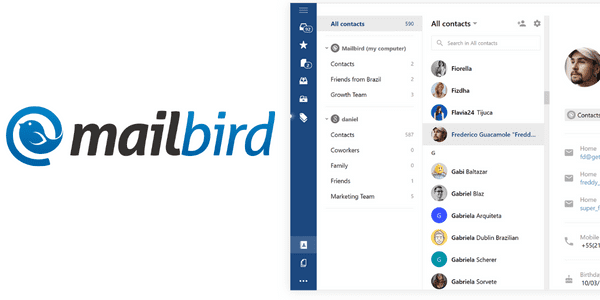 This free open source mail client for PC provides you multiple accounts support and other additional features that make email management more hassle-free. This is the reason why it is it is considered as the best open-source email client in the healthcare industry, specially by ehr solutions providers.
Features
Contacts Manager: You can merge contacts, create groups, customize interface, themes, and signatures), and use various shortcuts to compose emails and manage them quickly.

Customized layout and free themes allow you to customize the view you want.

App integration: Mailbird, the open source email client is integrated with storage apps such as Dropbox, Google docs, and Degoo; social apps like Facebook, WhatsApp, Twitter; chat and video conferencing tools like Slack, Asana; task manager tools like Todoist, Trello, moo.do; and Google and kin calendar.

Messaging: You can send, unsend, receive, and filter emails. Besides, you can give in-line replies for more clarity.

Offline Access: Using this open source email client windows, You can organize emails even in offline in this Open Source Desktop Email Clients.

Multi-lingual support: It supports around 21 languages.

Snooze: You can postpone a reply by snoozing messages lateras per the priority of the email.

Attachment Features: You can attach emails by simply a drag and drop. Also, you can get attachment reminders and the attachment search retrieves you the exact file that you want.

Customer Support: Users of Mailbird will have all-around technical support from the

Premium Features: If you want to use it commercially, go for the premium. Unlimited email accounts setup, Snooze email feature, email speed reader, attachment quick preview, Linkedin Lookup, and custom sounds are its features that manage emails even smarter.
Wrapping Up:
The open source desktop email clients can push your business ahead of competitors by streamlining your workflow. So, here are the best 5 open source desktop email clients that help you in organizing your emails which saves time. Many Startups and big businesses mainly use these email clients. So, sort out your inbox using a single user interface and arrange your emails without the confusion of finding them by utilizing any of the best open-source email clients.
FAQ's
Which mail client is open-source?
Mozilla Thunderbird is a more popular open source email client than other email clients. It has many features with various supporting plugins like theming, management of large files, and calendar support.
What email software that is an OSS?
Tutanota is the safe and secure open source alternative to Gmail and Co with a complete focus on privacy, ease of use, and Security.
Does Google have a desktop email client?
Google doesn't have any desktop email client for Gmail. So the users are stuck utilising internet browser windows as it's the only route to access the Gmail account.