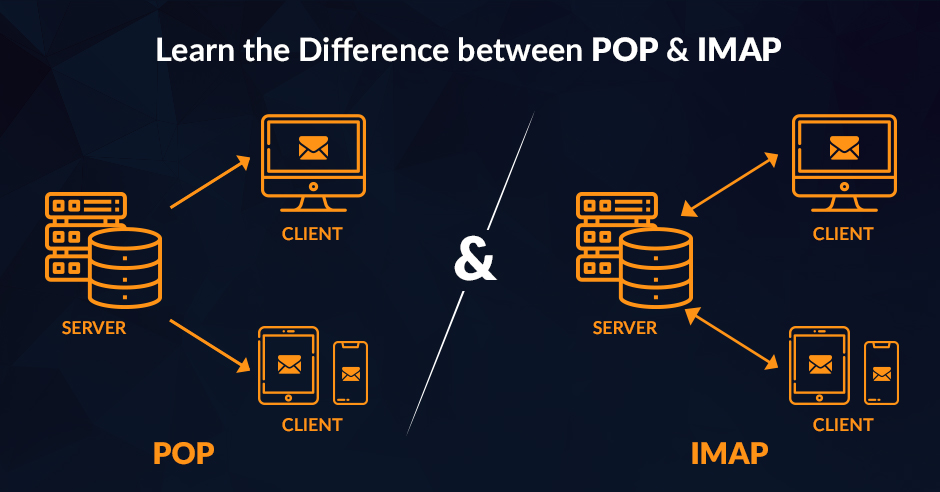 Published October 14,2022 by
Tvisha Technologies
Learn the Difference Between POP and IMAP
The big difference between POP and IMAP two is that with POP all email is downloaded from the mail server and with IMAP the mail remains on the server.
Which protocol you prefer is entirely up to you after learning the exact difference between pop and imap. If you want to be able to read your email at multiple locations, keep your email safe or save disk space on your hard drive, then the best option is IMAP. However, if you would like to archive all email yourself, save disk space on your web server, or if you do not have a constant connection to the internet, then POP is often a better choice.
Discussing the imap and pop difference here can let you understand how both work.
POP: Post Office Protocol
With Post Office Protocol POP you can retrieve emails, just as you would (very) formerly collect mail from a post office. You state who you are, the employee checks whether there is new mail for you and gives it. Your mail program does the same with POP: it connects to the server, says for whom it is coming to collect the mail, and the server passes on the new messages. Your mail program downloads these to your computer for you to read. The messages will then be on your computer and no longer on the pop server.
Features of POP:
You can also read downloaded emails offline.
The e-mail is only stored on the computer with which you retrieve the email.
Suitable for viewing your email with a single device (computer).
Advantages and Disadvantages of POP
With POP it is not necessary to have a continuous internet connection.
The mail does not take up any space on the server so that the mailbox does not fill up in principle (the number of emails you can save is equal to the capacity of your computer). If your computer crashes, you will have lost all mail.
If you use email on multiple devices (such as desktop, smartphone, and tablet), we recommend that you use IMAP.
With POP it can happen that you download an email with one device to the local disk of that device. If you then want to view the same email on another device, you will notice that this email can no longer be found.
To prevent this, you can use POP to set a copy of the mail to be saved on the mail server.
IMAP: Internet Message Access Protocol
The Internet Message Access Protocol is very suitable for handling email from different computers. For example, at home, at work, and while traveling. The contents of the mailbox are exactly the same on every computer. All incoming, read, and sent e-mails can be viewed anywhere, anytime because they remain stored at XS4ALL. Another advantage of IMAP is that if your hard disk or computer breaks, your email is still safe on its Imap server.

With IMAP, your mail program still connects to the server, says for whom it wants to retrieve the mail, but then only retrieves the address data of the mail (instead of the entire message). These address details tell:
to whom the email is addressed
who the sender is
at what time it is sent
the size of the message.
Compare it with an extensive address sticker on a parcel.
Only when you click on the message will the complete message be retrieved from the server. At the same time, the message also remains on the server. In fact, IMAP makes a copy of the message on the server and keeps this copy on your computer. In addition, your mail program keeps the connection with the server open so that you see new emails coming in immediately.
Features of IMAP:
All e-mail is stored on the mail server.
Your email will be automatically backed up.
Requires a constant connection to read the email (unless you set your mail program differently).
The size of your mailbox on the mail server can become very large.
Suitable for email retrieval with multiple devices.
Advantages and Disadvantages of IMAP
All your messages can be read from multiple locations, including webmail. The contents of your mailbox are the same on every computer, you also see all sent items.
IMAP marks which messages you have already read and which you have not. Also useful if you work with a colleague from the same mailbox. Your email remains safe on the XS4ALL server, so you have an immediate backup.
Also don't have to download every post. So you only use bandwidth when you read/download a message. The items sent by you (or others using the mailbox) are visible, also from the webmail, You can create multiple folders.
These also appear in other mail programs that use IMAP. You will even see them when you log in to our Webmail!
Connection to the internet required (this can be solved with specific settings in your mail client, consult the manual of the program used). All mail remains on the server, so your mailbox will fill up sooner.
Fortunately, with XS4ALL you get 25 GB of storage space per mailbox. You can continue with this for a long time.
What is IMAP and POP in email?
The imap is used for accessing email from any device or from anywhere. You are not storing or downloading an email on your computer when you read the email using IMAP. As you are reading it from the email service. So that you can check your email from your phone, a friend's system, or a computer.
You can only download the email message using IMAP when you click on it. However, you cannot download attachments automatically. The main pop imap difference is that you can check messages faster than POP using imap.
Alternatively, you can contact your email service and download all the new messages using pop. The messages will be deleted after you download them from the email service. You can only access them through the same computer because trying to access your email from a different device makes your messages unavailable.
Which is Safer IMAP or POP?
According to data safety, IMAP is much safer than POP. This is because it keeps all emails on the server. It means that if your device gets stolen or lost, the emails present in it will still be secure. On the other side, pop stores emails on the local device. You will lose all your emails if your device is stolen or lost.
To understand more about imap and pop it is better to discuss the difference between pop and imap advantages, disadvantages and features.
First, let's discuss the advantages and disadvantages of pop and imap for clearly understanding the difference between pop and imap to choose the best one while accessing emails.
Set Up Mail Program:
It can be useful to manage your email in an email client, such as Thunderbird, Apple Mail, or Outlook on a computer or the K9 Mail app, the iOS mail app, or the Gmail mail app on a mobile device. The mailtrim server settings required for setting up your email program (regardless of which program you use). If you don't know whether you need POP or IMAP after clearly understanding the difference between pop and imap, we recommend that you use IMAP.
Still, if you are confused about choosing the best email management software even after you compare pop and imap, we recommend having a look at Mail Trim. In this it will be saved email messages, including attachments, are searchable. The email archiving software supports email systems such as Microsoft Exchange, Groupwise from Novell, the email management program Sendmail and Postfix, an open-source email server for Unix. According to the vendor, the email archiving software allows companies to archive messages of different formats at the same time and eliminates the need for email migrations.
Sending Email Newsletters and Commercial Email
If you are planning to send transactional or commercial email newsletters, it is a different game altogether. Different from personal email, many deliverability concerns need to be checked and managed. For instance, so your email reputation stays high bulk email will make it to the intended recipient. The better option is to use one of the options of available free SMTP servers. It is never a good idea to send mass mails or transactional emails from your personal account.
POP and IMAP Guidelines
Below are some guidelines to help you choose between POP and IMAP. When in doubt, compare pop and imap to find which is a better option, Mostly, IMAP is usually the best choice. If you cannot find a solution with these guidelines and you would like personal advice, please feel free to contact our experts.
Use POP or IMAP. Using both at the same time on multiple devices causes problems. It is why it is important to learn the difference between pop and imap.
Use IMAP if you want to be able to read your email on more than one computer (or device).
If you want to use multiple programs, use IMAP for each program.
The webmail works with IMAP. If you use webmail in addition to your email program, use IMAP.
With some mail programs, you can leave an email on the server with POP. Consider IMAP if using this.
Conclusion:
It is possible to use both IMAP and POP protocols at the same time, but not recommended, it often leads to problems. So, finding the difference between pop and imap will allow you to understand which works better in which scenario while going through your emails.
FAQ
1. Is it better to use IMAP or POP?
Many users feel IMAP is a better choice to use than POP. It is because pop is accessing emails in an email service, which is the old route that allows you only to download messages on your computer. You cannot download it on any other folders.
2. What is IMAP?
IMAP is an internet messaging access protocol for checking email stored in a remote server. Users can log in through multiple email clients or on any device to read the same email messages.
3. What is POP?
POP is a post office protocol that extracts and retrieves emails from a remote mail server. It operates by contacting your email services and downloading every message from it.
4. Is my email server POP or IMAP?
You can find whether your email server is POP or IMAP by checking your email client.