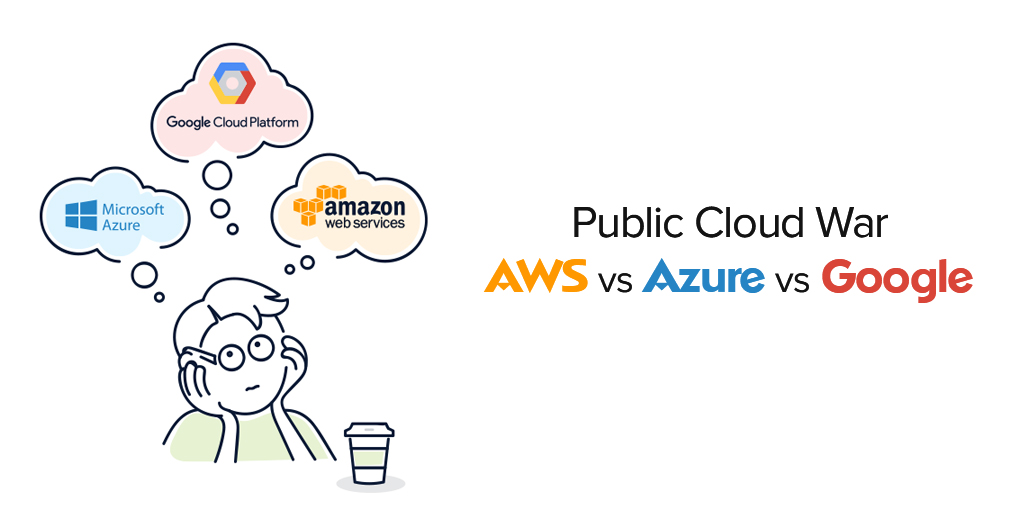 Published September 01,2018 by
Tvisha
Public Cloud War: AWS vs Azure vs Google AWS vs Azure vs Google
With each passing day, more and more people, companies and enterprises are being lured towards a cloud. It is no surprise that cloud computing, slowly but steadily, is becoming a household phenomenon around the world, regardless of geographical as well as economical demographics.
Considering the demand for cloud computing, tech enterprises have dived head first into the market with their own cloud services. They have the resources, power, money and technology to rule this field for years to come. Some of the biggest names operating today are Amazon Web Services, Microsoft Azure, Google cloud platform called Google cloud engine, and IBM's cloud services. AWS was the first to be launched, way back in 2006, and is currently the market leader in terms of total consumer share, Microsoft Azure was launched in 2010, and has since found its cliched customer base amongst the enterprises and is the largest cloud service provider in terms of revenue, while Google cloud services was the last one to be launched amongst the three, in 2012.
The sharp increase in market demand has made the competition in this sector quite fierce. Cloud service providers are constantly slashing their rates while adding new features, which certainly look quite enticing for the users.
Cloud Provider Showdown: Comparing Features, Implementation, and Pricing
In order to compare these cloud behemoths, let us distribute the standoff on the basis of the following criteria:
Features
Implementation
Pricing
1. Features of Cloud Computing
When deciding on which cloud service provider to use, make sure to take into consideration the product offerings and the features that best suit you. There is little to separate the three giants on the basis of their product specifications. All three provide SaaS (Software as a Service), IaaS (Income as a Service), and PaaS (Product as a Service), the bread and butter of any cloud service. However, if you delve deep, it is the minor details that click for a user.
For example, AWS cloud computing's USP is its neat, relatively simple, and easy-to-learn user interface, which certainly clicks well with small and medium businesses and Amazon eC2, whereas Microsoft Azure uses Enterprise Agreements (EA) to entice customers wherein they provide benefits to large organizations if they commit to using Azure. Another deal-clinching feature on offer in Microsoft Azure is the security, which is the best in its class.
Finally, Google cloud platform prides itself on its future-proof infrastructure and seriously powerful data and analytics.
2. Implementation of Cloud Computing
The second point to note while going through potential cloud service providers is the ease with which you can implement your products via the cloud. As was the case with features provided, there is little to separate between the three in terms of their workings and ease of usage. For example, AWS ranks pretty high in many fields like platform configurations option, monitoring, and policy features while also being very open and generally more flexible. However, if we look at Microsoft Azure, it links well with Microsoft's on-premise software such as windows serve while ranking the highest in terms of PaaS capabilities and development and testing tools.
3. Pricing of Cloud Computing
Finally, let us compare these in terms of the pricing available for their products. All the three have implemented the pay-as-you-go model for revenue generation where charges are not fixed; rather, they depend on the usage. However, AWS is more rigid in terms of compensation as they charge you by the hour, whereas Google and Microsoft charge you per minute, with Azure being the most liberal of the three. Google rounds up the usage to 10 minutes.
So, which is the best Cloud service provider? All of them. The best service is the one which satisfies all the demands put forth by the user and should be chosen only after a detailed research on what is on offer and comparing it with your own needs.