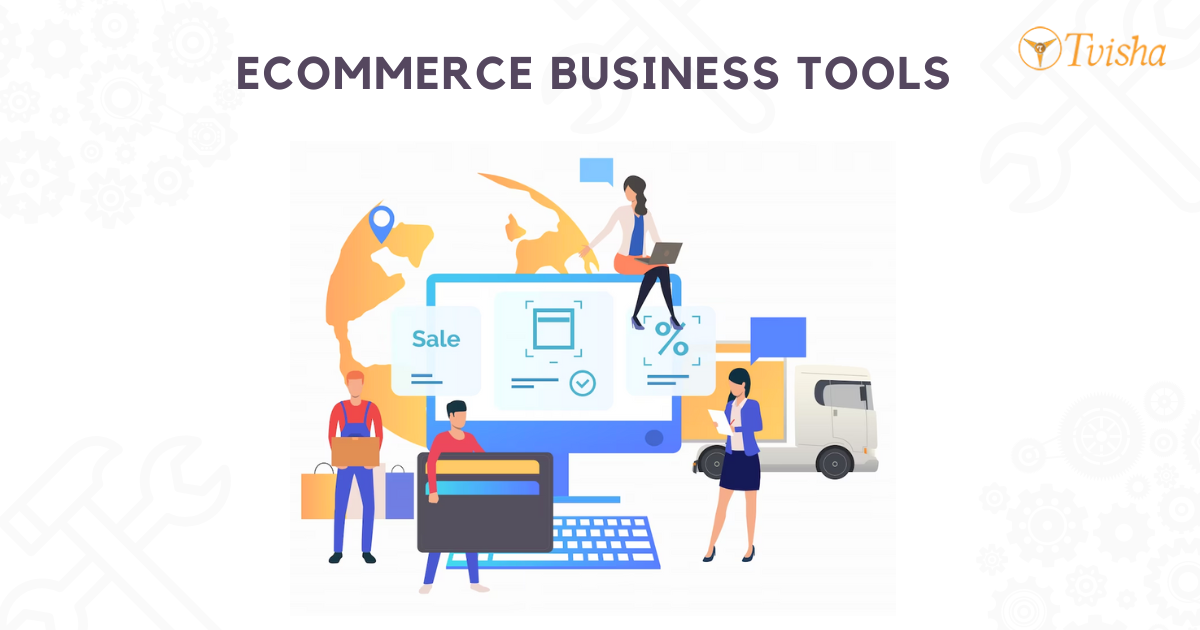 Published August 14,2017 by
Tvisha
10 Free eCommerce Business Tools for Startups
In the current world scenario, where the world is becoming a global village and the distance between the market and geographical boundaries becomes irrelevant, taking advantage of the power of e-commerce for startups is very important.
In a fiercely competitive market, staying focused and delivering exceptional quality products and services is crucial. Start-ups suffer from limited market reach and inadequate technological adoption due to cost-cutting. It can hinder business growth. So it is important to grasp the immense potential of e-commerce whether it's B2B, B2C, or D2C.
How important is choosing the best eCommerce Business Tools?
For startups, selecting the ideal eCommerce Tools can be a daunting task, given the multitude of options available for a start-up. Your eCommerce website should be more than just a platform to showcase your services. It is a part of brand building and managing product data, giving your business a competitive edge in the market.
Selecting the optimal e-commerce tools involves careful consideration of multiple factors.
When choosing an e-commerce website, the first aspect to consider is its aesthetic appeal and elegant interface. It should have a variety of choices and deliver excellent, intuitive user experiences.
Speed and scalability are equally crucial factors for businesses to evaluate. The chosen platform should provide lightning-fast performance, consistent reliability, and the ability to support your business's growth.
Security is paramount, particularly when the portal uses extensive personal data and holds payment gateways. Customers prioritize their information to secure their personal data and seamless payment options, so these aspects should not be overlooked.
It's essential to recognize that every eCommerce Business Tool will have their own unique identity, target audience, and regional popularity. Therefore, before selecting an e-commerce platform, your business needs to possess a solid understanding of your industry, customers, and their demographics. This understanding will guide you in choosing the most suitable eCommerce Tools for your business.
In this blog, we will explore ten Free eCommerce Business Tools specifically designed to support startups like you. These portals offer a range of features, from website development and design to marketing automation and customer feedback management. Let's dive into the details of each tool and see how they can benefit your e-commerce startup.
Essential Free eCommerce Business Tools to Empower Your Startup
1. Shopify
As a highly robust and widely used eCommerce Tool in India, Shopify offers an extensive range of features. Its intuitive and customizable interface empowers startups to effortlessly create professional-looking websites. Additionally, Shopify Etsy Integration helps in inventory management, secure payment gateways, and cost-effective shipping solutions. Notably, it incorporates built-in SEO features to support business growth and performance tracking. Shopify gives you a 14-day trial period to experience its capabilities before transitioning to a paid plan.
2. WooCommerce
WooCommerce is a flexible e-commerce solution integrated with WordPress. It enables businesses whose websites are crafted in WordPress to transform into fully functional online stores. The advantage here is, users gain complete control over their website's design and functionality, along with access to a diverse range of extensions. Woocommerce also supports multiple payment gateways and shipping options. It is an open-source platform and hence free to use making it an excellent choice for startups.
3. Squarespace
Squarespace is a very popular platform that offers an all-in-one solution for creating visually captivating and responsive e-commerce websites. Its user-friendly drag-and-drop interface ensures effortless navigation. Even without extensive coding knowledge, users can construct professional-looking online stores. This platform facilitates product listings, inventory management, and secure payment options. Additionally, Squarespace provides built-in SEO tools and analytics to enhance your website's visibility and track performance. Both paid and free versions of Squarespace are available, catering to various business needs.
4. Wix
Wix is renowned for its user-friendly and intuitive nature. With its drag-and-drop editor and a vast collection of pre-designed templates, startups can effortlessly craft visually captivating e-commerce websites. Wix offers built-in e-commerce functionality, enabling businesses to showcase products, handle inventory, and securely process online payments. The platform also offers tools for order management, shipping, and tax calculations. It has both paid and free plans.
5. HubSpot
HubSpot is a robust inbound marketing and sales platform that provides a wide array of tools to assist startups in their e-commerce endeavors. With HubSpot, businesses can track customer interactions using chatbot builder, effectively manage leads, and cultivate relationships. It has provisions for email marketing, social media management, and analytics. Startups can benefit from HubSpot's free version, which offers a set of engaging features to connect effectively with their audience. Furthermore, HubSpot provides scalable pricing options, allowing businesses to access additional functionalities based on their evolving needs.
6. Square Online
Square Online is a powerful e-commerce platform that enables seamless creation and manages online transactions with ease. With its user-friendly interface and intuitive design tools, businesses can effortlessly showcase products, manage inventory, and process secure online payments. The provided templates are not only visually appealing but also customizable to align with your brand identity. Additionally, Square Online is equipped with built-in SEO and analytics tools, facilitating analysis and optimization. Startups can benefit from Square Online's free plan, providing a cost-effective solution to establish a robust online presence.
7. Yotpo
Yopto is a leading content marketing platform. It helps manage and leverage customer reviews and user-generated content. Using this platform, startups can easily manage and leverage customer reviews and ratings. With advanced features like AI-powered reviews, sentiment analysis, and customer engagement capabilities, Yotpo empowers businesses to make the most of their customer's feedback. It also integrates seamlessly with social media platforms and offers email marketing service. Yotpo provides both free and paid plans to accommodate different business
8. CrazyEgg
CrazyEgg is a heat mapping and user behavior analytics tool that sheds valuable insights on how visitors interact with your website. Using this, you can easily visualize customer behaviors. Optimizing the website design is possible here. CrazyEgg has in-depth analytics and reporting, allowing businesses to identify areas of improvement and make data-driven decisions. Although it is a paid plan, startups have the opportunity to utilize a 30-day free trial before transitioning to the paid version.
9. Smarter Contact
Smarter Contact is a customer relationship management (CRM) tool designed to streamline communication and enhance customer engagement. It has a range of features including contact management, email marketing, SMS campaigns, and lead tracking. It helps to save a lot of time and effort, especially for startups. It has both premium and free option plans.
10. EngageBay
EngageBay is an all-in-one marketing and sales automation software specifically designed for startups. The platform offers a variety of tools, including CRM, email marketing, lead generation, and live chat, to help startups attract, engage, and convert leads into customers.
With EngageBay's CRM, businesses can effectively manage contacts, track deals, and automate sales processes. The lead generation tool helps capture leads through forms, pop-ups, and landing pages. EngageBay offers a live chat facility. It is available in both free and paid versions.
EngageBay is available in both free and paid versions, providing flexibility to startups based on their specific requirements.
Conclusion
In conclusion, these ten e-commerce tools can become very important for startups, enabling them to develop websites, automate marketing, gather customer feedback, and ensure secure online transactions. Embracing these tools empowers startups to thrive as successful online businesses, tapping into the vast potential of e-commerce in the digital marketplace.