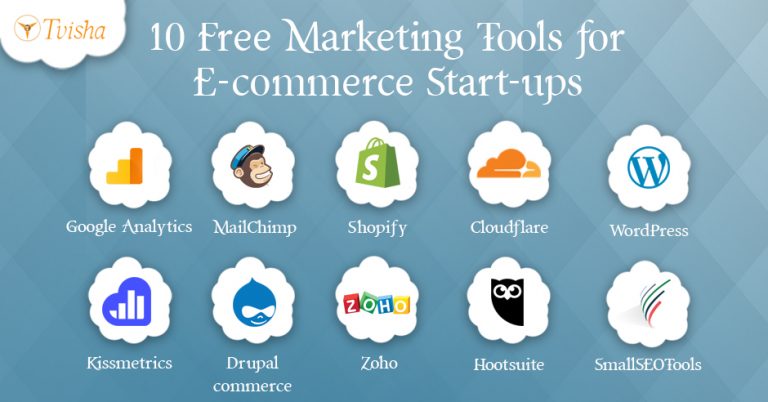 Published August 14,2017 by
Tvisha
10 Free Web-Based E-Commerce Business Tools for Start-ups
E-commerce is constantly evolving and has become a very strong medium of trading. With the online retail sales making sky high profits, it is also the perfect time for you to enter the e-commerce world. However, gaining entry is not so easy for a start-up and you may face a number of challenges in the initial phase. To start with, you have to compete with companies that are well-established and have all the required resources and manpower. You can grow your online business with e-commerce website development. But first make a note of your business requirement as there are a number of ecommerce business tools at little or no cost that can prove to be very helpful in laying the foundation of your business.
1. Google Analytics
This tool is a blessing for the marketers today as it provides them deep analysis and information about their website visitors with timely interactions and reports at zero cost. Google Analytics helps them to get real time information about the visitors and their source. This in turn can help the website owners to engage with the customers through pop-ups and offers.
2. MailChimp
This free email marketing service allows you to send newsletters along with creating subscriber forms for social media or website, templates for email and newsletters, automated messages etc. There is also another feature MailChimp Snap that can be used to send photo based email content to the customers. It also provides detailed analytics to track the performance of the campaigns launched.
3. SmallSEOTools
This website has a variety of tools and that too absolutely free of cost. Some of them are Website SEO score checker, Website page speed checker, link tracker etc.
4. Shopify
It is the most useful tool for a start-up and can be very helpful in building and promoting an online store. You can register on the Shopify Facebook Store page and load the photo of your product along with a description and price after which Shopify will display it on your Facebook or business page. They also have an app store with numerous free and paid apps that help various businesses. E-commerce development companies can also help you with features in Shopify for managing product data inventory like Shopify Etsy Integration, Shopify eBay Integration,.. to operate multiple online stores with only one dashboard.
5. Cloudflare
It protects and accelerates your website and routes the web traffic through its intelligent global network. It works towards saving the bandwidth and server resources from bots and crawlers.
6. WordPress
Brands just need to create a landing page in WordPress for social media campaigns and updates. These pages usually have blogs related to their company's updates, research, discussions on industry trends and picture content with some message etc. WordPress has multiple themes and setting options and also their forums are quick to answer your queries.
7. Kissmetrics
Although quite similar to Google Analytics, Kissmetrics can additionally send auto triggered emails based on the customer behaviour. Google doesn't recognize people via their email id which is done by Kissmetrics. Hence it's possible to communicate with the users and track effectiveness.
8. Drupal commerce
As the name suggests, Drupal commerce is built on Content Management System (CMS). It is free and open source software and is useful for marketers who don't have much experience in handling the backend work of the e-commerce platform and need help with their workflows and overall configuration.
9. Zoho
This tool provides a low-cost range of online applications for individuals and businesses to reduce their work load with a 14-day free trial period. Sharing documents and collective editing at real time is possible through a tool called Zoho Writer.
10. Hootsuite
Hootsuite can manage your Facebook, Instagram, twitter etc. from a single platform. It is a social management tool that helps you to plan your alerts and tags or schedule your posts and tweets without paying anything for it.
A multichannel marketing automation platform that offers a well-rounded set of tools any eCommerce startup can utilize in their promotional campaign. Merchants and eCommerce startups can utilize email and SMS campaigns to cover transactional notifications like order confirmation or abandoned cart messages. Intuitive chatbot builder will help create a chatbot for Facebook, Instagram, WhatsApp or Telegram - this will allow to stay in touch with the customer 24/7. A handy CRM will help store and manage all the user data and previous interactions with your eCommerce store.
As a startup with limited resources, you cannot do everything on your own. So it's important to know when to bring in an expert so that you can work within the budget, by hiring the best resources. Also, you have to keep reviewing from time to time to see if the e-commerce platform is living up to your company's growing requirements.