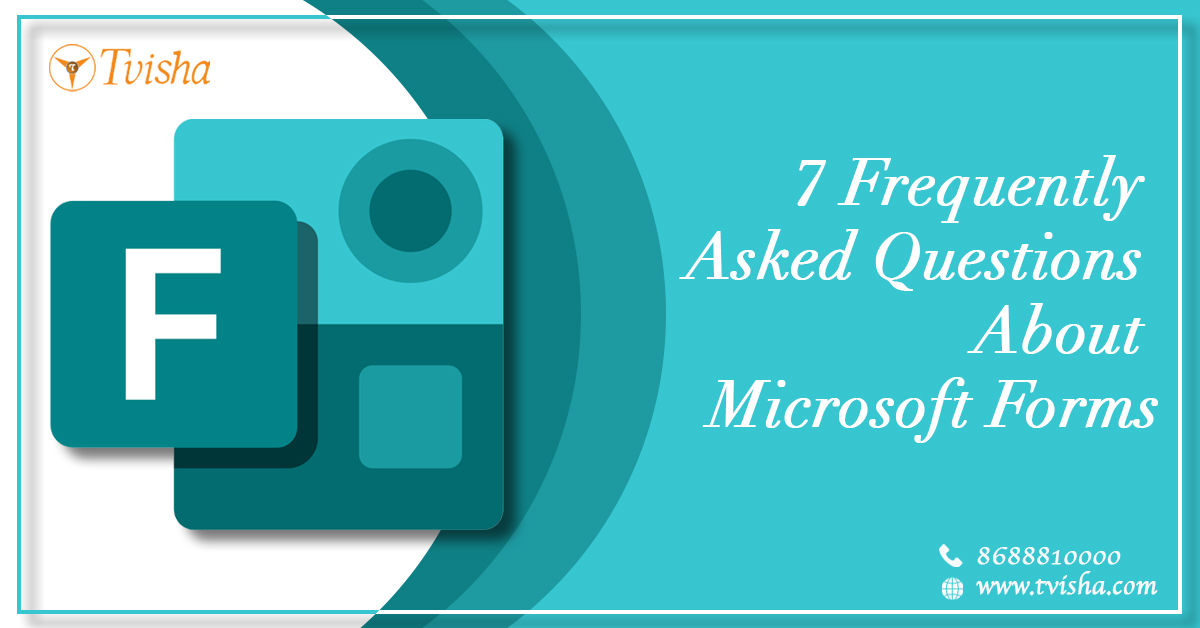 Published April 12,2022 by
Tvisha Technologies
7 Frequently Asked Questions About Microsoft Forms
Microsoft Forms is the application of Microsoft 365 where you can visualize data using automatic charts, collect responses in real-time, create surveys or quizzes. You can also gather and validate the data easily. Then, you can invite others to respond to it using any mobile device or web browser. Microsoft company launched it to build forms creatively and easily without having to put much effort. Microsoft Forms is available to the customers of Microsoft office 365 Education, and to the ones who have Microsoft account can also access it.
Uses of Microsoft Forms
Reasons to create surveys, polls, and quizzes using Microsoft Forms:
1. Surveys
Recognizing new business opportunities.
Identifying potential new customers.
Gathering main insights from your users to get to know them.
Performing market research in-depth
Getting your stakeholder's or team members' opinions.
Inspecting the effectiveness of current or potential business opportunities.
2. Quiz
Checking in with employees to test awareness and knowledge.
Generating the resources of the case study.
Making educational marketing campaigns.
Initiating lead generation and conversion.
Increasing email subscribers.
Implementing incentives for your consumers or team.
3. Polls
Increasing website interaction or traffic.
Trying to advance the understanding of your customer's base and target market.
Identifying challenges and opportunities of your team.
Generating free feedback on services and products. So that you understand what are their requirements.
Increasing customer or team engagement.
Measuring the availability for business events and team meetings.
Microsoft forms are used by any Software Development Company having Office 365 Education. It is built depending on the educator's feedback because they wanted to have a tool to evaluate their students. In the education market, Microsoft Forms gives tough competition to Google Forms.
What are the Advantages of Using Microsoft Forms?
Many institutions, government offices, and businesses satisfy their needs to generate a real-time report and data collection using Microsoft Forms. It can help them in different ways. Let's discuss the pros of using Microsoft Forms.
If you have learned how to use Office 365 it's very quick and easy to learn how to use it and also easy to integrate with other services of Office 365.
It is easier to utilize and configure to gather the data, quiz, or survey. It also possesses the capability for generating a report in real-time analytics.
You can customize and embed Microsoft Forms on any blogger website or web page.
It consists of features to delete and alter the form's information.
Microsoft Forms can be shared with unknown users for gathering information. Also, you can share the results with the customer to gain their opinion and get feedback on using it.
You can create duplicate forms utilizing the existing ones as the templates with different colors.
The data of Microsoft Forms is secure as it is built based on the rules of Office365.
Features of Microsoft Forms
Let's discuss some features that you should never have to miss in Microsoft Forms.
1. Multi-Language Forms
You can create multiple versions of forms using Microsoft Forms. You can customize them for your target customers to mainly satisfy their needs. The forms are available in different languages, so you can interact with your customers in their language that uses forms.
When you use multi-language forms and communicate with different groups of recipients, it can quickly improve your results quantity and quality. It can also help increase your business growth and enhances productivity.
2. Microsoft Forms Branching
When you provide the user with two or more options, it is referred to as branching. This is because every option consists of a preset event or action that follows once the user selects it.
Branching in Microsoft Forms helps or directs the user to take the part of the section that they want to access. While using branching, ensure to get the correct responses from the right individuals at the perfect places. But it would be best if you had Forms pro for accessing this feature present in Microsoft Forms.
3. Real-time Integration with Excel
The best feature of Microsoft Forms is its capability to integrate with Microsoft Excel. These both are Office 365's applications that are popular. For example, you can link the MS Excel sheet with Microsoft Forms surveys or quizzes.
4. Math Keyboard
You cannot find certain symbols or characters even though you search so much on a standard keyboard. For example, you might want to use a complex keyboard combination like a square root of a number. It is not possible to find it on the regular keyboard. So there is no need to get worried or confused about it.
Because Microsoft tried its best to solve this issue by creating a virtual math keyboard and incorporating it into Microsoft Forms, therefore, when you wish to use any equations in forms that are simple as well as tough ones, you need to select the Math option by clicking on Keyboard and then start to type. You can solve any equation using this feature in Microsoft Forms.
5. Integration with Microsoft Stream
When integrating Forms with Microsoft Stream, a video sharing service, you can utilize forms by incorporating them within your Software Development organization's videos. Whenever some viewers see your videos, the forms will pop up at particular time periods to communicate with the viewer.
There is a high chance that the viewer will see your created form even before watching that particular video. They may also get interested in filling out the interesting survey, poll, or quiz and then stream the video. It will make it more fun for them and lets them enjoy the video later.
For example, a teacher can add the questions or quizzes before streaming the recorded class on a specific course. The chance will be higher so that the student is going to answer the questions before they watch the actual class video,
Students have a great experience if the forms are included. It makes watching videos more enjoyable for them. Teachers and students can interact with each other well as the courses seem fun to watch.
Combining Stream with Microsoft Forms offers the teachers or educators to use innovative tools to make the streaming videos worthy of watching. So that it can make online learning enjoyable. The additional benefit is gathering feedback from Microsoft surveys and Quizzes in a real-time environment.
Many people get some queries regarding the use of Microsoft Forms.
7 Frequently Asked Questions of the Microsoft Forms
1. When can you use Microsoft Forms?
Below are a few scenarios where you can utilize Microsoft Forms.
You can easily create and share it with any unknown users.
If you are a teacher, you can assess your students on a topic using Microsoft Forms.
You can create an ordering app for a small business.
You can design a survey quickly and gather the data from different audiences.
You can use it to embed the quiz, survey, and registration forms on any learning management system, web pages, or blogs.
You can utilize it when you want to customize it and incorporate your forms application with other services of Microsoft such as Microsoft Flow and Microsoft Teams.
2. Who can use Microsoft Forms?
Microsoft Forms is suitable for businesses and any software development company to assess this tool and understand how someone can use it for their needs. It comes with various office 365 installations, including US Government, commercial, and educational licenses.
Users having Microsoft accounts like Outlook or Hotmail and the business customers who use Office 365 can gain access to use this tool. Others need to take a subscription to Office 365 or create a Microsoft account.
3. How Can an Individual Get Microsoft Forms?
If you don't have Microsoft Forms, you can get it by taking the Office 365 subscription. Many Government, Commercial, and Educational Office 365 licenses consist of free access to Microsoft Forms.
You can contact any company to help you in accessing Microsoft Forms. Because sometimes even these forms are included in your subscription, you may not get access to use them. You can check with the IT administrator so that they can give access to Microsoft Forms.
But if you already have access to Office 365, you can open the web browser and type in it as forms.office.com. You can give your credentials and follow up with the prompts for gaining access to the already existing forms, or you can create new forms.
4. How Can One Create a Folder in Microsoft Forms?
In Microsoft Forms, there is no particular built-in to create a folder. However, by using colors, you can separate the forms. In addition, whenever you search for a specific form, the form's theme is shown on the form card.
If anyone wishes to create folders in Microsoft Forms, you can contact Microsoft to vote for including this feature soon.
5. Can you Be Able to Attach Files to Microsoft Forms?
At present, Microsoft Forms doesn't support any attachments. Microsoft is planning on introducing this feature in this form. But Microsoft Forms through Microsoft SharePoint uses several other tools for collaboration and sharing.
6. How can you use Microsoft Forms in a Team?
You can integrate Teams with Microsoft Forms easily. Microsoft offers a help file with full details on how to combine both of the apps. In addition, there are numerous manners to use, like employee satisfaction fun quizzes to surveys while integrating Microsoft Forms with Teams.
7. How can you Create forms in Microsoft Forms?
For creating a form in a Microsoft Form, you need to follow the below-mentioned steps.
You can browse and log in through this URL -https://forms.office.com/Pages/DesignPage.aspx.
After signing successfully, you will get redirected to My Forms screen. You need to click on the New button to continue to the next step.
Here, you can add your name to the form and description and then click on add Question for adding a new question.
Based on the types of availability, you can add different questions.
When you finish creating a survey, quiz, or poll, you can preview and share your survey with others.
You can also preview the results from your form creation.
Microsoft Forms provides many types of theme options. You can choose any theme panel from different available options.
Now is the time to share your survey with others on multiple platforms.
You can also share surveys through email. You can see the recipients who got the email invitation and used the links to finish the survey.
Final Thoughts
Thus, these are the uses, benefits, and features of Microsoft Forms. Also, you can find seven frequently asked questions related to Microsoft Forms. These queries posed by the users of Microsoft Forms will let you understand and know that this application is worthy of use.