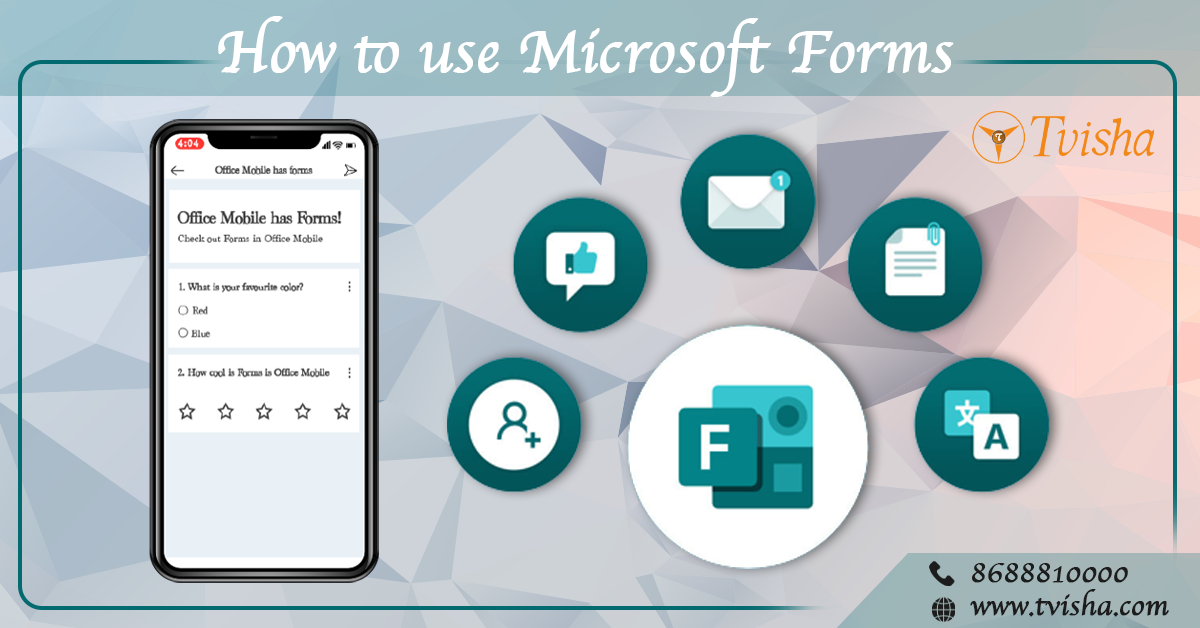 Published October 17,2022 by
Tvisha Technologies
How to Use Microsoft Forms - Step-by-Step Guide
Many organizations are receptive to new advancements and technology additions to make their enterprise's process better. Big companies like Microsoft are adding up new offerings and trying to provide exceptional services for other firms. Among the list of applications, It is the Office365 application which lets you get an idea of customers' opinions and viewpoints.
Using Microsoft Forms, you can create quizzes, polls, questionnaires, and surveys for all business sizes Even data collection and analysis are also simple . More organizations benefit from getting responses from customers and obtaining real-time updates. It makes it an inseparable part and is mainly used by any Software Development Company.
Microsoft Forms
Most users wish to have an application that makes it easy to gather survey data quickly. So, Microsoft launched an application called Microsoft Forms. It is a professional app through which you can create surveys, quizzes, and questions. You can then share it to web browsers with other users to make them fill out the built forms.
The one who designed the forms might check the results in real time and analyze the collected data. The main intention of this app is to fulfil particular requirements to generate a report for various institutions and government agencies. Many Software Development Services or people are beneficial to reach customers and know their feedback or opinions on a particular product or service.
Microsoft Supported Platforms and Versions
Microsoft develops apps to be compatible with working on different platforms. It has covered almost all the versions and platforms, such as Android, iOS, Windows, and MacOS.
It will enable you to conduct extensive surveys and polls to the outside users in a more accessible and better way. Moreover, you can access the forms without installing any particular software. It is why it is not at all complicated to utilize Microsoft Forms.
How can you start with Microsoft Forms?
Many are unaware that they are mainly designed for the education field. But now, it is used by most industries for creating a poll, question, survey, or quiz. People using Microsoft Office 365 applications can easily access them. One who has a Microsoft account can also access this tool.
Here are the steps through which you can get started.
Step 1:
You need to login into your Microsoft account using your microsoft forms login credentials. It can be your Microsoft Outlook, education school, or business account.
Step 2:
You can then begin to search using keywords like forms microsoft or microsoft forms from the office 365 applications.
Step 3:
You can also search for Forms directly and sign in to it by giving your login credentials.
There is a row of templates with various choices to create a new form or quiz at the top of the Forms page. Next, you can find the generated forms in the current section. Here, you can view all the forms you pinned to the page to access it quickly or the recent forms you have created. To view all the previous forms, you can find them in the All My Forms section.
Finding The Ways To Create a New Microsoft Form
If you are from a Software Development organization and wish to create a new form, survey, or poll, you can click on the New Form option present on the Homepage. Now It will open in a new browser tab. In this anonymous form, you can provide a name and description. You can also add an image by clicking on the image option present on their Homepage.
If you want to add any questions, click on Add New.
You can choose which entry you have to pick from different choices for your forms in the pop-up box. You can find various options and questions on the quiz or survey form. The entry might be a choice button which is a free form fill in the blank text entry where the user has to provide data input and star rating. You can add different multiple-choice questions by providing answers using the choice button. You can also decide whether the person who is replying will be able to give different kinds of solutions or not. Finally, in the text button, the user can provide you with an answer by writing or typing anything they want in the text box. Now the form is ready to use, consisting of many questions. First, the thing you need to verify is how it appears. After that, it is time for you to see the form.
You will find a preview option on the toolbar at the top of the page on a mobile device or computer. For testing your form, fill it with some queries in the preview mode and then click on Submit. You can also choose the back option to continue the process of editing.
When and How Can you use Microsoft Forms?
The people who wish to create an online survey or quiz definitely have to know what is microsoft forms used for . You can create quizzes or forms easily. The difference is that quizzes involve the correct answers and can be scored. After making the form, you can share it with a specific audience and evaluate the results in real-time using the built-in analytics display.

Most government agencies, corporations, and organizations use these forms to collect and communicate information with customers and staff. The following are the options or instances where you wish to utilize its services.
You can easily create a microsoft forms quiz and share it with unknown users.
Many teachers and educators use them to assess their students on specific topics.
You can utilize them for the development of small business order applications.
You can use them when you wish to integrate the registration forms, survey, and quiz on any of your blogs, learning management systems, or websites.
You can customize the forms and links of the forms app with any Microsoft services like Micros and Microsoft Teams.
How can you share Microsoft Forms?
You can share microsoft forms software within your company or with anyone outside your company, as there are many options available in the forms app. You can click on the sharing option present on the Forms app.
First, copy the URL and paste it into your email. The individual who clicks on the URL sent through email will be redirected to the form. Here they can open the form and provide their response. Using them, you can share a quiz, poll, or survey. Many software development companies would feel it is better to share the surveys, quizzes, and votes with their customers and team members.
The one who gets access to the link can easily access certain created forms from it. You can even share the templates with others for designing surveys at any time in different colours. In addition, it can allow others to develop similar types of forms when needed.
Generate a QR code using any available dynamic QR code generator that you can find online for your Microsoft Form to access at any time. When the recipient scans the QR code, they will gain access to these Forms. Another alternative to share the forms is through email or embed. It is an excellent feature as you share them with other Microsft products. It is simple and easy to share. So, it is better to follow towards integration instead of different routes.
What are the ways of seeing responses and results?
It's time to review the responses once users finish filling out any surveys. Studying the procedure is easy and doesn't require much effort. You can find a responses tab at the top if you have created a study. When you click on it, a dashboard will be opened.
After you click on the responses tab, you can find analytics joined with the data that allows you to know the user's responses. You can also transport the results to the Excel sheet for understanding the reactions of an individual that filled the survey form,
You can learn all the responses given by them, like the average time it took for an individual to complete filling a form, how many of them responded by filling the forms and what are the complete answers. The responses can also be displayed visually in bar graphs, standard charts, pie charts, etc.
Now, let's discuss the advantages.
Benefits of using Microsoft Forms
Microsoft is mainly designed with the thought of students, teachers, and educators in mind. However, it also offers benefits to different kinds of businesses and people.
If you use videos and images in your quizzes and polls, you can make different queries depending on the content of the visual component.
You can use them for constructing math tests by using mathematical symbols.
Based on your audience's taste and preference, you can distribute polls and quizzes in any manner. For example, you can share these Forms through emails, links, or QR codes that you can scan with a mobile device.
You can create quizzes or surveys to gather your team's information on collaborative activities and initiatives.
You can also customize the forms depending on the response of a user. Once you know their answer, you can alter it in your style with creativity.
Using a link attached to the form gives easy access to the other people and your organization's coworkers.
Limitations of Microsoft Forms
There is a limit of 100 questions to create in one Microsoft Form.
The multiple-choice questions can only take up to 60 questions.
It is not possible to save the form for later use or can edit the response that has been submitted already.
On textual responses, you can use about 4000 characters.
You can use up to 2 to 10 options per response in the ranking questions. If you have a random question with two choices, you can only ask 50 queries. On the other side, if your question has ten options, you can only ask up to 20 questions.
Conclusion:
Thus, these are the ways of using Microsoft Forms. You can create quizzes, polls, questionnaires, surveys, etc. You can share any form you have made through emails or a link to share access to all people with Microsoft accounts or Office 365 subscriptions. You can also easily collaborate with other Microsoft services like Microsoft Stream etc. You can also integrate these forms with PowerBI and Power Automate.
FAQ
What is Microsoft Forms?
It allow users to create polls, surveys, and questions in a few minutes and receive responses from them. Many businesses use them to create visually attractive forms for a better user experience.
How to create microsoft forms?
• Sign into Microsoft 365 with your microsoft login credentials.
• To insert the form, open the excel workbook.
• Now select Insert - Forms - New Form
• A new tab for Microsoft Forms opens in your web browser.
• Choose the default title and change it as you wish.
How to create a survey in Microsoft Forms?
• Login into Microsoft 365 with your sign-in credentials.
• Create a fresh or open already existing excel worksheet that gathers and stores the survey data.
• A new blank microsoft form gets opened, enter the survey name.
• Continue by adding queries to the survey.
• After creating the survey, share it with others to receive the responses.