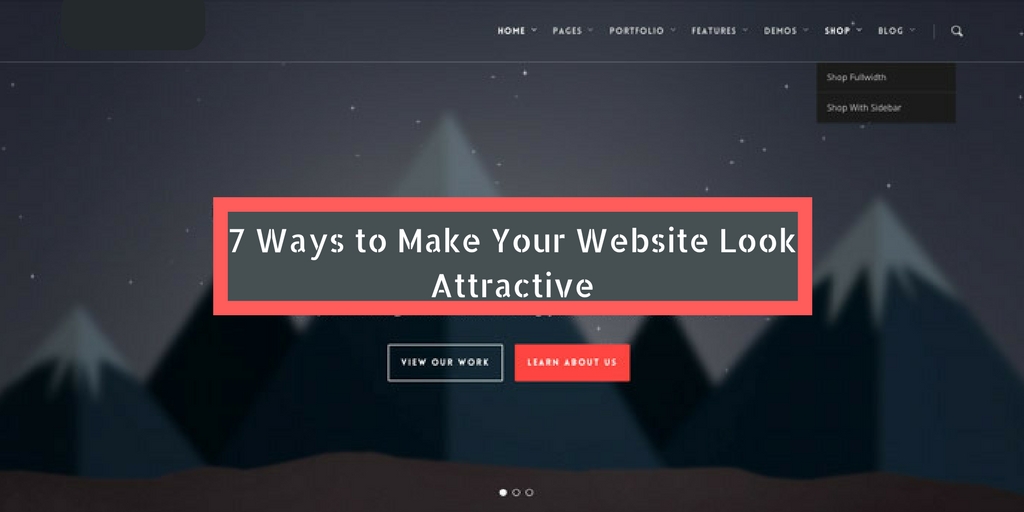 Published February 14,2017 by
Tvisha
7 Ways to Make Your Website Look Attractive
As per current market status, online presence is life-and -death for major business models to follow its principles and exist over online market through a business website to optimize your global appearance.
The first step to showcase your business at online market is to have a vibrant website that reflects your ideas, thought, principle and culture. Website should be very simple yet informative, colourful yet customary and well crafted so that visitors can get your aspects.
Website design and development is the key factor to acquire the online business ground. It's a tough competition for the web designers to develop a boon site with great passion that represents your brand. Developing a website is easy but the challenge is to make it interactive and productive. Here are 7 ways to make your website look attractive:
1. Keep It Simple
Simplicity is the best policy. Do not just bombard the webpage with information. Keep it to the point. Make it informative, not narrative. The mantra here is objectivity. If a customer can relate to your website in no time, voila you will have plentiful pockets.
2. Compatibility
These days Mobile is the handiest device to access internet. Hence your website must be mobile accessible as compatibility ensure that you do not miss your target costumer across various mobile OS platforms. Moreover, website should be responsive and interactive to optimize the conversion rate.
3. Typography
Choose the typeface and colour for website wisely. Web development companies should maintain the authenticity by not using more than two different font and colour. But do not be afraid to explore and experiment. Be playful but be consistent. Use relevant pictures justifying the idea, product, or philosophy of your website. If you get the concoction of pictures and text right, you will have the catchiest website.
4. Branding
Branding is important as brand name can get you a huge costumer base or may lead to slay. Hence you need to have a website design that plays a pivotal role in establishing your brand and make it a popular one. In due course, when your brand get established, your logo maters. So, your logo should be eye-popping and easy enough to understand your culture. The combination of a brilliantly designed logo with an astutely website can prove to be a fatal combination for your competitors.
5. Call to Action
Call to action is a way to keep the interest or communication with the customers alive. Most commonly used is offering some freebies. The word "Free" actually is very powerful and can very easily make a disinterested customer suddenly showing keen interests in your website. Another strategy can be trial offers. You can also encourage the potential clients to drop in their contact details. It will show to the customer that you are interested in having relationship with them.
6. Social Media Sharing
With the advent of social media, a probable customer or client can be reached anywhere and anytime. Hence website design and development companies should get the importance of social media to incline your business. So make sure that you make your presence felt on all the social media platforms to gain as much as possible. This is an excellent way to hold on to the viewers.
7. Redesign
Change is inevitable. Website redesigning can do wonders for your traffic. Giving a fresh look to your website makes your visitors think that you care for them and are ready to change with time. Website redesign with current market facts adaptation assures the customers about your dynamic presence.
Summary
The success of a website is when the audience share your website with their trusted. So make your visitor fall in love with your website as it is a finest way to market your business and set a strong base. So get set and start designing or redesigning the website for global visibility.