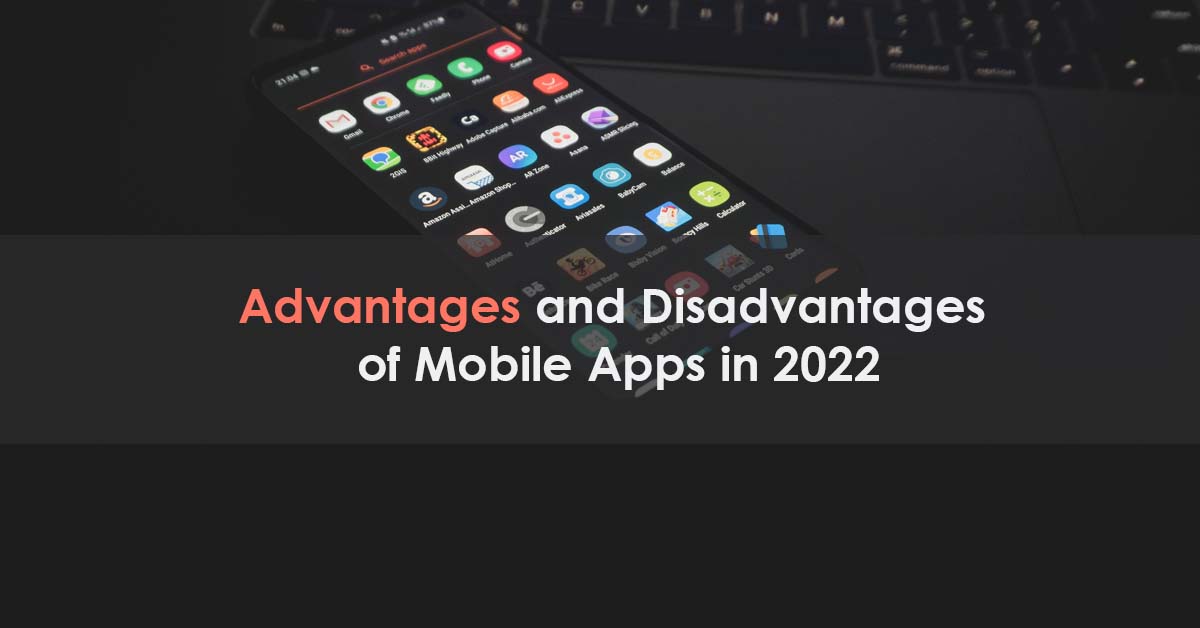 Published March 19,2022 by
Tvisha Technologies
Advantages and Disadvantages of Mobile Apps in 2023
Many people are using mobile applications for different purposes in their day-to-day life. It helps in improving your business productivity and offers you to work with ease. These are different kinds of applications created by any Mobile App Development Company like loyalty apps, task resolutions apps, customer service apps, content apps, entertainment applications, etc. The demand for using mobile applications is increasing in businesses and large organizations. Most business owners use mobile applications to improve their Return on Investment (ROI) through different paths. First, let us define what a mobile application is.
A type of software that you can install and run on Tablets, PCs, Smartphones, or other electronic devices is a mobile application. Different mobile applications have limited and particular functionalities. For instance, you can order food from specific restaurants through a food delivery application, but you cannot use it for shopping online.
You Can Find a Different Kind of Mobile Applications Like
1. Loyalty Apps
Any big Android app development company designs a loyalty app for small, medium, or large businesses. They use these apps for offering loyalty programs and providing incentives to their users. A famous brand like Starbucks uses this type of mobile application to gain the loyalty of its customers.
2. Task Resolution Apps
You can do your tasks or enjoy business services using these mobile applications. Every app incorporates task resolution as the fundamental attribute. It is a great tool to access the databases of the customer.
3. Customer Service Apps
These applications are made for communication to resolve customer issues. It acts as an essential bridge between users and businesses. Customer service apps also let users see the updates of new services of a particular brand.
4. Content Apps
Most celebrities and service experts use digital spaces like content applications to share their content with individuals worldwide. Content apps let you build distinct types of communities online quickly.
5. Entertaining Apps
These applications try to hook up the customers without offering any incentives to them.
These are some mobile applications used by any company for showing their products and services to their customers. But every mobile application offers advantages and disadvantages. So it's better to discuss the pros and cons of mobile applications in 2022.
Advantages of Mobile Applications
Before using any mobile applications, app developers in Hyderabad and other companies need to know the benefits of mobile applications.
1. Builds a Powerful Business Brand
Any customer can develop an interest in your business brand if you add more value to them by providing better products and services. Therefore, it is impossible to create a strong brand experience among the users without putting much branding effort on your side. Some of the branding manners used in the old days were outdoor advertising and TV. But these are the paths that are highly efficient nowadays.
Many of marketing agencies take the help of mobile applications to create brand awareness among customers. They are also trying to create a better bond between them and consumers for better communication using mobile applications. Therefore, if you use more branding elements while making your mobile applications, it will influence you on getting excellent marketing outcomes.
You can understand the opinions of your customer regarding your brand. It can help you understand the user's thoughts to improve the brand marketing plan as an enterprise owner. A brand's mobile application also helps in providing a better user experience while using your business services.
2. Enhance Consumer Loyalty
The main component of every successful business is a tremendous customer retention rate. You can maintain the retention rate of customers at the top by adding value and fulfilling their needs. Offering loyalty programs can easily engage and attract users to check your business services.
The benefits of implementing loyalty programs in a mobile application in some ways are like
To offer users of your mobile app an instant reward. You can include a cashback system to provide cash for them for a certain percentage of their purchase.
Give the customers some recommendations on which type of service and products are well-suited and relevant for them to buy.
Ask your brand's customers to post their experience with a particular product they bought from you. It can help spread your brand's awareness.
3. Try to Meet a High Level of Customer Engagement
Always concentrate on your customer engagement level as it's one of the accurate manners of raising your brand loyalty and generating revenue. If you boost up customer involvement in your brand, it leads to the expansion in Return of Investment(ROI), Customer lifetime value, and other significant metrics.
You need to include specific attributes in your mobile application, like segmented targeting. It means delivering different user categories and handling the content type provided to every customer segment. It can enable you to give accurate consumer recommendations, send customized messages, and let you know your customer's journey with your business brand. You can even offer rewards, feature updates, and discounts for a high customer engagement level in your services.
4. Use Social Media Platforms
If more people get engaged in using your mobile application, it leads to more success for your business. For any mobile and iOS app development company better driving force is user engagement. The best option to choose for customer engagement and promotion of your business brand is possible through social media channels.
Having a social media campaign would be helpful for these purposes. You need to run these campaigns on large platforms like YouTube or Facebook. It is an excellent route to gain complete attention from different users worldwide. It can happen immediately after you launch your brand's mobile application without waiting.
5. Offer More Value to Your End-Users
Many business owners rely upon different technologies and complete transactions with customers online. The use of mobile applications has changed how customers get access to your business products and services to easily shop at a business store through a mobile application and fulfill their needs. Expectations of customers increase if there is an excellent advancement in any innovation. The great channel or path to reach their expectations is by using mobile applications.
Customers also use different mobile applications to search for items, create, and track their orders from the solace of their homes. It can enhance users' experience and make better buying decisions. It can highly increase the value provided to the consumer in accessing your services.
6. Make Connections with your Customers Quickly and Fastly
If your mobile application is easy and fast to access, it can quickly improve customer satisfaction. However, suppose you wish to offer better communication speed to your users. In that case, the missing link you need is to have a mobile application that represents your business services and products. Using the mobile application is reliable, convenient, and customized.
If navigation through a mobile application is easy, the consumer can quickly access or search for your particular product. Mobile applications are also a great way to provide feedback on product quality, services, features, and other things of a specific business, etc. If you add a live chat attribute to your mobile application, it increases customer engagement as well as satisfaction.
Disadvantages of Using Mobile Applications
Reach out to a mobile app development company in Hyderabad | Tvisha to gain an idea about the benefits and drawbacks of using mobile applications.
1. Impossible to Make the Mobile App work with each OS Platform
In the present era, you can't create one mobile application and put it on all app stores. It is necessary to develop an iOS app, Windows app, and Android application to reach more people. It can increase the cost and decrease the speed of building a mobile application on each operating system platform.
2. Optimization Might Seem Hard
You have to customize the content of your mobile application to add more value to it. In addition, you have to optimize your mobile app for better functioning, which consumes a lot of time. Optimizing also seems complicated if building your mobile application requires more digital space.
3. Takes Up a Large Amount of Space
Nowadays, modern size app takes up a large amount of space. So if you have a 16GB memory space tablet, you need more spacious mobile device availability. Few gaming applications take up more than 16 GB of space. Due to a lack of storage space, customers might uninstall that particular app they don't use to save some digital space.
4. Difficulty in Marketing your Mobile App
It doesn't mean that if you have a mobile application, you need to download and install the mobile application. You have to use various marketing campaigns to grow your app awareness for making people download it to their mobile devices. It is somewhat tricky to market your application at every marketing place. It might take a lot of time, and drain your energy and effort.
5. Always Obtaining Customer Data is Not Simple
It seems complicated complex to acquire every user's data by any Mobile App Development Company because you can't download google analytics for your mobile application like you do for a website. In addition, your app metrics might be different than a website, so it is a challenge to detect the customer's information and set plans to promote your business brand.
6. Requires Relevant Ongoing Updates
Creating a mobile application, putting it on all app stores, and forgetting about it can reduce your app awareness and rating. You will refresh the content of your website for constant ranking values every day. Similarly, your app must acquire content upgrades, tech updates, and new characteristics. It makes people get attracted and interested in using your mobile application.
7. You Need to Share Profits with App Stores
If your mobile application is getting good sales, you can have those earnings to yourself. But you need to minus the processing fees, which go to the app store where you kept your mobile application.
8. Poorly Designed Mobile App Damages Your Brand
Your mobile application is like a first impression to users as they are the ones that can create your business brand awareness, your products, services, etc. If your mobile application design is not up to the mark or seems not helpful, it can damage your brand's image.
Final Thoughts
Thus, these are some of the benefits and disadvantages of mobile applications. The actual challenge comes from the equation of developing a mobile application. There are only certain situations where they remove a mobile application if they are not satisfied with the services of that particular business brand. But every user downloads and uses the specific application if it seems so valuable to them. They will install it if they find the mobile app is easy to access and simple to navigate.