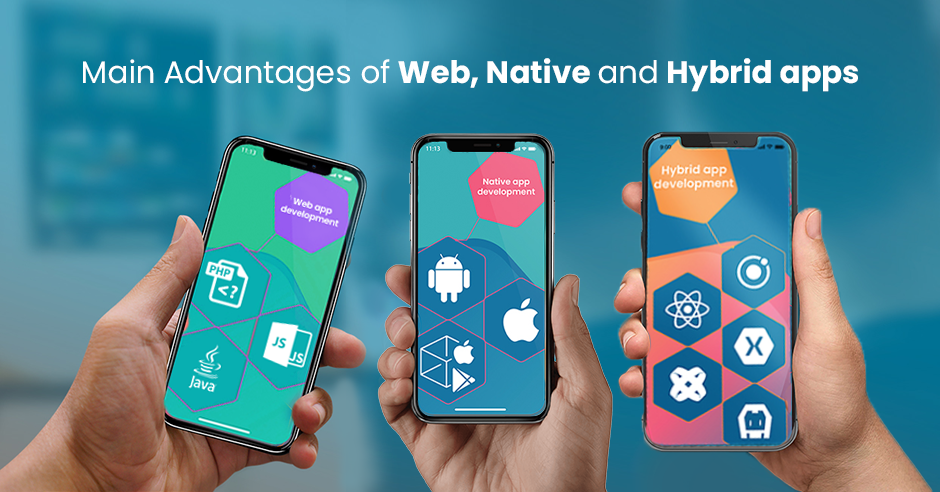 Published October 17,2020 by
Tvisha Technologies
Main Advantages of Web, Native and Hybrid Apps
Most business software is also available in a mobile version that runs on a tablet or smartphone. In many cases, these standard apps meet the needs of a business. But if the app does not fit in well with the business process, for example, the choice to develop your own application is obvious. According to app service provider OutSystems, the most important applications for which companies will develop their own applications in 2020 are:
Process automation (forms, routing)
Reporting and analysis
Management dashboards
CRM
Supporting collaboration
Which form do you choose if you are going to build or have an app built yourself? What do the different architectures entail? And what are the pros of these strains? An overview, compiled with the help of developers of web applications and mobile apps.
1. Web App
A web app is a mobile version of a website that only shows the most important parts of the desktop version. If desired, you can add extra functionalities to this mobile version. The design of the website automatically adapts to the screen size of the mobile device.
Advantages of a Web App
1. Generic Platform including the use of sensors
A web app is managed as a 'normal' website. This allows you to develop a generic platform for the various platforms that you have in your portfolio as a company. Another development advantage of the web app development is that you can make (limited) use of specifically available sensors, such as recognizing the location (location access) and responding to movements of the phone (accelerometer).
2. Little Bureaucracy and Always up-to-date
Other advantages of the web app are of a more practical nature. This makes it easy to always provide a web app with up-to-date information. And you never have to wait for approvals or waiting times, partly because you are not dependent on the approval of an App Store. Life is really live.
3. Low Costs
These advantages also translate into the required budget: the development costs are relatively low.
2. Native App
Users can download a native app from the app store and (partly) install it on their tablet or smartphone. With the native app, you don't have to take into account different web browsers, web standards, and device types. That sounds ideal, so your app works on any device. But keep in mind that every operating system has its own store: the App Store for Apple iOS, Google Play for Android, Windows Phone Store for Windows Mobile, and BlackBerry App World for BlackBerry OS (RIM). This means extra work for your company because each operating system has different conditions and design requirements, so you have to develop a different app for each operating system by adopting the best mobile app development company.
Advantages of a Native App
1. All mobile functionalities available
With a native app, you can take full advantage of all the functionalities that a mobile device has at home. Think of GPS, camera, gyroscope, NFC, touchscreen, audio, and the file system. DejaOffice CRM is an example of this. You also get - if desired - with this app access to the smartphone library so that you can process the media on the device in your app. Finally, integration with other apps is possible with this app.
2. Faster and not dependent on the internet
Other practical advantages of the native app are that the device - and therefore your app - works faster. And you don't need an internet connection for this app. The only exception to the latter advantage is of course when an update has to be downloaded.
3. Hybrid App
The hybrid app is a combination of a web app and a native app and aims for the best of both worlds. You download the hybrid app from the app store. The design is also comparable to the native app. However, the difference is in the back: after starting up you actually end up at a browser screen (also called a WebView). This allows you to develop one hybrid app for multiple platforms at the same time.
Advantages of a Hybrid app
1. Best of both worlds
The hybrid app development is the most popular for a reason. After all, it offers all the benefits that the web app and native app also offer. You can therefore offer the app in the various app stores, without developing four different versions. Partly because of this, the content (and the app itself) can be updated and maintained quickly and easily and you can work flexibly.
2. Costs are manageable
The costs for a hybrid app are usually between the costs of a web app and a native app. Because you can create hybrid apps for multiple platforms simultaneously with frameworks such as Sencha and Cordova, not only the costs and duration of development are reduced, but also the costs for maintenance and extensions.
Integration with other systems
According to the previously mentioned OutSystems study, the breakdown between the architectures of apps is as follows:
65 percent use hybrid apps
60 percent use web apps
26 percent use native apps
Another interesting outcome from that research is that the best mobile app development companies that develop new applications or have them develop, increasingly link those apps to multiple systems and databases. The researchers: 'For many organizations, it is no exception that they link a new application with ten to fifteen other applications. They do this, among other things, to unlock the functionality of other (legacy) systems, to be able to combine data and as an extension to, for example, ERP or CRM systems.