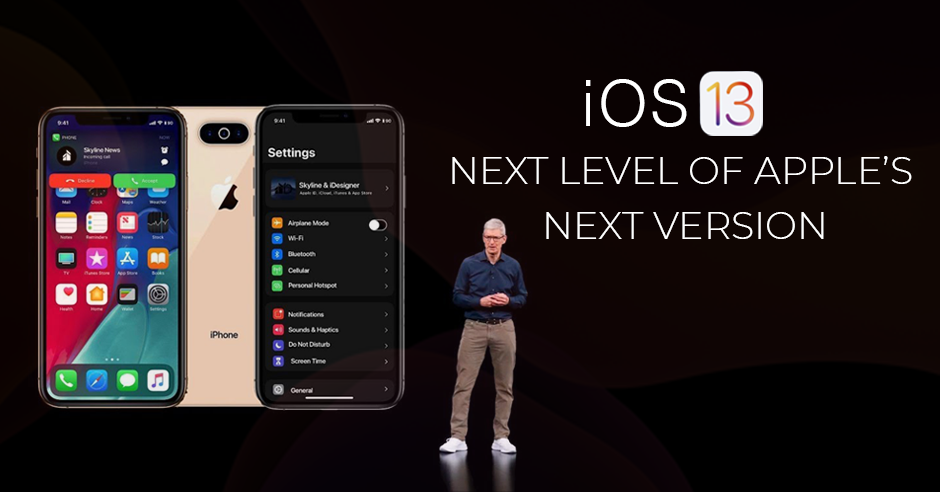 Published September 10,2019 by
Vamsi-Bandi
Next Level Of Apple's Next Version iOS 13
A fresh look iOS13 with a plethora of new features and new tweaks in the design is going to land in the mobile world finally. At last, the long wait for iOS13 is going to end this September 2019.
A Fresh Look of iOS 13!
As usual, Apple stood tall in the mobile arena with its unique style once again. IOS 13, the updated version of Apple's operating system, is powered by the new rich-feature set such as 3D maps, enhancements in photos, car play, augmented reality, messages and emojis, performance enhancements, privacy and security, and many more that are going to provide rich user-interface (UI).
Have a glance at iOS13 features below, the next version of Apple's operating system.
List of iPhones that are Compatible with iOS 13
The list includes all types of iPhone such as
iPhone 6s and 6s Plus
iPhone SE
iPhone 7 and 7 Plus
iPhone 8 and 8 Plus
iPhone X and XR
iPhone XS and XS Max
List of iPod Touch that are Compatible with iOS 13
iPod touch (7th generation)
Features of iOS 13
1. Dark Mode
The dark mode feature of the iOS13 allows the user to read comfortably at nights by darkening the screen and lessening the blue light emission. It inverts the color of bright white-screen backgrounds of all installed applications of your phone to dark mode. This mode will be helpful for your health since it reduces the eye strain and headache which is caused by the bright blue light. It helps in better user-experience and saving battery life. You can also schedule the dark mode to turn on and off at your preferred times such as sunrise and sunset.
You can get this mode in your iPhone by signing in into iOS 13 beta. Besides, the third-party developers can also use this feature by the API designed by iPhone mobile application developers.
2. Performance
The performance is improved in terms of
App launch: The app launch is going to be faster by 2 times.
Face ID unlocks: Face ID, the facial recognition system securely unlocks iPhone and iPad authenticity for in-app purchases and sign in to other apps 30% faster than before.
App downloads: The downloadable size of apps will be shrunk to 50%
App updates: All the updates of apps will be 60% smaller.
3. Maps – For a more detailed view of locations
The new feature from the iOS 13 is 3D maps is akin to Google's street view. The geographic area is designed with LIDAR equipped cars and street-level surroundings that show the real-time data and this feature allows the sharing of the estimated time of Arrival (ETA) until you get to the desired location.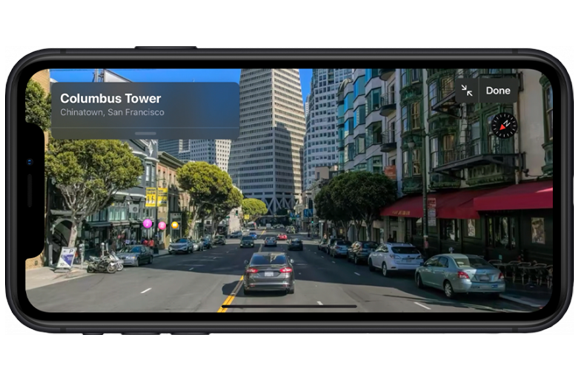 4. Messages and Memoji
Apple added new three Animojis viz. cow, octopus, and mouse. You can also make Memoji on your own with new hairstyles, makeup, headwear, and piercings and these can be used in e-mails, texts, etc. Here is a few emoji guide and their intended meaning.
5. Privacy and Security
Sign in with Apple credentials: This feature allows impeccable security to you with the sign in with Apple feature. If you sign up with Apple credentials, you no longer need to share your personal accounts such as e-mail addresses or Facebook credentials while accessing other apps.
The third-party apps are unable to view your email address with the feature "Hide My E-mail". There is a two-step verification allowed to access the account which can also be designed by custom iOS app development.
6. Camera
Portrait Lighting Control: This camera feature is most awaited by all and it allows more personalized look for their photos in Portrait Lighting by changing the intensity of light, using monochromatic effects (High-Key Mono) on photos as they wish. Furthermore, camera storage is designed with more privacy and security.
Video Editing: With this feature, you can adjust the effects and filter your photos. Whatever the effects and tools (cropping, rotating, auto-enhancing, etc.) you use in-camera can also be used in videos.
7. Improved Siri Voice
Siri, the built-in intelligent and personal assistant voice is changed to more natural than before. The iOS app developers designed this version so that it supports Live Radio and can access stations from radio, iHeartRadio, and TuneIn.
8. CarPlay
It has been updated with a new dashboard view for maps and music and has an updated calendar app.
These are to name a few out of many new features. You can view other features such as reminders, accessibility, battery, AirPods, shortcuts, books, contacts, do not disturb while driving, keyboard etcetera.
Summary
To sum up, the next level of Apple's next version iOS 13 is going to attract iPhone and iPad users with plenty of new brand features. You will get more personalized features with this new version. The outlined features above are to name a few, you can view more features after upgrading your phones to iOS13.
Meet our app development company which designs various mobile apps that meet the requirements of any business irrespective of scale and brand. TheWatchSeries.to Alternatives