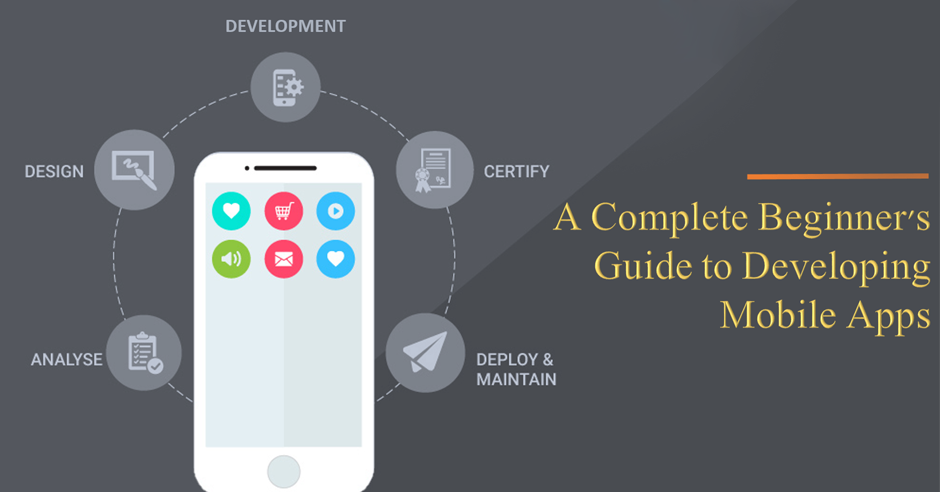 Published February 15,2020 by
Tvisha Technologies
DIY – A Beginner's Guide to Create a Mobile App
The world is not a place like it was three decades ago. Do you know what happened? Change happened. Technology happened. Things around us have drastically changed and these changes have made our lives much easier. Our world has turned into a global village due to the breakthroughs that happened in technology in the last three decades.

With the launch of the first smartphone in the year 2008, there has been a wave of mobile apps that have taken over the world and have all of us swimming in it since then. Since 2008 till now there are a total of around two hundred billion mobile apps from numbers of mobile app development companies that are available for use both on Google play store and Apple app store. And this huge number is estimated to rise up to over two hundred and fifty billion by the year 2022.
Needless to say that the mobile app industry is something that has turned into a huge industry with massive prospects for success. But if you observe you will notice that there is only a very small amount of mobile apps that have been successful as compared to the total number of mobile apps available for use. Why are not all mobile apps successful? Well, the answer is very simple. It is because not all mobile apps target the needs of the users. Some of the mobile apps are genuinely very useful and if you create an app like Facebook or Uber or Instagram that have made their user's lives easy then you can rest easy because then the chances of your mobile app becoming a total hit are very high.
Mobile App Uses for Businesses
Nowadays if you observe every business organization and brand prefers to have a mobile app for their business or brand. Having a mobile app for a business organization or a brand is very beneficial for them. It is a way for brands to engage their customers in one of the best ways possible. Having a mobile app that lets your customers be in constant touch with a brand or a business means it will be easy for the customers to approach the brand. And this is something that makes it more likely for the customers to get loyal to the brand or a business organization.
Steps for Creating a Mobile App
There many beginners in the mobile app development field who are interested in learning how to create a mobile app themselves. The process of creating a mobile app is as follows:
Step 1 – Know your Audience
The first and the most important step in the mobile app development process is acquiring the knowledge about the people you want to develop the mobile app for. Knowing what your target audience wants is something that you as a developer needs to know in order to develop something that is deemed useful by your target audience.
The best way to understand what your users are looking for is by conducting a detailed market survey so that you can know what kind of problems your target audience is facing so that you can address them through your mobile app. The chances of your mobile app being successful are very high if it addresses a problem being faced by the general public or users.
Step 2 – Choosing the Features
The mobile app that you are developing will need to have certain features that you as a developer need to plan out for and choose. In this step, you need to plan what and how many features you want to put in your mobile app. These features are directly linked with the usability of your mobile app and directly affect your users so you need to be very careful when choosing these features.
Step 3 – Coding and Choosing the Operating System
You as a developer of the best mobile app development company need to select what operating system would be best for your product launch. By the way, this is the phase in which you will do the actual coding of your mobile app keeping in mind the operating system on which you want to launch the app. It is advisable that you code the app that will work on both the operating systems iOS and Android. This will enable your app to have a higher chance to get more downloads making it more likely to be successful.
Step 4 – Checking the App and Launching
Once your mobile app is developed you need to check it for any bugs or glitches that maybe there before you actually launch your mobile app on the play store and the app store. The best way to check your mobile app is by having a group of people check your mobile app by using it and telling you about their user experience and what you can do to improve it along with the fixing of the bugs.