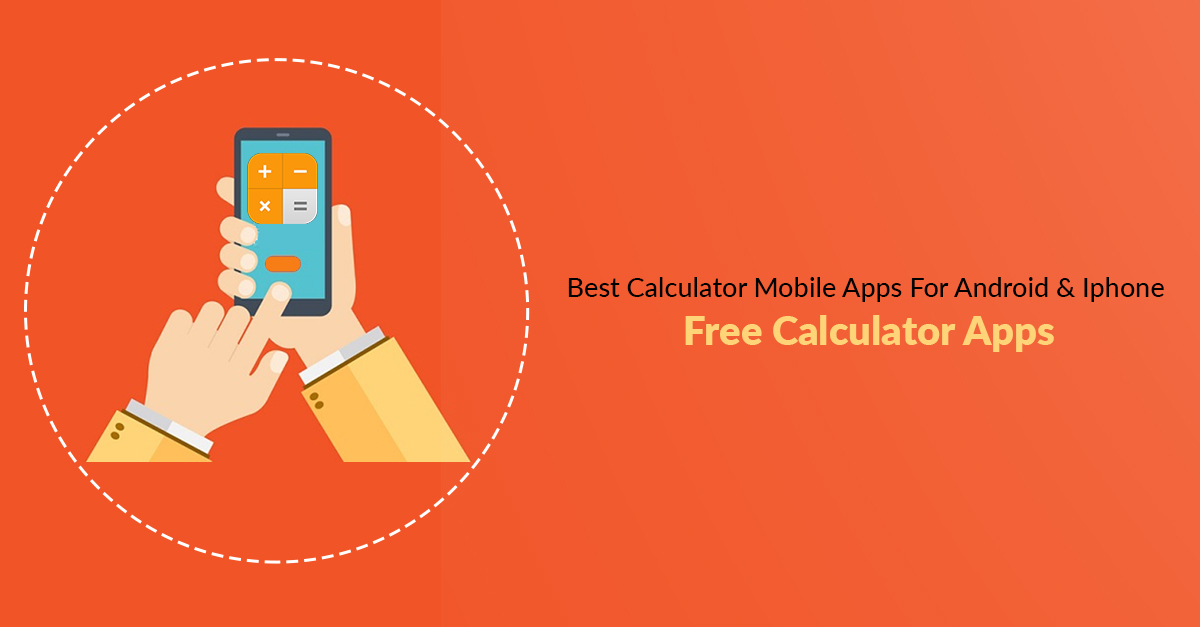 Published July 11,2018 by
Tvisha
Best Calculator Mobile Apps for Android and iPhone: Free Calculator Apps
A calculator is everybody's need, because of this there have been many a ton of calculators throughout the years. Calculator mobile apps are pretty easy to use and are used on a regular basis by adults for calculating how much tip to pay at a restaurant or to split the bill amongst four/five friends etc., to biggest calculations involving a company's tax payment etc., There is no doubt in saying that students must carry a calculator to get through high school or even university level education.
Today, in this rapidly growing world, even the computer has found its way to fit in our palm; calculator is just a mere electronic device which has the ability to solve basic math problems such as addition, subtraction, multiplication and division. Calculators have entered into our mobile phones as a basic in-built app. Most of our daily requirements of a calculator can be sorted with the help of the built-in calculator application. The Android phones come with a decent calculator developed by Google.
Which Calculator is Best for Mobile?
With the significant increase in mobile devices, mobile calculator apps are designed with good features for different calculations. It is why a mobile development company is keen on building the best calculator app for android. Even though there are many calculator apps, calculator+ is the best application for mobile as it performs all types of calculations, be it finance or scientific calculations etc.
What is the Best Calculator for Android Phones?
Other than the calculater + app, there are many other calculator apps that are best for Android phones. Many android apps are being designed with embedded calculators. While using any Android calculator app, you can change style and text font size in the android calculator settings. Finding the best one needs thorough research because it's a bit difficult to choose from many apps.
There are a number of calculator apps available on the play store capable of performing calculations beyond one's imagination. Let's have a look at a few of the best Free Android calculator apps developed by calculator app development companies :
1. Calcu
Calcu is currently one of the most popular calculator apps available on the play store. It is stocked up with all the basic features that needs to be in a calculator and some of the extra features include a calculation history, memory keys. It also has various customization features and gesture controls in addition to themes which light up the calculator app. It is not a full scale scientific calculator but it has got enough functions to be a step ahead of your basic calculator applications. The app is available for free and the ads can be removed by a single purchase of $1.99.
2. Calculator by Xlythe
Calcularor by Xlythe is a basic calculator app available on the Google play store. It is a four-function calculator i.e. it can efficiently do general stuff like addition, subtraction, multiplication and division. It has many inbuilt features like graphing, base conversions and it keeps a history. The User Interface is also very simple. It shouldn't be a trouble moving around the apps interface. The app is free to download and a full version can be purchased for $2.99.
3. Desmos Graphing Calculator
Desmos Graphing Calculator is a good substitute on mobile for the popular graphing calculators. The basic stuff that is done by a calculator can also be done on this in addition to a full assortment of scientific calculator. It can solve graphs, tables, stats and many more. The tables and stats are completely customizable, and it works well for most types of academia. You can download this app as it is a free android calculator app for iPhone.
4. Financial Calculators
Financial Calculators are a series of calculators that make you understand your finances. It has over a dozens of modes and each mode can be used for a specific purpose. It can be used to solve all the finances like home loan interest, student loan repayment and even taxation can be done with the help of financial calculators. There have been a few reports of bugs regarding few of the modes but the majority of the application works just fine. People looking for help in calculating finances must check this out! This app is Free to download in the Google play store and it does have ads.
5. HiPer Scientific Calculator
HiPer Scientific calculator is one of the best calculator apps for an educational purpose. Apart from a built-in basic scientific calculator it comes with some obscure features like a random number generator. It has a convertor built-in with over 200 units for conversion. This can also solve permutations. The app is free to download from google play store, but the Pro version offers approximation up to 100 decimals and 9 digits of exponents. The pro version is $2.99.
Apple too has a built-in basic calculator that is adequate for a daily use. It is definitely more than our old solar powered Casio calculator. There are a lot of calculator applications present on the app store that can be used to solve simple to complex problems with ease.
Here are some of the most used calculator apps for iOS :
6. PCalc
PCalc is tagged as the Best Calculator in the App store. It has full featured calculator apps around and available on any Apple product, Iphone, ipad, apple watch and even Mac laptop. It has got perfect calculator for scientists and engineers with advanced functions. It is priced at $9.99.
7. MyScript Handwriting Calculator
This is the To-go application if you're in a hurry! The My script calculator is programmed in such a way that it can turn handwriting into digital text/numerical. By just writing on the screen with your finger you can easily solve long divisions or square roots which might take up a long time in a conventional scientific calculator. The digital results will be displayed on the screen, and a wide range of mathematic operations can be performed in the My script Handwriting Calculator. It is absolutely the best free calculator app for iPhone without ads. Download one of the best calculator apps and start using it.
8. Graphing Calculator
This is a free Graphing Calculator and the best calculator app for iPhone, which you can use for all the scientific functions like natural log, log base 10, permutations and also simple square root and cube roots. With this additional feature of graphing capabilities, allows you to graph up to four equations at once. This is a robust graphing calculator app, which helps you to play easily with graphs like dragging them around and pinch zoom as required.
9. CalcBot
Calcbot is one of the best calculator apps, and it is free. It is not only a pretty decent calculator app but also is one of the very good conversion app. It converts units quickly on the go. The easy-to-read history tape lets you use old calculations to the current ones. CalcBot has version available for apple watch which makes it much more efficient and handy.
10. Calc Smart
Calc Smart is IOS calculator app developers have come up with a good looking calculator app which keeps your numbers organized by separating them based on the date. This is one of the best calculator apps for iPhone which gives real time results. This will also provide with quick calculation tips, and updates live currencies in order to convert. It is mere $3.99 for download from App store.
11. Numerical 2
Numerical 2 is all about speed! It is one of the free calculator apps for iPhone. It is a tough competitor for all other calculator apps available on the app store. The best part about this multi coloured calculator is that there are no equals button, you just type in the problem and the solution is flashed on the display immediately. It also features a full scale scientific calculator keyboard and a fraction keyboard as well. It supports iPad multitasking as well!. Do you like using a calculator emoji? smiley emoji? Here is a few emoji guide to be wary of using for business purposes, and the meaning behind them: