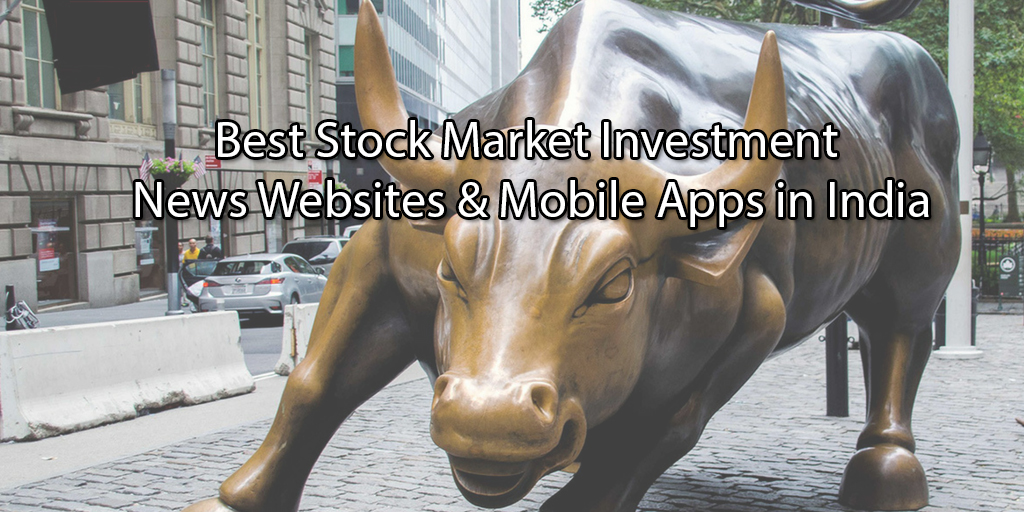 Published March 15,2018 by
Tvisha
Best Stock Market Investment News Websites & Mobile Apps in India
Deciding on your investments is one of the most difficult tasks. Couple that with investing in stock market and you've chosen the mother of all herculean tasks. Therefore, before you invest in a stock market it is imperative that you do your research thoroughly and choose the right tools. Until recently there wasn't much information available for investing in the Indian stock market. But, thanks to the ever-evolving technology of the digital world there are many Stock Market Investment News Websites and Mobile Apps in India that can be used for a smart investment to top growth marketing consultants.
Stock Market Investment News Websites
These are your pit stops where you equip yourself with the information necessary for racing into the world of stock markets. There are many websites designed by website design and development companies and web development companies that can be very helpful.
Some of them are Listed Below:
1. Economic Times
It has been one of the pioneers of news on India financial markets and has evolved into one of the best Investment news sites. Just like its website, it has a wonderful mobile app.
Yahoo! Finance: Almost everyone who wants to invest has heard about it but it needs to be tweaked for Indian users. Along with the swarm of paid company reports, it also provides an ocean of information that is free. It also has a mobile app.
2. Live Mint
Wall Street, per say is synonymous with financial markets. It has partnered with Hindustan Times to provide its users with valuable resources for investing information, especially when seeking out company-specific news.
3. Equity Master
Although this site might have been made better, it does provide the basics of most sectors in the financial market. It also offers premium services with research reports and recommendations along with a learning platform.
4. Money Control
This site can be considered to be one of the best for Indian markets. It provides financial tips, mutual fund analysis, daily Stock updates, and commodities updates among others. Along with its website, it also a mobile app that is equally good for getting real-time updates about the stock markets along with features such as portfolio management.
5. Share Khan
Everybody in India who wants to invest in the stock market has heard of Sharekhan. It is considered to be #1 finance/investment website by some reports and rankings. Although most of the useful information is payable, there still lots of analysis that you can avail for free.
6. Google Finance
It is probably one of the lesser known financial websites, but that doesn't limit it from providing the information on almost every stock market across the globe.
National Stock Exchange: Last but not the least we have our very own NSE website. Although it targets informational content from the National Stock of India, it provides some impressive graphs for the market. Its mobile app is also equally impressive.
Stock Market Investment Mobile Apps
Thanks to a multitude of app developers and Android app development companies, Mobile Apps are eyes and ears that keep you upbeat with your investment – be it the existing ones or the ones that you'd like to plan in the near future work habits effective grow business
The following Apps can be Very Helpful
1. Money Control
This app can be used to track Indian as well as Global financial markets. Along with stocks, this app allows you to track indexes of Sensex and Nifty, Mutual Funds, and Commodities and Currencies among others, through a single search bar that is also enabled with a voice search.
2. Economic Times (ET) Markets
Another best stock market app is Economic Times, ET Markets. It provides the latest news on stock markets, provides tips on intraday trading, and tracks NSE Nifty charts live, among other useful features. It is also a one-stop destination for mutual fund news, NAVs, fund analysis, SIP calculator, and portfolio updates.
3. Yahoo Finance
This is a great app but after downloading it needs to be tuned in to Indian stock markets. It has a simple and yet dynamic user interface that has many features such as real-time stock information and investment updates.
4. NSE Mobile Trading
This too is a great app for Indian stock market. It provides a hassle-free trading experience on the go. It features a comprehensive trading and market monitoring platform.
Stock Watch: Its simplicity and ease of use make it one the best app that is also well-categorized. It is one of the best when it comes to portfolio tracking and making a watch list and also provides includes a Search-Suggest feature that helps find stocks faster saves you the effort to type out an entire company name.
5. Investar
Its key features are its simple navigation and interactive charts with zoom features. It has an unlimited watchlist and also provides pivot-point based resistance, and support levels among other features.
6. Market Mojo
Although it is a new app it a very powerful one for fundamental analysis stock market. It provides pre-analyzed information on all stocks, financials, news, price movement, broker recommendations, technical and all the essentials for the Indian stock markets.
We hope that the aforementioned websites and mobile apps assist you in acquiring the necessary information and tools for smartly investing in the Indian stock market. We also recommend comprehensive finance courses in India in addition to this app.