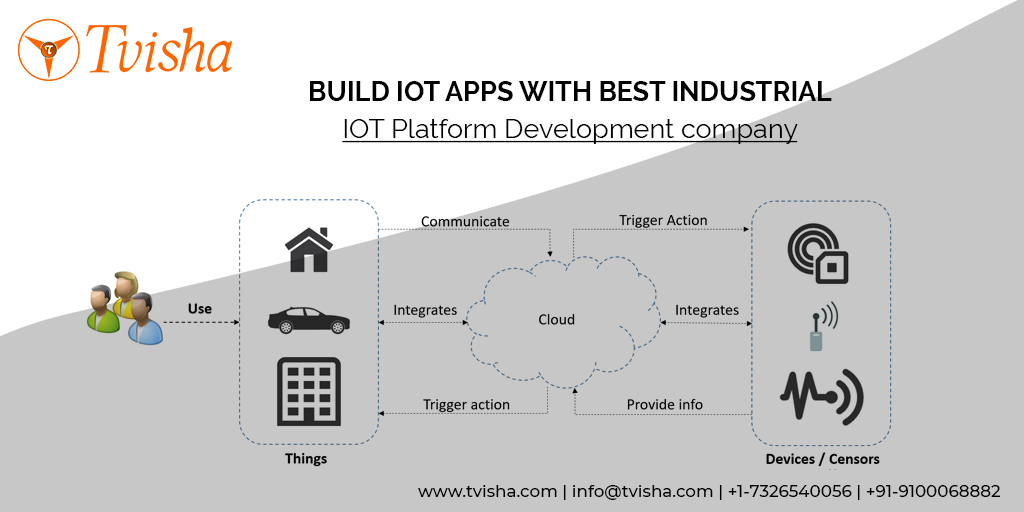 Published October 26,2018 by
Tvisha
Build IoT Apps with Best Industrial IOT Platform Development Company
The advent of the internet and its sharp rise has been miraculous. Never before has it been seen that a new technology has developed at such pace and in doing so, has carried other related innovations into their next generations. The prime example of the effect of the internet on information technology would be the computer. Before its advent, the development of computers, though faster than any other innovation in the past, was quite slow, especially when compared to the developments PCs and mobile devices go on a daily basis now a days. However, since then, we have come quite a long way from a simple command-based interface to touchscreens and motion detectors in a matter of just two decades, give or take.
IoT Market
One of the recent marvels to come out of IT industry is the Internet of Things, or simply, IoT. According to Wikipedia, the Internet of things (IoT) is the network of physical devices, vehicles, home appliances, and other items embedded with electronics, software, sensors, actuators and connectivity which enables these things to connect, collect and exchange data. A simpler definition for a layman would be that IoT aims at connecting devices that were traditionally considered standalone (ex. Washing machine, Cars, etc.) to the internet without the involvement of the humans. IoT has seen a meteoric rise in its widespread acceptability and this has given birth to a new sub-sector in the IT industry – IoT applications. The market for IoT currently is quite big and is only expected to rise at an unprecedented rate. The global market value of IoT is estimated to touch $561.04 by 2022. These numbers are particularly impressive considering that IoT has been commercially been used for not more than a decade.
IoT Basics
So, if you are an entrepreneur who fancies the IT industry, IoT might be the smartest investment you can make in the current scenario. IoT's ability to provide industrial solutions has been its biggest selling point. It has spread like a wildfire in the market and professionals, experienced as well as aspiring, are ready to hop on to the bandwagon. Several enterprises across the world have accepted IoT as the standard way to assimilate all their systems into a single connected environment. IoT platform development companies have pushed their businesses quite aggressively in this direction and coupled with the market's eagerness to join hands in this initiative means that IoT is here to stay and transform technologies. The advent of mobile devices, mobile application development and their constant upgradation to be compatible with all sorts of technologies in the market is another big factor that has worked in the favour of IoT. People can now remotely control their IoT devices from anywhere in the world using just an app on their mobiles. This has given people a lot more control over their devices and more importantly, a bigger window for automation.
IoT devices and their widespread acceptance has given rise to a big industry, or basically, the industry upon which IoT's future depends upon, the IoT app development industry. This industry is responsible for the development and management of IoT mobile applications and IoT web applications. The mobile app is developed intuitively for a greater customer satisfaction and ease of use. A mobile app is the platform upon which communications can be carried over the internet for an effective work flow and superior results. On the other hand, IoT web applications is the backbone upon which IoT devices work. It offers the users a greater accessibility for customization of user interfaces, monitoring of individual mobile apps, carry out data analysis and similar jobs on market research and most importantly, a location that is used acts as a database.
IoT Usage
IoT app development is a quite diversified filed and has an application in almost every other industrial sector you can imagine. Who doesn't love an automated, network connected device or equipment. IoT provides exactly that. IoT app development projects are currently the talk of the town. Researchers and professionals across the globe have found varied levels of success in various fields. Some of the most successful implementation of IoT in some leading industries are mentioned below:
Healthcare Industry: Modern health care industry has been one of the biggest benefactors of the IoT. The invention of wearables and next generation analytics devices have helped medical personnel assess diseases with greater accuracy, especially the chronic ones. IoT applications have also been of great help in security and inventory management jobs. Real time location sharing devices have become a norm in the industry that has in the past struggled with drugs and hardware abuse.

Automobile Industry: IoT app development has brought forward the due date of automatic, driverless vehicles. Such vehicles were considered to be a dream only a few years back, but then, here we are today, with various companies and startups involved in research. What was once considered impossible has now been made possible, as proved by various prototype vehicles existing and constantly improving.

Manufacturing industry: Manufacturing industry is a quite big field and encompasses different related and unrelated vocations. IoT app development projects have gifted this sector a boost with great inventory management platforms. Other than that, researchers and professionals have been able to harness the power of IoT for predictive maintenance and machine checkups.

Personal and Home appliances industry: Personal and home appliance industry is perhaps the industry which has benefitted the most from IoT applications. Today we are surrounded by smart products, be it television, refrigerator, washing machine, etc. Years of research and actual market experiments have brought us to a point where we are ready for the next step in the housing culture: Smart Houses.
Your Options
So, now that we have taken a look at all the applications of Internet of Things, it is time for you to think seriously about it and its true potential. You can have your own product ready in no time and at great budgets using various top IoT platform developing companies. However, not all such companies provide you with a mobile app to maximize the potential of your IoT device. In that case you may have to turn to mobile application development companies for services.
On a side note, we are glad to share that Tvisha Technologies has been listed as one among the best IOT Development Comapny across the world. You can find us on DesignRush.