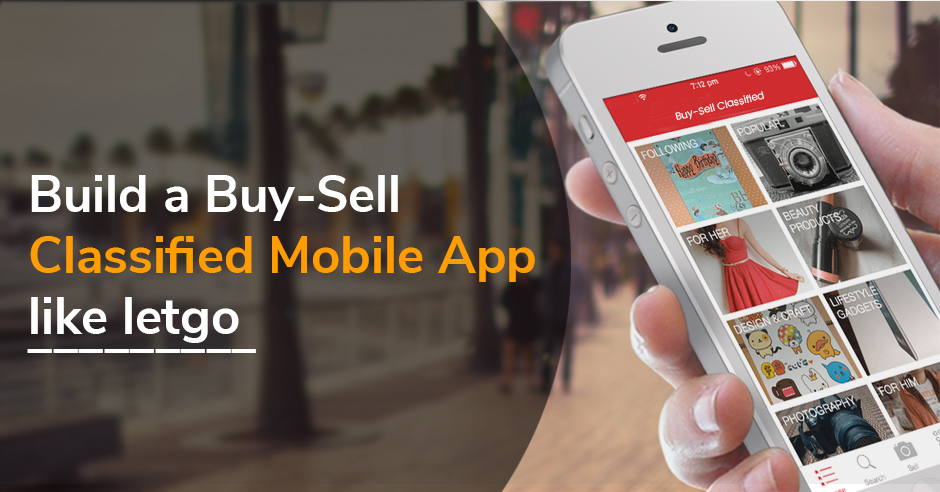 Published February 15,2019 by
Jamie Campbell
Build a Buy Sell Classified Mobile App like letgo
There are classified websites, and then there are classified mobile applications. Classified mobile applications are different from classified websites majorly in terms of the platform, which makes all the difference. A Buy Sell Classified Mobile App (such as apps like letgo) is a mobile-based application that provides the users with a platform to buy, sell, or rent a range of things such as property, storage space, cars, furniture, books, electronics, mechanical goods, educational goods or services, to even pets; all at the touch of a button from the comfort of your home.
Technical Overview
Now you might be wondering how a classified mobile app development is any different from, say, an e-commerce website and how does it facilitate the user with better opportunities and deals? An online classified app is different from an eCommerce website primarily in the sense that the former has a much larger outreach than the latter. For those who can gauge the specifics, you will know that an e-commerce website/an online shopping website is mainly a B2C (business to consumer) platform, where businesses are mainly looking to sell to end consumers. However, a classified app can be used as anything the user wants it to be—from B2C (business to consumer) to B2B (business to business) to C2C (consumer to consumer). The primary idea is that anyone can sell anything or buy anything on such a platform, one which has a great potential for personalization. A noteworthy example of such platforms would be apps like letgo, one of the most widely used local classified apps in the market.
Personalizing It
Furthermore, the ways in which you can personalize a buy sell classified mobile app far exceeds the ways in which personalization is allowed on e-commerce platforms, which are few to start with. In addition to buying/selling/renting property, restaurant chairs ,old furniture, clothes or personal goods, booking services from local or international hotels or restaurants, the user can also use a personal classified app as a forum for discussions by including only a list of select invitees, or even a job portal for hiring or sending out placements to potential candidates. The uses of classified mobile apps are endless.
How to Acquire One and From Where?
Getting It: Now that you are aware of the uses of a classified mobile app, it is time to know how to acquire one and from where. Classified app development is a major market at present and there are many professional app development firms that can provide you with custom classified apps that are cut to perfection to your unique needs.
Getting in Touch: Getting in touch with classified mobile app developers is the first step in the process of successfully building a classified mobile app. A Google search will help you get the process started by providing you with suggestions to find classified app developers you can hire. Most prominent mobile app developers in the game will be quite adept at custom classified app development and you can rely on one to give you the exact features you need.
Features for Buy Sell Classified Mobile App
A discussion on classified mobile apps is incomplete without shedding some light on some of the most prominent features that come with some of these apps (such as the apps like letgo). The following is a list of features that you are likely to find, but these are there just to begin with:
1. Registration for Users
The user will be required to register with the app (using email or the mobile phone) to be able to post, manage or remove ads. This may or may not carry a few based on your personal specifications. You will be able to choose to change these settings at any point you wish.
2. Wish Lists
What is an app for purchasing or selling goods without a wish list? The wish list allows the users to save or like any ads or posts that they want to come to later or appreciate the content. You will have the option for them to be personal (meaning hidden from public view) or open. You can also use these lists to create and maintain a record of goods that you plan to buy sell classified app Development over a given period of time.
3. Ad Details
Ad details are an essential part of any ad. These details come with every ad, as part of the main ad or the drop-down, providing crucial information regarding the product, such as the price, the location, the product's availability, images, and any additional information pertaining to the condition of the product and the terms and conditions of the deal.
4. Multi-Lingual Support
As mentioned earlier, classified mobile apps are always a global platform and as part of that are equipped with multi-lingual support to facilitate transactions not only across multiple, distant countries but also multiple, disparate languages. This feature provides inclusivity to the user that is often not found in many e-commerce website developments which more often than not make use of Google translation to enable transactions between users. How you utilize this feature in a custom classified mobile app depends on the limits you set to the number of languages you wish to include.
5. Push Notifications
Push notifications help you be on point with important reminders, keeping you ahead of your schedule by alerting you at regular intervals of your engagements.
6. Payment Gateways
This is one of those features that is a must-have for every platform. You can include any number of payment gateways to make transactions as swift as possible for the users. An additional benefit of this feature on a custom classified mobile app is that it can also be customized for a single specific need of the user.
7. Admin
The back-end admin control on the web portal allows the admin of the platform to manage the overall functions of the mobile app as well as the contents on it. This feature also allows the main user to steer clear of undesirable content on the platform.
Now that you have learned all about classified apps, it's time to go make one for yourself or use them to find a buyer for your product!