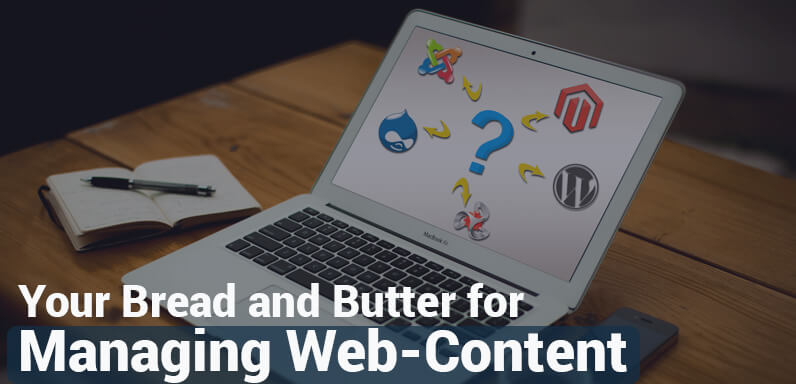 Published May 24,2016 by
Tvisha
Content Mangement System – Your Bread and Butter for Managing Web-Content
The world has seen a remarkable growth in terms of connectivity, thanks in large part to the widespread accessibility of the internet across the world. Today, we are witnessing majority of the consumers getting on board the internet bandwagon for their research and/or purchases. As a result, in order to increase their chance of success, companies and businesses must gain good visibility over the internet through an interactive and informative website, as well presence over social-media platforms.
Introducing CMS
Enterprises today are investing in their websites to include a diverse content offering, as websites are a great platform to build a robust customer base. With the growing importance being laid on content, a number of Content Management Systems (CMS) have now flooded the enterprise market aimed at aiding companies better manage their web-based content functionalities. A good website managed by an effective CMS can enable you to easily manage your website's content without necessarily having any HTML knowledge, while helping you improve in areas like publishing content, format management, monitoring and updating content, and better indexing, search, and retrieval.
Important Factors and Considerations
Perhaps the most important consideration before jumping in to invest in a CMS is to chart out a clearly defined set of requirements. You should have a clear understanding of what you require from your CMS, and what functionalities your preferred choice of CMS solutions should come with. Understanding what your current as well as future requirements are will help you narrow down your choices, and you will be able to utilize your CMS to its fullest potential. Even though there are some really good off-the-shelf CMS solutions, it is better to go for custom-built CMS development solutions that would enable you to add those features and functions which best allign with your website's requirements.
Opting for third party providers who are adept at providing high quality CMS website development services might be a good idea, but you need to have a clear demarcation of what your expectations from their solution are. Since mobile technology has advanced by leaps and bounds, your CMS should also be able to effectively optimize the web content to integrate well with a mobile's interface. Since your company's chances of attracting a customer heavily depend on the appeal of your website, utmost care and diligence must be shown while developing and managing the content. A good CMS solution will help you streamline your website so that visitors are met with a seamless experience while navigating through it.
Lastly, it's always important to consider the returns on investment (ROI) before making any decisions for your company. CMS solutions are generally meant for long-term use, and therefore only those solutions that offer functions as per your requirements should be considered. If it's generating more traffic, CMS should be good at using keywords. While some even offer one-to-one marketing that's designed to streamline the content of your website according to the visitor's behavioural patterns. These are minor considerations to make, but one that can have major consequences. So choose your CMS carefully, for with the right solution the path to breaking in to the internet world becomes a lot easier.