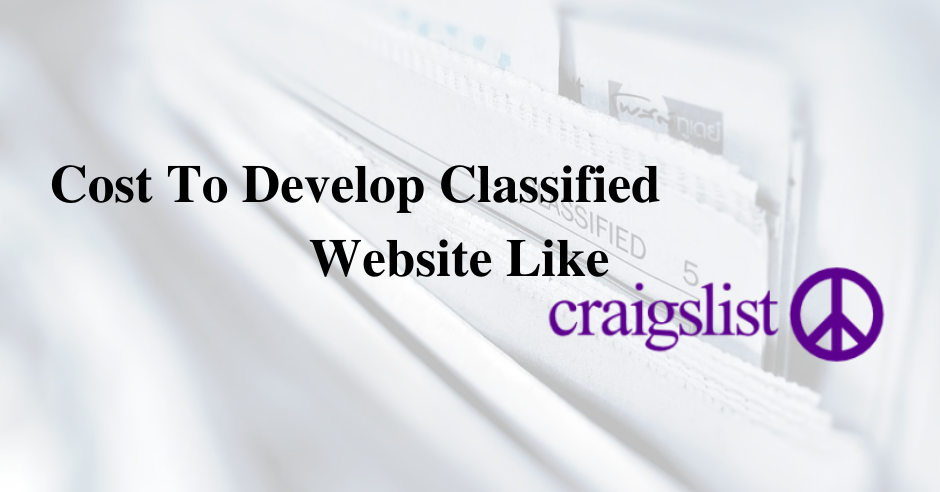 Published July 21,2022 by
Tvisha Technologies
Cost To Develop A Website Like CRAIGSLIST
Classified ads are a cost-effective and hassle-free way to connect with people and customers. It is an excellent platform to reach millions of global internet users. Everyone's dream is developing a website like Craigslist which is the dais for multiple classified advertisements.
Are you wondering whether the cost to develop classified website will burn your pockets? Let us notify you of this; the thought you acknowledge is inaccurate. You can create a website like craigslist with either an out-of-box solution or a custom development service per your business requirements.
What is Craigslist?
Craigslist - a one-stop platform of local businesses all over the globe. It has gained notoriety with its global presence. Anyone can promote their business by posting ads on this platform.
A Few Bulletins of This Free Advertising Site:
It has 700 sites in 70 countries.
Anyone can post any type of ad in any language since it supports 13 languages.
It has a record of 50 billion monthly page views.
Each month, 100 million classified ads are posting.
The discussion forums are receiving a maximum of 200 million posts each month.
Craigslist didn't change its design over these 25 years since its inception but has gained popularity among millions of sites.
With those analytics, you can understand why everyone aspires to develop a website like Craigslist.
Have a solid classified business idea like Craigslist? Let us build a solid business model for your unique idea.
You know picking a domain name, domain purchase, web hosting, and all the fundamentals. So, let us directly jump into the website design and development part .
Successful Factors of Craigslist that made it a giant in Classified Ads:
CMS: You can design and develop the website like Craigslist from scratch or an open-source. However, WordPress is the sought-after open-source content management system for any business. It has a variety of themes, plugin, and features that can meet a classified ad requirement.
Theme Selection: Theme selection for a website is like a canvas for painting. You can opt for any theme among the best suitable and multi-featured themes such as Classifieds ad theme, WordPress classifieds, Classified engine, and ClassiPress which comes with the features that a classified business needs. Check the theme of Craigslist how simple yet beautiful it is.
Plugins: Use fully-functional classified plugins such as WPAdverts, WP User Front-end, and AWPCP for your classified site. These plugins let you decide between free and paid listings. Opt for paid listings if you want to make money with the website.
How Can you Generate Profits from this Classified Website?
These are the ways with which businesses can be tuned in for monetization.
Freemium
Google Ads
Paid ads
Paid features (for the inclusion of additional features)
Subscriptions
1. Features
Home Page: The categories on the homepage of Craigslist's website have community, housing, jobs, services, sales, discussion forums, etc., and shows up the latest ads on the home page.
For Users: The features must include forms for Registration or sign up from social networks, search functionality, featured ads, automatic geolocation, form for contacting sellers, reviews, add to favourites/follow, report, tags, and chat.
For Admin: These are the features that you need to include as an admin - manage (either add or remove) ads, manage categories, manage locations, manage payment gateways, verification of ads, and many more.
For Sellers: Register/login, create ad listings (title, category, description, image, contact information), selection of ad type (payment or free), and submit an ad are the essential features that must be included in the website. After getting approval from the admin, the ad will be live so sellers can earn clicks and revenue.
Integration: The must-have integrations for this classified website are Geotagging/Map integration, Multiple payment gateways, Multi-lingual integration, Rate and Review, SMS API integration, Chat, etc.
2. Data Security
Security is the primary concern in this multi-faceted website. As a site owner, you must provide security for all advertisers, users, sellers, and buyers. As the site is loaded with a massive stack of listings and categories, you must ensure you provide impeccable security for the details and the user data.
3. Event Calendar
It is another prominent feature in Craigslist which can make broad awareness for ads. In the event creation, sellers can add their business details, so interested users can contact you. These events alert the users beforehand.
4. Customer Support
Last but not least, a help desk is mandatory. However, you have provided everything related to the features & usage in the form of blogs or brochures on the website. It helps instant communication with the users and solves the issues on time.
What is the Most Popular Craigslist Alternative?
Although Craigslist remains one of the biggest classified listing sites, there has been a tremendous shift towards various other websites.
If you plan to buy, sell, trade or list jobs, there are plenty of listing sites where you can post your classifieds and advertise them to make them stay on top of the page.
If you are searching for any popular craigslist alternatives or sites like craigslist, check out the below details of these sites.
1. Facebook Marketplace
Integrating a social media site with its internal features, such as a marketplace, offers plenty of pros compared to Craigslist. For instance, it would not be hard to sell something on Facebook Marketplace with multiple views visiting the post. But above all, the most astonishing thing is that you can sell anything except firearms on Facebook for free.
2. eBay Classified
eBay has been around since its launch in 2005. Users still create Classified Ads, which you can search in the listing's categories from eBay's homepage. Its all-encompassing categories still make it the best place to find things for users. Unlike Facebook Marketplace, the listings will be charged, and sellers will be levied with selling fees.
3. Quikr
Quikr launched as Kijiji India and was jointly owned by Matrix Partners & eBay Inc. It has also been one of the choices for classified listing sites. Its in-house delivery partner aims to bridge the gap between buyers and sellers, making payments more secure. It also acquired various ventures to integrate with its classifieds, such as Pepperfry.com, Commonfloor.com and Hiree.com.
4. Olx
Headquartered in The Netherlands, the brand originated as OnLine eXchange in 2006. OLX has been the most trusted of all the classifieds as compared to Craigslists Classified. However,it does not have the rich interface as Craigslist. Still, it offers a decent Content Management System Website for users to navigate. You can explore many categories and contact the sellers by filling out a form if you like anything.
5. Locanto
Locanto is just Craigslist with a rich interface that is much better. Anyone who has used Craigslist will be pretty acquainted with the search choices. Still, they have categories, search bars, and buttons that make the whole experience much more pleasant than Craigslist's small writing. The "Post Free Ad" option is simple. Like Craigslist, there are possibilities to locate everything, from jobs and events to personals and residences.
How Much Does it Cost to Develop a Classified Website Like CRAIGSLIST?
The cost for developing a website like Craigslist is little expensive and starts from $25000 which includes the cost of front and back-end development, UI/UX design, QA, enhancements, feature complexity, maintenance, and marketing and it will be stretch up based on the number of categories, features enhancements, and the number of locations. Hire a website development company that can perfectly craft the site design and developer who is adept at enhancing the features as your business is expands.
Conclusion:
In a nutshell, developing a website like Craigslist is not a tough row to hoe. Make your business objective clear and implement with the insights taken by Craigslist's website. Your classified ad website will also rock in the future like Craigslist in the realm of business.Users always look out for websites like Craigslist services that offer a unique selling deal or niche in the classified advertisements industry.