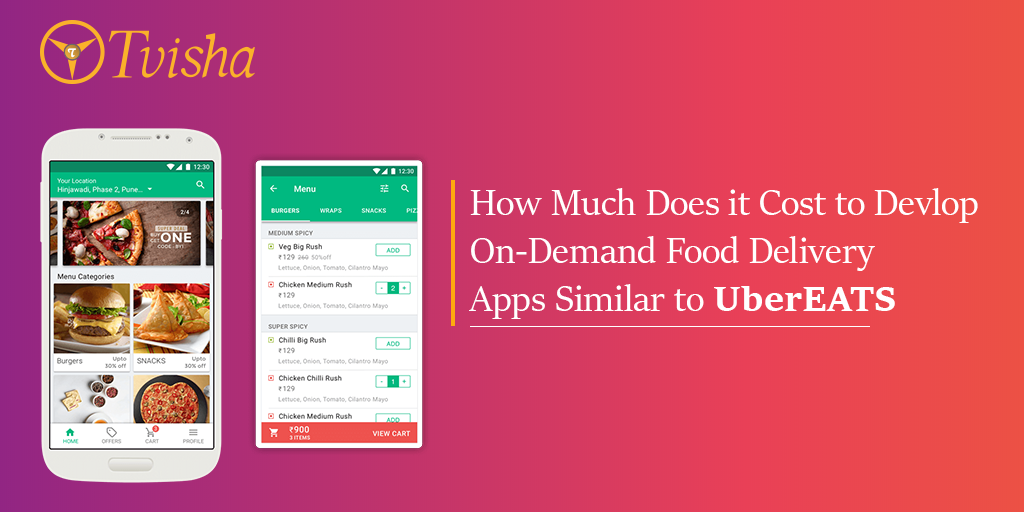 Published November 03,2018 by
Jamie Campbell
Cost to Develop On Demand Food Delivery App like UberEATS
The advent of mobile technology and mobile app development has brought about a wholesale change in the way businesses operate these days. The driving factor behind these changes is customer satisfaction and customer service. More and more companies are diving into the service businesses themselves when in the past, quite often, these things were outsourced in order to save capital. One such service provider business is the on-demand sector. The on-demand sector has a universal appeal. Providing services on demand has been the newest trend regardless of the industry. Be it online shopping, cab hailing or food delivery, on-demand service providers have seen their business grow manifolds in the recent years.
The graph of growth of companies in the On Demand Food Delivery App business has been quite sharp in the recent years. This particular sector is quite new and has developed into a major industry in a span of just about a decade. Its growth has been built on the back of mobile technology, as is the case with a number of other on-demand services. Users and customers are using on-demand food delivery app more and more with every passing day. On-demand food delivery services is a very big business, quite lucrative for small and large companies alike. However, what makes it lucrative is not just its current market capital, its appeal lies in the immense market potential it has. The market for your food delivery app is entirely dependent on internet usage. This means that as the internet penetrates deeper and deeper into an individual's life, the more ae they likely to use your on-demand service.
Two Main Functions of an On Demand Food Delivery App
Now that you have an idea of its potential, let us take a look at what does an On Demand Food Delivery App does. Your app has two jobs, when classified broadly:
1. Aggregator
By aggregator we mean that your app should have multiple options for your users to order from. You will have to aggregate a healthy number of food outlets at one place, i.e. in your app and then display them and their services to your users. Quite simply, you will have to provide your customers access to multiple restaurants on a single food delivery app.
2. Delivery Agent
You will have to provide deliveries to your customer, who order through your app. Hence, you will have to have all the relevant logistics well in place before you can go public with your zomato like app.
So, now that you understand the functioning of your business, let us get into the food delivery app development stage. This, here, is the backbone of your entire operation. Your services and offerings will have to show on your app in a positive way if you want to capture a piece of market.
So, here,
What Customers Expect from On Demand Food Delivery App
Let's take a look at what your customers and partners should expect from your On Demand Food Delivery App :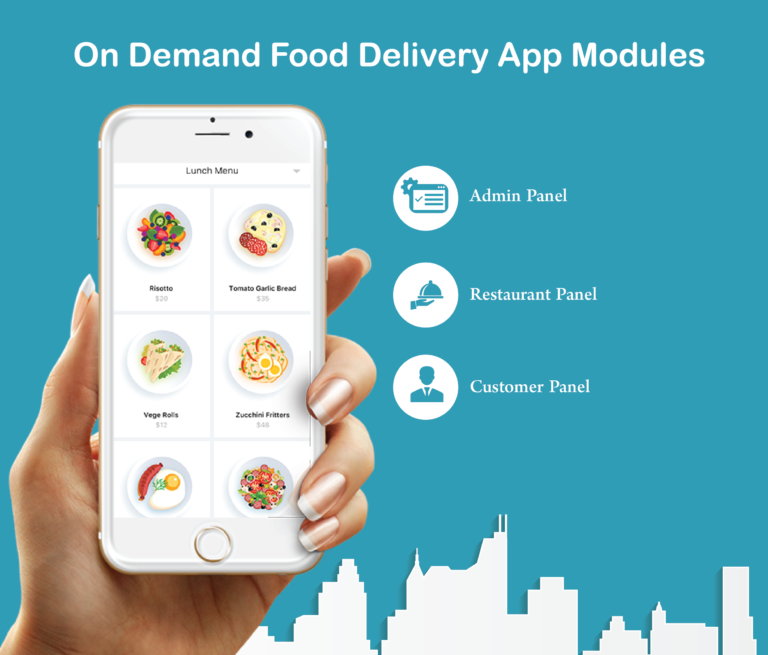 1. Owner / Restaurant Dashboard
You will have to develop a dashboard where your partner restaurants can see their orders, update their details regarding menu, prices or offers. Basically, this dashboard will serve as the single point source of communication between your clients, your app and the restaurant in question.
2. Admin Control Panel
Admin control panel will be the heart of your operations. This is where you, as the owner of your Swiggy like app, will control your business as a whole. Most common features you can have here are admin access to every aspect of your business be it restaurant quality check, background checks, offers, coupons, logistics and delivery tracking.
3. Customer Side App
This is what makes or breaks your app. You can have all the background process well in place and well oiled, but if you cannot present your idea to the customer in a healthy manner, acquiring and retaining customers can become a very hefty task. Your customer side app should have features which will make your user's life easy. It should be built for speed, must have a slick User Interface, must have a good security standard in place and most importantly, have a payment portal integrated into your app.
So, these were the little intricacies of developing an app like Ubereats.
The next step for you is to wonder what your revenue stream would be. The revenue stream is a pretty subjective aspect of your business model. The onus is on you, as the owner, to think of creative ingenious ideas to bring in as much revenue as possible. However, there are certain tried and tested ways to make profits and let us take a look at them:
4. Delivery Charges
Since you are working as a third-party service provider who is linking the customers to the restaurants and delivering their hard-earned meal to them, it is at your discretion to charge them for your services.
Revenue sharing with restaurants: Quite a few on-demand food delivery apps have this system in place where the delivery platform and the restaurants share their income on an order. This can range from 15% to 40% depending upon the maturity of your business in the market.
5. Advertisements
Advertisements are a universal source of revenue. Take a lucrative deal with a company, advertise it on your platform and earn serious profits without much hard work.
So, finally, now that you have an idea of the features and intricacies of the business you are about to delve into, it is time to delve into the food delivery app development stage. The most important thing to consider at this point for you is the product quality and the cost of development. Typically, the cost of developing an app like zomato depends on many variables. These variables can be anything and are not necessarily connected:
Number of platforms that are the part of the initial launch
Complexity of your business model (the cost of development goes up with each feature you decide to add)
Location of your development team (hourly rate of app development in Asian countries ranges from 20$ to 60$ as compared to 80$ to 150$ in Western countries)
All in all, developing a food delivery app is going to cost you somewhere in between $4,000-$60,000 depending on the variables mentioned above. If you are still wondering about the development of food delivery app, you can get in touch with us. We are all ears! Also, the consultation is free of cost!