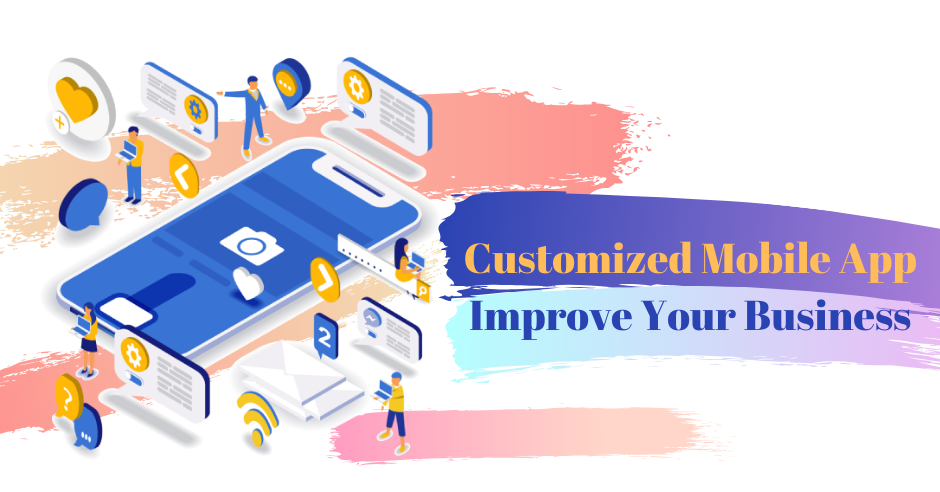 Published December 24,2019 by
Tvisha Technologies
Customized Mobile App Improve Your Business
There are numerous reasons to offer your customized mobile app for your business growth. On average, each user has installed 26 apps on their end device. With your app, you offer consumers significant added value and increase their customer benefits. Many companies are already focusing on mobile enterprise technologies. Last year there was an increase of 20%. With a mobile app, you not only use your own company, but they also solve potential customer problems and reach them quickly and conveniently at any time. Most companies also have an in-house app to keep their employees up to date. Even when you are planning to hire top mobile app developers, you might get several options, so choose the best technology firm that understands your business and build according to your ideas.
67% of the companies have set themselves the goal of developing a mobile app by 2020. About our survey, we found that a mobile app not only increases sales for your company but also contributes significantly to satisfactory customer service and consequently substantially increases customer satisfaction and customer loyalty. Apart from that, the customized mobile application attempts to hold clients to change over circumstances into leads. It is the explanation that B2B and B2C are using personalized mobile apps with a scope of highlights to influence their business straightforwardly.
Reasons To Hire Top Mobile App Developers For Customized Applications
1. Customized as Per Needs
As we know, every business is unique and its target audience too. To fulfill their specific needs, our companies should prefer customized and tailor-made mobile applications. With the help of a personalized mobile app development company, you can save a lot of time for customers. Also, it provides them the option of filtering the choices according to their requirements and the best budget-friendly price.
2. Saves Time and Money
You can measure your success when a business saves your time and money, which provides benefits. Instead of paying for all the unnecessary features, "Pay for what you want" with the custom mobile application. Developing your mobile app can have a full grip on it and no need to depend on others for anything, which means it saves developer costings too. Accordingly, it can save money, decreases human resources, and increases profits, so it is an excellent way for your business growth. It can happen when the organization hires top mobile app developers to get a personalized custom app.
3. Secures Internal Data
The main advantage of custom mobile app development is to have its control over data security within the internal team and not by any third-party vendors, which is not possible for template applications. For template applications, there is more chance for threats from hackers because they won't have enhanced security programs like the customized app. It may lead to throwing your business into the risk. Also, with a custom application, you can decide and give access to different levels based on the user requirement.
4. Increases the Brand Reputation
Instead of using other mobile applications for your brand, why don't you choose your brand for your business growth? Mobile apps are a large canvas for innovative ideas and implementation for user-friendly, stylish, and highly productive. Including Uber, Zomato, Amazon, etc., have become brand for their respective platforms only because of their appearance with extraordinary and unique concepts that the audience accepted them with full-fledged. When a customer is enhancing the involvement with a custom app, this technique of advertising is known as sufficient frequency.
5. Improve Mobility
Expanded mobility and opportunity to clarify why both your employees and clients utilize mobile applications to such an extent! It's interesting to take note that the blast in mobile application use hasn't generally decreased the time individuals spend on computers — it has, for the most part, expanded the total time spent on the internet. You can build up a custom mobile application to contact everyone at any place they happen to roam.
6. Customer Satisfaction
When the client is not satisfied with your work, all your business growth and development of the application can go futile. Adopting the customized mobile app will fulfill the client's requirement and expands client satisfaction by almost 30%. It implies that all your clients will be 27% increasingly fulfilled, which means that on every four clients, you will get another one. The customized mobile application gives an option to send products or services updates to the existing customers in real-time and encourages them to get customers' details and feedbacks. This feedback will improve your business as clients requests or need.
Conclusion
According to a recent survey, almost 76% of businesses have stepped forward in developing custom mobile applications to stand out in the crowd. So when you are planning to create a custom application for your business, hire top mobile app developers who reach your expectations. This kind of use provides a significant return on investments and grows your business needs. If you need cost-effective and technical experts to develop a customized mobile application, hiring app developers from India will be the right choice.