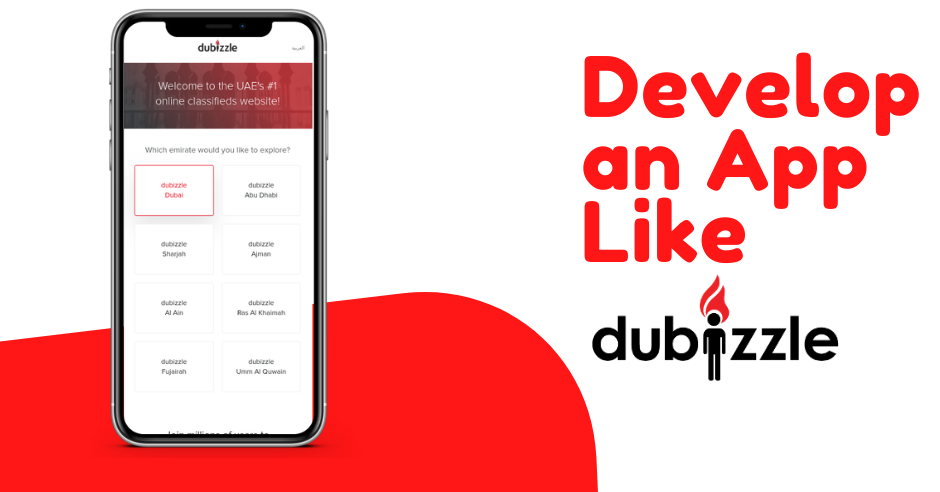 Published February 28,2020 by
Tvisha Technologies
Cost to Develop an App Like Dubizzle?
Dubizzle is undoubtedly one of the most successful and popular online community and classified web portals. It was founded by J.C Butler and Sim Whatley in 2005, with only 6000 USD of savings from both of them.
Dubizzle's Success Story
These two American guys were working in the Middle East and while they were working in different departments, they realized there was a gap in the expatriate living market. They realized the potential of a great market for Middle Easy people – a platform that can enable easy selling and buying of products or services.
Dubizzle founders saw the potential and immediately funded their money into it. And today, this Dubai based company has OLX has its chief organization in India. At Dubizzle, Middle East customers are buying and selling products from different categories, including but not limited to vehicles, jobs, furniture, villa, and so much more.
Dubizzle's success as a multi-national company was a saturation point for many entrepreneurs. Now a large number of people want to develop an app like Dubizzle.
And that is the intent behind writing this article. Here you will find about the important features and functionalities of Dubizzle, and also get an estimate of the cost of developing an app like Dubizzle.
Main Features of Dubizzle and How it works?
Dubizzle chiefly has established its identity as an online marketplace where people can buy or sell things. Thus, it has two interfaces, one for the buyers and one for the sellers.
New Dubizzle users can join the app either through a Facebook account or Google account. One registered, these users get a private space on Dubizzle.
These registered users are then allowed to make use of the 'Post an ad' option. Next, the app requires them to add their location.
Dubizzle has a wide variety of post category like:
Motors: Vehicles of different segments like heavy vehicles, used cars, boats, motorcycles, etc.
Jobs: This segment is for job seekers and recruiters. Candidates can spot the right job and recruiters can spot the willing candidates under this category.
Property for sale: Under his section, people selling their properties without having to involve a broker and pay their broker charges.
Property for rent: Owners of house and building find the right tenants after adding their property under the property for rent category
Community: For a list of all the different activities, classes, and workshops. Even Freelancers list their services repairing, maintenance, writing, etc.
Classifieds: classifieds of different things like selling furniture, accessories, household equipment, utensils, etc. can be listed and found under this category.
How to Develop an App like Dubizzle?
To create an application like Dubizzle, you would need to start with a little research and homework. First, create a to-do list that includes all your goals, preferences, and also the budget you have for app Classified App Development Like Dubizzle.
Since the cost of developing such application depend on multi-factors including an impressive idea, research, developmental process and more, so you need to start with thorough research.
Let's delve deep into the process of creating an app like Dubizzle:
An impressive idea: Your app should have a USP (unique selling point) which makes it different. A great app idea comprises unique features that target specific customers.
Determine the type of classified app: The online classified market is vast as it has grabbed a significant share in the marketplace, which makes 2020 a great time to start the journey. For classified apps, there are usually two options to choose from:
i. Vertical apps: Such apps are chiefly based on a specific type of pf product or service that caters only to a particular market. For example, a classified app for automobiles, classified apps for electronic appliances, and more.
ii. Horizontal apps: This type of classified app deals in every type of advertisement, services, products, and items. Dubizzle is an example of a Horizontal classified app. Such app owners cherish a vast client-based and huge sales volume as well.
Since Horizontal apps cover a wide range of services and different marketplace, their development is more complex, and eventually, the developmental cost is also higher than the cost of development of vertical apps.
Contact a dedicated Android App Development Company: After finalizing your product idea and marketplace, it's time to contact the developers. If you have a technological background, you sure can develop apps on your own. If not, you can contact a dedicated Mobile App Development Company or simply hire a professional.
Make sure to reach the companies who have prior experience in developing an app like Dubizzle.
Cost to Develop App Like Dubizzle
Developmental cost is often the most common that strikes our minds before deciding to launch an app. If truth be told, the total cost depends on a number of factors.
From the technologies, you prefer the complexity of app features, the hosting to the platform, several factors are responsible for determining the total cost.
Hence, this makes it difficult to share an exact cost of a project, without knowing all the desired outcomes.
There are tons of exciting elements that play a critical part in defining the design and functionality of mobile applications like Dubizzle. The overall cost to develop an app like Dubizzle depends on the number of features, UX Design, and other factors. Here are a few important aspects that require investment when it comes to creating an app of website design and development like Dubizzle:
Application programming
App design Screen
Client-side application, features, and server
Connectivity and Database integration
User Authentication
Application security
Web Service Development
Quality Assurance
Availability on App store
Average Cost Estimation on the Basis of Features:
Dubizzle like Vertical App with basic features: $10,000
Dubizzle like Horizontal App with advanced features: $30,000
Dubizzle like Horizontal App with extra functionality: $50,000
Conclusion
The cost to develop an app like Dubizzle is expensive but the end- result is extremely profitable and equally rewarding. Should you wish to own an app like Dubizzle, with one or more of the features mentioned above, we are here to help bridge your dream to reality. Our team of expert app developers is here to assist you at any point in the process. Get a Free Consultation Today!