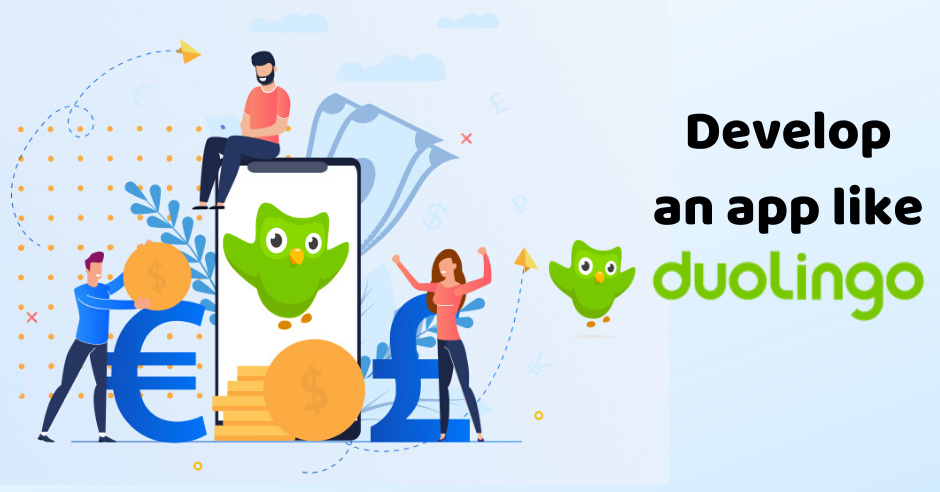 Published January 03,2020 by
Tvisha Technologies
Want to Develop an App like Duolingo? Know The Cost and other Details
Duolingo ranks #1 in the Apple Store and #2 in Google play store in Education Category. It has over 200 million users. Its volume has grown more than 5 times and has reached $16.2 billion, and these numbers are likely to reach 37.8 billion by the year 2020. It is, undoubtedly one of the most successful language learning app.
While I am reading and writing these statistics, I too have pressed the 'Install' button on my phone to get this fascinating application.
Wouldn't you want to develop an app like Duolingo someday?
Why Duolingo is Trending?
Online learning has literally taken over the world. It's clear that there's no stopping to the increasing obsession of language learning. With online learning, came the chatbots too. The conversational chatbots are the reason behind the massive success of an app like Duolingo. They are successfully making people master languages.
Duolingo is one of the most popular examples of chatbots used for academics, apart from online ordering and grabbing a pizza deal. This Pittsburgh based language learning application offers is a free platform that has earned a gigantic number of users. With the successful implementation of chatbots, Duolingo makes it easy for users to learn new languages and it also crowdsources translations.
The language learning application emphasizes on providing quick and interactive training to the users. It covers the vocabulary and grammar goals of the targeted language. All sort of training is provided to users in the form of puzzles and games which also creates an environment for users to compete with each other. And with chatbots, Duolingo made a ground-breaking improvement, where users can interact in French, German, and Spanish.
Given Duolingo's Success, should you also develop an app like Duolingo?
Owning to the massive success of Duolingo, several startups have now plunged themselves into developing an app like it. If you are wondering whether or not creating another language learning application makes sense, let us clear the air.
Yes, it does.
Duolingo chatbots, as of now, cover only a French, German, and Spanish. There's still plenty of international languages that can be taught with a similar approach.
There's still plenty of space for new language learning applications to earn a user base, grow, and flourish.
How to Build an App Like Duolingo
To Build a language learning application, you need to have a thorough understanding of the features and functionalities of these applications and see what all you need to integrate to offer similar services.
1. Convenient and Easy to use the format
If you can learn one thing from Duolingo, it is their convenient and understandable format. They make sure all the lessons are bite-sized, even though they have listening, speaking, and other language challenges. Their approach is very simple, straightforward, and also easy to grasp. It's the same even when they are showing the screen completely or initiation a puzzle.
Bottom Line: When designing the app, eliminate all the complexity and make it as convenient as possible.
2. Gamification at its Best
With Duolingo, you see how they have used Gamification at its best. You get to learn but it feels and looks like you are playing a game. That's the approach every language learning application needs to have. The application id all about making language learning so much fun. It makes interaction with learners alive.
Bottom Line: When developing the app, be sure to flag away from the traditional method of learning, and instead use gamification as an integral part of every single lesson.
3. Social Media Integration
This is an obvious thing. Social media sharing is a must when you know the world is right there! Duolingo allows users to sign up through their Facebook accounts, and you can follow a similar approach.
4. Clear as Crystal Content
The purpose of a language learning app is to make learning clear and easy. Point is to create content by focusing on the learner's capability. Hence, your lesson should have clear distinctions for those who are beginners, those who have basic knowledge, and advanced learners as well.
Bottom Line: With prompts, tips, and chatbots, be sure to make learning in every lesson clear.
5. An Appealing UI/UX Design
User interaction and experience matter so much that 90% of the time users abandon an application because of its inconvenient interface. Since it takes so much effort to build a language learning app, you cannot take a chance here with an overloaded and messy UX/UI design. It is unacceptable!
Bottom Line: App developers must opt for a minimalistic and user-friendly design that gives your users a clear roadmap of the application. It's best to hire a professional designer to create a colorful, memorable, and vivid illustrations.
6. Language Learning Bots
Like we said before, bots are exceptional, and Duolingo got its popularity mainly because of the chatbots. So, this is something you cannot miss! Building an app that supports chatbot for language learning is definitely not an easy task. It takes a huge investment in money and time. But there are cost-effective ways of creating bots as well. For example, API.at, Ait, and etc.
Bottom Line: The artificial intelligence chatbots can change the game for you. Make an investment in chatbots today and reap the benefits for years on!
How Much Does It Cost to Create an App Like Duolingo?
As you see, creating an app like Duolingo is not as easy. It's definitely a rewarding investment. The higher your investment and financing capacities are the more advanced features or chatbots you can offer.
Cost to develop Duolingo language learning app depends on design and development features:
1. Design
I don't need to emphasize the importance of design again. This stage can last about 200 hours and the cost depend on the UI research, UX map, Logo creation, and Application screen developments. All these are the crucial steps of the design stage and the designing cost can vary between $5000 to $7000.
2. Development
Duolingo is the result of a robust and strategic mobile app development, and if you want the same thing, you'd need strong backend development and QA engineering. The cost also depends on the platform chosen (android, iOS, and Windows) and also the publication of language apps. All these are the crucial steps of the development stage and the development cost can vary between $5000 to $7000.
Wrapping Up
There's a lot that goes into designing a language learning application like Duolingo. The Cost to develop Duolingo language learning app is huge but the end- result is extremely profitable and equally rewarding. Should you wish to own an app like Duolingo, with one or more of the features mentioned above, we are here to help bridge your dream to reality. Our team of expert app developers are here to assist you at any point in the process. Get a Free Consultation Today!