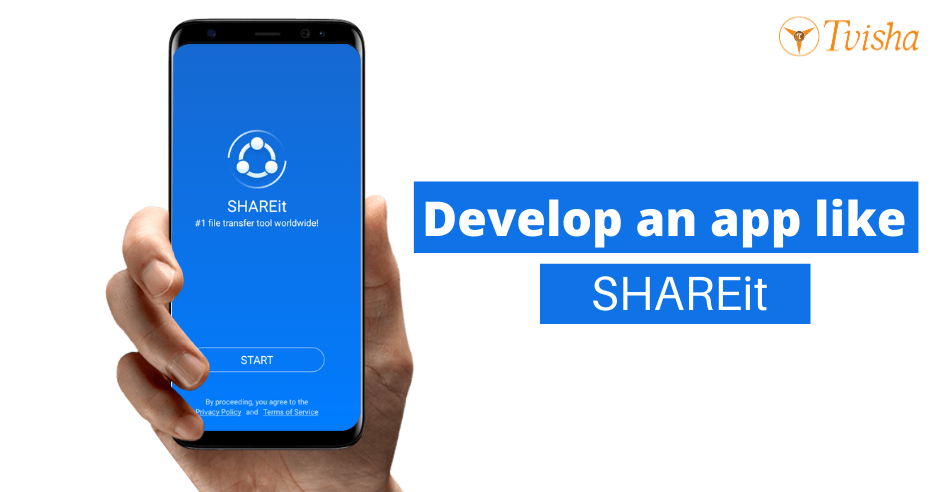 Published July 14,2020 by
Davu Siva
How to Create or Develop an App Like SHAREit
You've probably run into this problem once before. Wanting to share a large file with a friend is more difficult than expected. It has an Android and you have an iPhone. It also does not work via WhatsApp, because the file is too large or the quality of the images deteriorates. Bluetooth then? A handy system, but only available for iOS devices. What now? So to sort such kinds of things the file-sharing software was introduced, and with this file-sharing system, it is possible to share files wirelessly.
If you are looking to develop an app like SHAREit, obviously you would have doubts and searched for "how to develop an app like SHAREit?", and "how much does it cost to develop an app like SHAREit?", then you have read this article, here we covered everything about cost, features, and technologies used in SHAREit.
What is File Sharing App & How SHAREit makes it easy?
File sharing often happens. You have a nice photo or a nice song that you want to share, but the way it happens is sometimes cumbersome. It is of course possible to email files, share via a cloud service, or by connecting your smartphone to your computer, but with SHAREit it is a bit easier. Especially, because you share files between different devices with this program.
With SHAREit you can easily share photos, videos, music, documents, and even entire folders from one computer to another or from your smartphone to a computer, without the need for a cable or USB stick. SHAREit is therefore available for all these platforms and the program is completely free to use.
Sharing files wirelessly is a breeze with SHAREit. Developed by electronics giant Lenovo, the app sends files from your smartphone to your computer or vice versa. You can send small files as easily as very large files. The speed at which that happens is quite fast and, according to the makers, even 40 times faster than Bluetooth. In addition, the connection that is established is well secured, so you can securely share all your files.
To share files, you must have the application installed on multiple devices. So if you want to send files from your smartphone to your computer, SHAREit must be on both devices. However, both devices must be connected to the same WiFi network and the application will immediately recognize the network you are connected to and display it at the top of the screen.
The number of users at SHAREit
Almost 200 to 230 million users are active in India.
75% of Indian users come from Tier-11 cities.
When it comes to app downloads worldwide, the reach is nearly 500 million from both Android and iOS.
SHAREit has the following features:
File sharing applications development expenses can be shifted according to the kinds of features integration. Applications like SHAREit contain essential features just as cutting edge features as per their business necessity. Your dream application ought to likewise be perfect with cutting edge features to beat the competitor on every move.
sends files from your phone to your computer or vice versa
available for free for Windows, Mac OS X, iOS and Android
uses your wifi connection
searches for connected devices
you must have the app installed on all devices
Share files with a group of up to five people.
Hire the best mobile app development company who is having vast experience and most familiar with advanced technologies in creating or developing a file sharing app like SHAREit clone apps. The dedicated employees of Tvisha Technologies have great knowledge of technology and provide services with cost-effective in app development.
SHAREit Alternatives for Easy and Secure File Sharing
1. Instashare
Instashare is the way for new versions of the iPhone to exchange files. This feature is only not available on older iPhones and cannot be connected to Android smartphones. Instashare is the solution for this! You can download this app for free in the Google Play store and in the App Store. Before you can share files with each other, it is important that the app is downloaded on every device. Do you want to share files via your computer and a smartphone? That is also possible! The desktop version of Instashare is not free.
Instashare has made it easy to drag and drop files to a device. Like AirDrop, the app can detect nearby devices. So, very handy. You can also use Instashare on old mobile phones, including an iPhone running on iOS 6. There is no limit to the file size.
2. Send Anywhere
Perhaps, the most popular choice of the list. The name already explains it. With the app "Send Anywhere" you can download on almost any device and thus also exchange files. You activate this app with a one-time 6-digit key. It only remains valid for 10 minutes, making the transfer secure. You can then send files safely and easily. The code and file will be automatically deleted after the transfer. This even works from an e-reader like the Kindle to android app developers. No internet connection is required here. The app can be downloaded on Android, iOS, Linux, Chrome, Windows, and more.
3. Collect
A home-grown app! Collect was founded by WeTransfer, a Dutch company. This app also works a bit the same as WeTransfer. You just need to provide an email address to get to the area where you can upload the files. In this way, the person to whom you want to transfer something receives a message that a file is ready to Collect. The only drawback is that you can only send up to 2 GB at a time. This way you will be through quickly.
4. Google Drive
Familiar to most on the desktop, but this app can also be used on the phone! Everything you put on the drive can easily be shared with another email address. You can also create a handy shareable link for every file you create! This allows the recipient to open the file via the drive and save it where desired.
Cost to Develop an App Like SHAREit.
Having an app made costs on average between $ 5,000 to $ 20,000. Because more customization is possible for this budget, there is also more room to adapt the apps to its environment. For example, many apps are adapted to the company in which they are used and the wishes of the user are taken into account when having the app made. In addition, these apps such as an app like SHAREit often have more options with regard to design and often contain new functions.
Why having an app made is so expensive
There are 2 reasons why having an app made costs so much:
1) Custom development is needed to create your unique idea.
This means that a unique idea cannot be "dragged together" with existing elements. A programmer or team of programmers has to work for you. You also need the experience of these programmers, so learning to program for yourself takes longer than a year before you have enough experience, which is good for the people who are trained to be programmers because they are in high demand.
2) Expensive developers and many hours.
So there is a lot of demand for developers. As a result, there is a shortage of programmers! This ensures that they get paid well, but also that you pay the main prize. Hourly prices above $80 to $100 are no exception. This time, do the number of weeks or months that it takes to have an app made and you will quickly conclude that having an app made is expensive.
Conclusion
In addition to sending files quickly and safely, there are a number of apps that are useful for you as an entrepreneur or manager. If we miss anything from them, comment below.