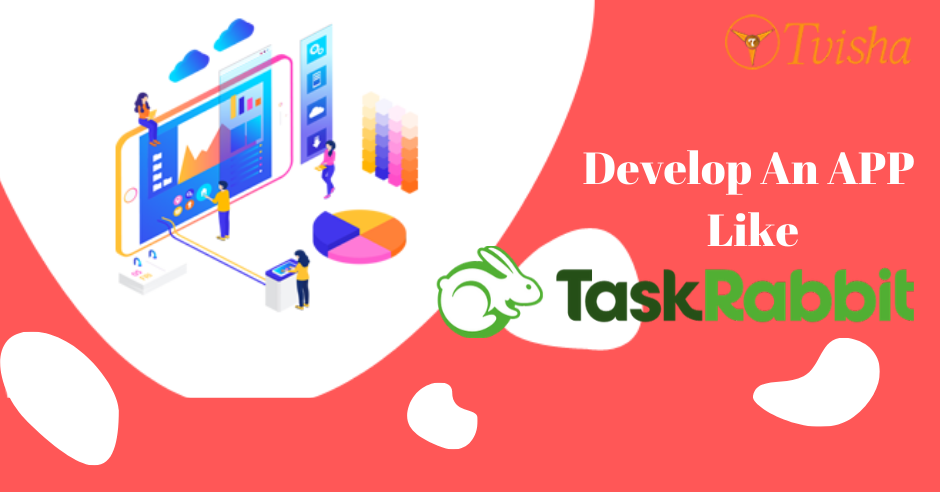 Published December 23,2019 by
Vamsi Bandi
Here's: The Only Guide You Need to Develop an App like TaskRabbit
Mounting the TV on the wall.
Putting together the furniture in the new house.
Shifting the refrigerator in the Kitchen.
These are the chores that often get neglected. The wives and mothers continue reminding the men in the house to get these things done. But, thanks to their office hours, they hardly have time to sit across the T.V, let alone mounting it on the wall.
The problems were common in almost every house until TaskRabbit decided to change the scenario. TaskRabbit, which is a mobile-based application offers an affordable and convenient way to get things done around the home.
Since TaskRabbit set its footprints in people's devices, getting tasks done has been so easy. In three simple steps, people are getting done everything:
Describe Your Task: Choose from the menu or describe what type of task or chore you want to get done by entering a keyword
Choose Your Tasker: Your requirement is then matched to the nearest and most suitable service providers.
Get it Done: opt one out of multiple options displayed and then avail their services
These On-Demand applications like Task Rabbit sure has changed the way everyday chores are getting done.
If your entrepreneur mind is looking for a brilliant idea, I suggest opting to Develop an app like TaskRabbit. The reason for choosing an app like TaskRabbit can be plenty. Let me point out a few things here:
An App like TaskRabbit Makes consumer's lives Simpler
Because of busier schedules, a larger number of people are looking for expert professionals to get things done effortlessly
Freelance labor is always looking for work in their area, without having to open a shop
What is TaskRabbit All About?
TaskRabbit is an On-demand application that connects freelance labor with people or house owners who want help with everyday chores like moving and packing, mounting and installation, cleaning, furniture assembly, general handyman, and heavy lifting.
Using the TaskRabbit Application, users can get help for a large range of services including but not limited to delivery services, laundry services, hauling services, painting, and handyman services.
This is a perfect time to Develop an app like TaskRabbit because the demand for professional help has increased in many developed and developing countries. The gig-driven industry that connects background-checked service providers with people who need help with everyday tasks us manifesting a new direction for the on-demand mobile applications.
On-Demand Home Service Application: Must have features and functionalities
The intent of writing this section is to give an estimate of the features and functionalities of the on-demand home service applications. Marketplace app development needs three different panels. One for the end-users, second for the service providers, and the third one for the admins.
1. End-User Panel
Marketplace: Marketplace has the most concrete features since its where the users find a list of service providers. By clicking of individual categories, users are directed to the different freelance labor and their gigs.
Reviews and Ratings of Service Providers: Through rating and reviews, users can choose from different service providers.
In-App Chat or Calling Feature: Admins should give both the end-user and service provider the feasibility to connect with each other in real-time.
Booking Feature for End-users: The users should be capable of booking or scheduling service as per their schedule.
Tracking the Service Provider: End users can track when the service provider will reach a location or how far they are from the destination.
In-App Payment Gateway: By providing a secure payment gateway within the application, you can give users the ease to pay.
Service Invoice: After the service, automatic invoice generation that can be referred/accessed anytime.
Booking History: With this, users will be able to access or review their services and quickly identify which service provider to call again.
Help or Support Section: Help section ensure smooth communication between the stakeholders.
Push Notification: From notifying the end-users about booking status to a message received from the service provider, push notification is a must-have feature.
Search Filters: To ensure convenience, search filters can be added, which helps a customer find the right contractor.
2. Freelance Service Providers Panel
Service providers or taskers are required to share the details for background checking. The panel may have the following details.
Work Category
Hourly Rates
Bio
Social Security Number/Registration Number
Availability Status
Metro Area where they work
Service Invoice
Booking History
Push Notification
Help Support Section
In-App Chat or Calling Feature In-App Chat or Calling Feature
Bank Details to be able to accept payments
3. Admin Panel
Both the features of End-User and Service Provider Panel can turn to be detrimental if they are not backed up by robust technology. The features below help keep both the parties in sync:
Admin Dashboard
Service Provider Management
User Management
Reporting and Analytics
Promotional Offers
Change Fees and Prices
How Much Does It Cost to Develop an App Like TaskRabbit?
The development cost of any application depends on the number of features added in all three panels. It can be less if you want to limit your application with basic features in all the panels. And it can be more if you want it to have all the advanced features. It's important to analyze all the factors before making the final decision.
The overall cost depends on the application interface, supporting platform is chosen, the size of the application, and the addons in the features. If you ask the average Cost to Develop App Like TaskRabbit, we'd say $15,000.
The application when developed on a Native platform like the iOS or Android, would cost higher when compared with the development cost on a cross-platform framework like Flutter or React Native.
Similarly, the cost also depends on the design elements, the inclusion of low-cost elements results in low development cost, and vice versa. The more innovative or detailed a design is, the greater turns the development cost. Furthermore, the cost also depends on the expertise of the developer.
Wrapping Up
Mobile App Development Company and app development in India is very affordable and way cheaper than European and U.K companies. Here, the hourly rates are lower, which is why companies outsource development works to Indian Companies.
At Tvisha Technologies, we take pride in developing a vast range of mobile-based applications from different categories. With a strong portfolio of mobile apps, eCommerce, and website development, we continue offering affordable app development, without compromising with quality.
Should you wish to own an app like TaskRabbit, with features mentioned above, we are here to help bridge your dream to reality. To get a reasonable, cost-effective, and instant quote to Develop an app like TaskRabbit, please reach us.