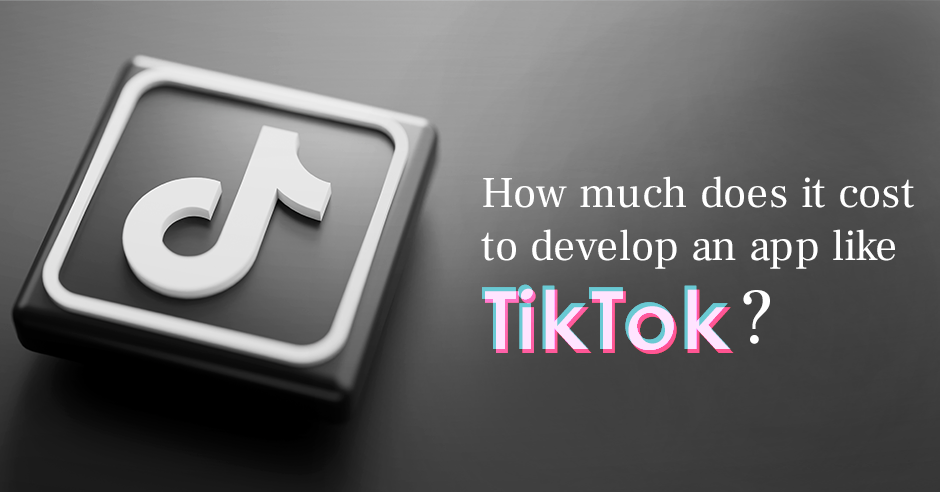 Published July 09,2020 by
Tvisha Technologies
How Much Does it Cost to Develop an App Like TikTok?
With more than 4 billion smartphone users around the world, $92.1 billion was spent on apps last year. 76% of that alone, $ 69.9 billion, was spent on mobile games and social media networks. In these when we talk about an app like Tik Tok it is in trend and it has hit the market so hard that there is no way of bringing it down. Also, it made its benchmark above all the social media channels such as Facebook, Twitter, Snapchat, Instagram, etc.
If you've ever thought about creating your own app like Tik Tok, you've probably wondered, "How to Develop an App like TikTok?", and "How much does it cost to create an app like Tik Tok?".
What is TikTok?
TikTok is a social media app for creating and sharing short music videos. These videos have a length of 3 to 15 seconds, but videos can also be made in loops of up to 60 seconds.
TikTok is the result of several mergers of various apps, including Douyin and Musical.ly. In 2016, the Douyin app was launched in China. This app had more than 100 million users within the year, so it was decided to also develop an international version of the app. This app was launched in 2017 by the developer ByteDance and uses the same software as Douyin.
What is the TikTok Videos Sharing App?
Perhaps the most famous feature of TikTok is videos. The videos are in principle no longer than 15 seconds, but TikTokkers also have the option to link multiple videos together, up to a maximum of 60 seconds. You can upload the videos and slideshows or create and edit them yourself with an easy-to-use video editor on the app.
With the editor on TikTok, you can take breaks during recording, apply crossfading, or even use Augmented Reality. The range for variation is very wide with many stickers, emojis, GIFs, and a variety of other elements. The video editor makes creating relatively high-quality videos a lot more accessible. This is certainly a strong aspect of the app, as other platforms such as YouTube do require some entertainment software development editing skills.
How to Download & Use an app?
You can download TikTok for your mobile phone for free and there are no further costs involved. You can, however, make in-app purchases for additional functions. With a free account, you can create videos yourself, edit them, put music under them, and add different filters. You can also watch millions of videos from all over the world, follow your favorite users, and get inspired by the many other users.
Special Features of TikTok
TikTok has several functions. These are therefore regularly updated. We have listed the most used TikTok functions for you.
1. The Feed you see on TikTok
Just like with any other social media platform, you have a feed that you see. These are the videos you can watch in the app. TikTok even has two feeds: the so-called "for you" feed, in which you see popular videos. Here you can discover videos and members you don't follow yet and get inspired. In addition to this feed, there is also the "next" feed with all videos of the people you follow.
2. Different Hashtag Challenges
In addition to being able to post and view videos that you like, there are also hashtag challenges that add an extra game element to the app. A hashtag can be created, for which a demo video is available. The goal is to replicate this video as closely as possible. The hashtags and demos are hosted by TikTok even or by brands and companies that want to advertise on TikTok.
For companies, this can be a kind of way to start a special campaign and gain more exposure. Furthermore, it is also possible for companies to advertise or, for example, to collaborate with an influencer on TikTok, who has a huge reach due to the many followers.
3. Encourage Talent for Video
Today, much in the world is becoming digital, making videos increasingly famous. Young people can therefore also use TikTok to show that they have a talent for creating and editing their videos. It is sometimes even the case that young people no longer go to a graphic design school, but in this way, they show what they have in-house online. A large number of young people who make videos via TikTok are very clever and cleverly put together.
Due to the popularity of the app, young people can also come into contact with larger companies in the creative sector. There are a number of young people who are already being given assignments to make certain videos and to edit them specially. Here they can already earn a lot of pocket money and further discover whether graphic design is also something they want to continue to do in the future.
4. Live Streaming on TikTok
A number of TikTokkers can now stream live with the 'Go Live' feature. Currently, the feature is still in the testing phase and is only possible for a limited number of TikTokkers, with at least 1,000 followers. Given the popularity of Go Live, we can expect it to become a standard feature soon. Followers love live streams because they interact more with their favorite TikTokkers.
5. Duets are Extremely Popular
Many videos focus on one person, but duets are also extremely popular on TikTok. A duet allows a user to create content by commenting on a previous video, both from others and from themselves (no explicit permission is required - as long as it is a video on TikTok). The result is creative and hilarious videos.
6. Response Videos
Comment videos are very popular on YouTube. TikTok saw this and decided to include a special feature in the app for this. The feature allows a TikTokker to respond to a video that plays simultaneously with the response. You can also play around with the audio and/or change the position and size of the original video.
Social sharing: TikTok users can share all their videos edited in TikTok on their Instagram, YouTube, and FaceBook profiles.
Soundtracks: Users can add a favorite song to their short videos from the built-in TikTok library.
QR code scanner: To allow users to subscribe to each other, the app provides them with a unique QR code.
7. TikTok Privacy & Security
Social media are not known to handle user privacy very well. TikTok is certainly no exception. In fact, they don't seem to take privacy seriously at all. For example, owner ByteDance arranged a record amount of $ 5.7 million with the American consumer authority FTC. In this case, it specifically concerned the violation of children's privacy. TikTok collected without the consent of users or parents; names, e-mail addresses, and other data. It also turns out that TikTok's predecessor, Musical.ly, was just as bad about user privacy. It turned out to be very easy to intercept the videos.
The profile of users is public by default unless the user adjusts this in the settings. Even then, you are not yet assured of privacy, because TikTok has set itself that everyone can use videos for commercial purposes, such as advertisements, without getting permission from the user.
What are the alternatives of TikTok?
TikTok has gotten one of the biggest video sharing stages on the planet. Be that as it may, its predominance is tested by a few countries like India where the application has been restricted. Regardless of this, the ability will prevail and users will look forward to another option in contrast to this great music video application. Let us look at the best applications that are a great alternative to develop a video sharing app like Tik Tok which are available from both Android and iOS App Store.
Here is the list of Alternatives of Tiktok:
Sharchat
ROPOSO
Dubsmash
Chingari
Like
How much does it cost to make TikTok?
To build this kind of app MVP, a normal mobile app development company estimates somewhere in the region of $ 80,000 to $ 100,000 in development costs - but this is probably a conservative amount. Some potential features that can drive up the costs of such apps include geolocation and integration of third-party apps (i.e. social media platforms) and music licensing fees. The more functions, the more expensive.
Other factors related to the cost of the app
One of the main reasons why giving a concrete number about the Cost to develop an app like Tik Tok is not easy is because there are so many different types of apps. Now that you have an idea of how much a popular app costs to build, here are some other budget factors to consider when building your app:
The complexity of the app
Who makes your app?
iOS vs Android