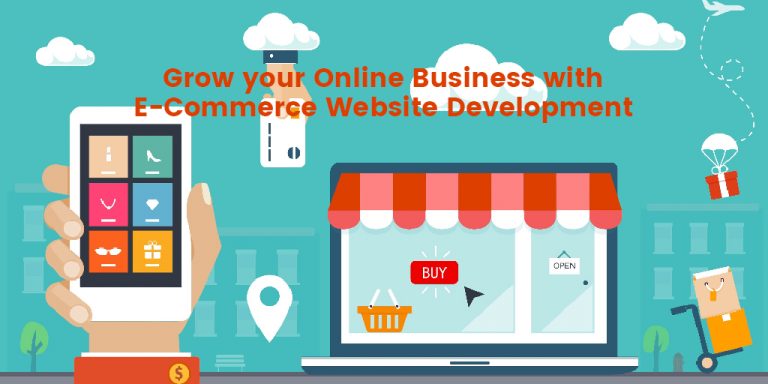 Published November 14,2016 by
Tvisha
Grow Your Online Business with Ecommerce Website Development
Internet is the easiest way to start your business with least hurdles. We are well aware of the fact that the number of internet users in the world is growing at a fast pace. No matter the size of business, every company wants to maximize their earnings without investing a huge amount. When it comes to online stores, an e-commerce website is the only effective way to advance your business. There are several benefits of ecommerce website development, but the only way you can leverage all those benefits is through a well-designed website.
Effective Online Ecommerce Store Builders
Let's take a look at some of the most effective online store builders that can come to your help when in the need of website development.
E-commerce developers use various platforms. Some of them are free while some require payment. Here is the list of top three online store builders.
1. Shopify
It is one of the topmost and reliable platforms for e-commerce applicationsand website development. The best part of using this platform is that you will have complete control over the layouts and design. You can custom your design as per your choice. Shopify is a smart platform that builds fully featured websites. It also supports the formation of applications that are speedy and uncomplicated to set up and function and insert a ton of features to the website. These will help develop your SEO in a better way and assist you in achieving your sales goals. Another best part is that, this platform supports more than 70 gateways of payment.
2. BigCommerce
If you desire to sell more, then tell your e-commerce developers to use BigCommerce platform for website building. It is an outstanding tool to help you in increasing sales via an effective e-commerce platform. It will facilitate you to set up your website, pick the name for a domain, create a shopping cart website, upload your catalogue, a safe payment gateway, set up the email accounts and will also help you to set up a mobile-optimized online store. BigCommerce has exceptional tools for SEO that are designed to get better rankings in search engines. Thus, you would be required to spend less on paid traffic and marketing. This also offers built-in options for marketing. These options include coupon codes and discounts, automatically generated consumer lists, social media integration, and lots more. It is also helpful to make your website appear on several selling platforms like Shopzilla, Facebook, eBay, etc. Websites designed with the help of this platform are capable of supporting around 60 gateways for payments. It is a brilliant option for smart SEO. Even though it is a paid tool, but it's a reasonable way to create magic with your website.
3. WIX
If you are looking for a one-stop solution or e-commerce development company/platform, then WIX is the ideal option available at your fingertips. There is no better platform to meet your needs and provide effective web development solutions for your online business. Right from the attention-grabbing array of capably crafted and responsive categorized templates, to the drag and drop website builder that makes it wonderfully simple for you to set up an online store. The platform offers numerous gateway options for secure payment. It is like a helpful hand for fruitful SEO strategies. With well-planned SEO tools, you will be capable of attracting organic consumers easily. Another fabulous feature of WIX platform is that it is mobile compatible and allows the users to move and shop through their mobiles. The smart and user-friendly look will turn more traffic to your website without much hassles. It is a paid platform, but an affordable one at that!
ECommerce website is a booster for your business as it allows you to offer your consumers round-the-clock facilities and availability. A high-quality eCommerce website, a well-planned SEO strategy, superb consumer service and a vibrant social media presence, all add up to a great online strategy. To maintain your credibility, it is important that you decide the platform carefully to attain your sales goals.