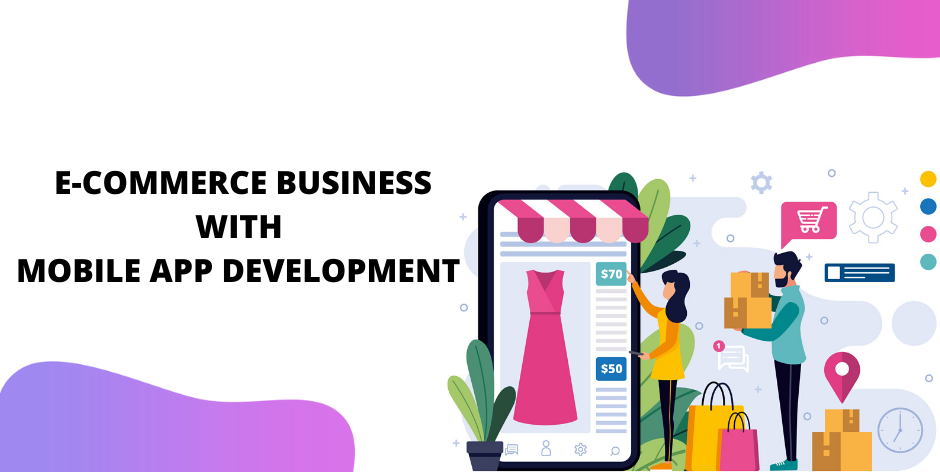 Published November 04,2019 by
Vamsi Bandi
Grow Your Ecommerce Business With Mobile App Development
Enhance value to your eCommerce with Mobile App Development
Mobile applications have changed the faces of businesses across all the verticals. The growth rate of mobile users can improve the growth rate of a business. In this digital arena, bringing products into the mobile is nothing but showcasing e-commerce businesses to millions. With the extended use of smartphones in making e-commerce businesses successful and it has become the medium to conduct online purchases. Leverage your business with e-commerce mobile app developers for exponential growth. Mobile apps speed up and boost sales.
"Let the mobile app be a new brand ambassador for your e-commerce business to break the sales funnel."
How mobile apps impact e-commerce business?
Wider reach: People are habituated and addicted to smartphones. It is predicted that the number of mobile users will reach 450 million by 2020.
More visibility: More than 80% of product searches are done through mobile phones before coming to the retail shops.
Hassle-free mobile shopping: The current generation people prefer more personalized services so they order products through their handy smartphones. Online shoppers can access all the product list easily through apps than mobile browsers.
Instant access: Apps don't consume much time in making the customer proceed for buying the products. With a single tap on the options, customers can access the content of the application.
Easy online payments: Mobile applications allow easy and secured monetary transactions.
Time-saver: Mobile shopping is a time-saving process as there is no need to visit physical stores.
Enhanced UX: The buyers' decision making depends on the user experience that businesses provide. As mobile apps have designed based on the UX, businesses can grab their attention in no time with mobile app development.
Availability of online or offline: This is the fundamental reason why mobile applications win over traditional websites. Some apps facilitate the content access even in offline.
Access to the device features: The smartphone features such as cameras and maps can be access to scan the codes and track the order.
In-app notifications: This is the vital feature of an app to retain the customers to the business. These notifications engage users by alerting on the latest products, offers, updates, etc.
As the world is going after mobility, it is the time for adopting mobile technology in e-commerce.
Providing good UX benefits e-commerce in terms of:
1. Less Abandonment Rate:
This is a very crucial element most e-commerce sites face the loss of sales. Any delay in the ordering, poor technical maintenance of websites, poor optimization of the site, the slow loading speed of pages makes the online shopping experience a nightmare. They will leave your app within seconds. As people have less span of retention on anything, it is the need of the hour to integrate e-commerce businesses with attention-grabbing and good UX design Services for mobile apps. It reduces cart abandonment rates.
2. Brand credibility:
Allowing customization of product catalog and listings helps the smooth shopping experience. It saves both the time and energy of the customers. This ease of use of the app gives a reputation for businesses.
3. Less marketing costs:
Providing Good UX not only benefit the customers but also reduces the marketing costs of the businesses. Without hefty sums, they can gain lucrative returns. Apps increase brand value and volume of sales hence more ROI within the less span.
4. More loyal customers:
Gone are the days of cold calling, waiting on long queues at the stores for any information regarding the products. With the advent of technology, customers can connect with the businesses 365*24*7. Apps bridge the gap among the businessmen, vendors, and customers by allowing instant communication. Thus, all-around communication can retain more loyal customers.
5. Analytics:
This is another major reason why businesses go after mobile app development. Businesses can get all the insights into a business with the help of the availability of analytics. It provides all the reports regarding sales, monetary transactions, the number of customers and their feedback, user interaction with the app (user responsiveness to the business), etc. which further helps in improving the online store sales in the future.
The app features that boost ROI:
Every e-commerce app must include 3 panels viz. User(customer) Panel, Admin Panel, and Vendor panel. Hire a mobile app development company that designs and develops each panel with its full potentiality that gives high performance. Here is the list of features that should be included in each panel.
User (Customer) Panel:
1. User registration
2. Product catalog
3. Search and order
4. Shopping cart
5. Wishlist
6. Discounts/offers/coupons/e-gift cards
7.Return/exchange product
8. Manage profile and history
9. Product comparison tools
10. Order tracking
11. Notifications and alerts (regarding payments, orders, offers, and updates)
12. Rate and Review
Vendor Panel:
1. Vendor registration
2. Manage profile
3. Manage orders
4. Notifications and alerts
Admin Panel:
1. Dashboard
2. Manage (customers, vendors, product list, payments, notifications, etc.)
Integrations:
1.Push notification
2. SMS API integration
3. Rate and Review
4. Payment Gateways
5. GPS integration
6. Cloud storage
7. Multi-lingual (for multi-locations)
8. Chat integration
9. Social media integration
10. QR code generator
11. Google Analytics
12. Augmented Reality (AR) integration
How much does it cost to develop the e-commerce mobile app?
Cost depends on various parameters such as
1. App type and platform (iOS/Android/both) (native/cross-platform)
2. Feature complexity
3. Number of integrations
4. The experience of the hired company and its developers
5. Content management system (CMS)
6. Additional expenses (enhancements and updates)
7. Marketing
8. Support and maintenance
The average cost to make an e-commerce app development will be in the range between $12000 - $30000. If you have multi-locations, then the cost may stretch up to $100,000.
Conclusion:
In a nutshell, mobile apps are new era brand ambassadors for a business for increased conversion rates. Investing money on eCommerce mobile app development rather than an online store (website) is the best choice to improve the sales online and expand the business.