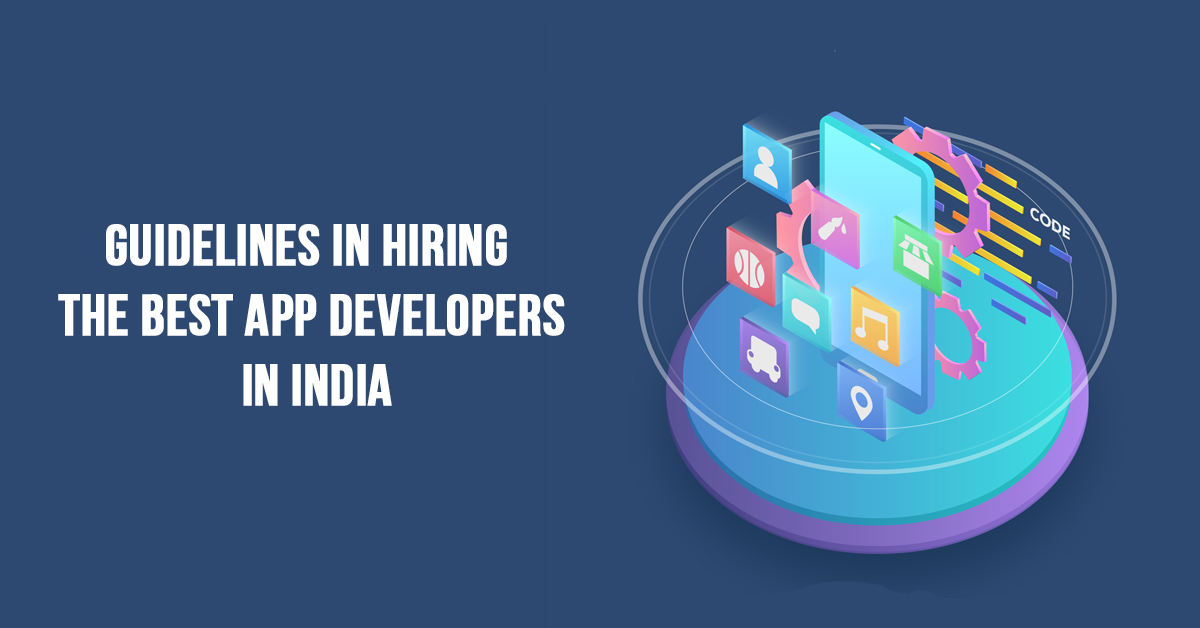 Published July 20,2021 by
Tvisha Technologies
Guidelines in Hiring the Best App Developers in India
In today's digital world, your company's success is determined by your website or app's performance, which your consumers or users will use to assess your company's brand image and standards despite your mind-boggling marketing strategies.
As an entrepreneur, you may have a great vision, experience, and diligence in giving services to your users, but your credibility entirely will be based on your app. So, by hiring the best app developers, you must demonstrate the same aforementioned attributes in building a completely functional app.
Factors to Consider When Hiring the Best App Developers
Do you need some guidance in hiring the best app developers, then below are some of the points you may want to consider
1. Objectives
The foremost required crucial efforts begin with you, where you have to lay a path that leads to your target, but before you do so, you must determine which route is applicable to lay the path. You must be completely aware of your objectives
An established company's app will already have a loyal customer base that will visit the app to meet their needs seeing its brand, and in this case, the app serves as an extension to the company's sales,
For a start-up company, the app will be the first facet for its users. Your marketing strategies may persuade the users to visit your app, but the performance of the app will determine the repeated visits,
Your vision in achieving the business goals will determine the development of the app, its budget comprising key functionalities, a list of integrations, etc.,
2. Market Research
Before hiring mobile app developers, do some market research on apps.
The apps that offer the same or similar services as you do,
The programming languages and technologies are incurred in designing the app,
Apps' user reviews will help you in appraising the factors that influenced in success or failure of the apps
Download the contemporary apps, check their performance
The above points will help you in directing and negotiating with mobile app developers.
3. Budget
Before making any budget decisions, make sure you understand the app development process, project needs, platforms, and so on. This will help you create a budget plan that works for you.
Never let your financial limits stand in the way of your vision, design, functionality, or quality, therefore set aside a bit more budget to prevent the repercussions, but keep it within reason.
4. Outsourcing Team or In-House Team
The most common mistake is hiring a freelance mobile app developer for a moderate or complex app in the process to save the budget that will affect the timeline just to deliver a mediocre app.
You can choose an outsourcing team or in-house team to build your app, but seeing the advantages you will be persuaded to opt for an outsourcing team, such as
They are veterans in developing apps of multiple domains,
The team can be hire a tech rapidly,
Depending on your needs, the developers can work off-site or on-site,
A mobile app development company will have more inputs to share that can enhance your app compared to an in-house team,
Payment is project-based where your office expenses, water charges, and electricity charges can be saved.
5. Required Experience
Before hiring an employee or a team, you must check their tech stack, and experience in developing mobile apps with multiple integrations. If you come across mobile app developers who have experience in other domains, you should consider hiring them because they can add value to your app by bringing in new user perspectives.
You can ask about the list of apps they developed, and client references, or either you can discuss case studies, check the reviews, and testimonials, which will help you assess their performance, skills, and domain knowledge.
Please make a list of qualifications, and requirements you are looking for in a team and don't hesitate to ask questions to know their capabilities.
Be ensured before hiring the team, whether it is iOS developers or android app developers, as changing the team later due to their poor performance will have a significant impact on your budget, timeline, efforts, etc.,
6. Communication
Communication plays a vital role in the success of any company. You must be in a position to communicate your business needs, ideas, and target audience so as your app developers team should be capable enough of understanding your vision.
Your team may not share your passion for your app, but you and your team must work together to reach common objectives that can only be accomplished through communication.
Conclusion
The process of hiring the appropriate app developers team requires the same enthusiasm as you have for your vision. Because they play such an important role in the design of your app, you should not take any chances in hiring capable staff. Hope the above tips will help in guiding you in hiring the best mobile app developers.