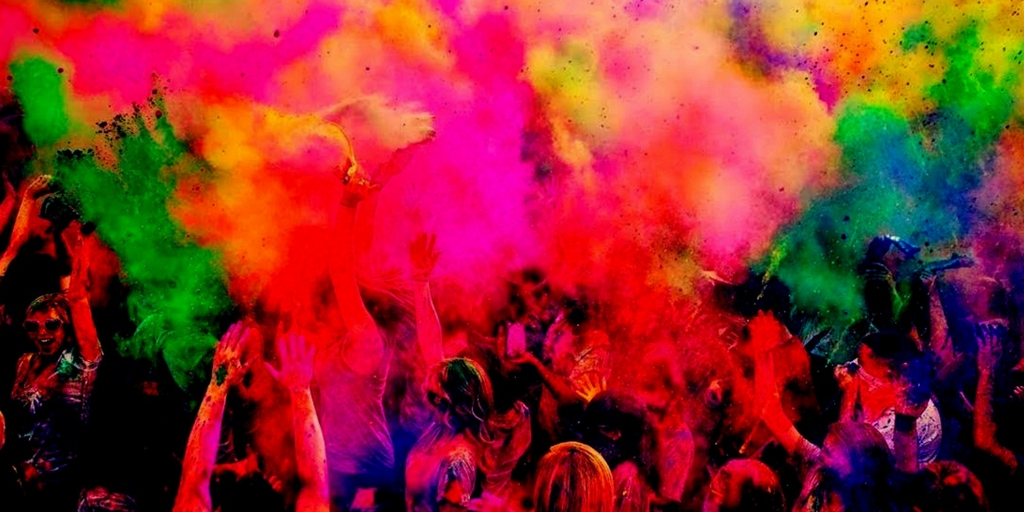 Published March 02,2020 by
Tony Lee
Why Holi is Celebrated | Holi 2023 Event Websites
This Holi, book an event and enjoy to its fullest
Life is the name of enjoyment and celebration. And being Indian, we never missed even a tiny opportunity to celebrate life with family and friends. And while it's the matter of Holi- the festival of color, excitement level is bit high. Known widely as the Festive of Colors, Holi is celebrated in India as a mark of arrival of spring. This is a celebration of fertility, blast of colors, love and togetherness as well as the victory of good over evil.
Why Holi is celebrated?
However, there are varied mythological tales behind the festival. As per Hindu calendar, Holi falls on the last full moon day of Falgun and mostly comes in the month of March. This year in 2018, Holi will be celebrated on 2nd of March. According to Hindu mythology, Holi is to celebrate the demise of a demoness named Holika, sister of demon King Hrinyakashyapu. Another story states that this is to celebrate the immense love of Radha for Lord Krishna. Additionally, the color fiesta also holds significance with respect to the transition of winter and summer season.
Whatever the motive may be, Holi is to celebrate brotherhood leaving caste, creed, class, color, sex, or race discrimination far behind. So this Holi lets gather and enjoy the celebration blissfully.
Ways to Celebrate Holi
Being a region specific eve, Holi is celebrated with few local twists in different states of India. In Bengal and Odisha Holi is celebrated for two days, on the fool moon day and the day after it. On the first day of this festival, people perform a special puja called Dola with mangoes, palash Flower, jaggery, and varieties of sweets. And this is the auspicious day on which people eat mango for the first time in a year. Then On the second day of Holi, people smear colored powder all over each other, point water guns loaded with colored water at each other, have parties, and loads of dance under water sprinklers. A special traditional cold drink called Bhang is prepared on Holi and people have that throughout celebrations.
Why Gulal is Thrown in the Air and its Importance
The coloured powder – or gulal – thrown during the festival comes from the legend of Krishna.
4 Main Colours That Represents on Holi are:
Red – Reflects love and fertility
Blue – colour of Krishna
yellow – colour of turmeric
Green – symbolises spring and new beginnings.
Today, anyone at Holi is fair game to be covered in the perfumed powder as a celebration of Krishna and Radha's love, it also signifies the coming of spring and all the new colours it brings to nature and our lives.
Holi-inspired events:
Celebrating Holi as a social event, a number of Holi-inspired social events are organized in various cities of India. Cope up with tech advancement, Holi celebration has been altered and now this is a means to gather and joy fun filled celebration. However, Special Holi events with music, rain dances, colors and parties are organized in large cities across India. Making this event accessible through out, eye catchy websites having Holi events are designed bywebsite developers.
Holi- inspired website design and development is the easiest way of inviting people in bulk to celebrate together to its fullest. There several websites are available regarding Holi event organization and celebration. Here we have listed out some of those.
Goeventz
PartyOwl
HoliFestival
MeraEvents
EventsNow
With any of these sites, you can book tickets for you and your friends and take part in the event to make it a grand success.
Making your search even simpler and easier, there few mobile applications are also available like Nearby, Book my Show and many more. Here, including Holi many others events are also categorized with event details including agenda, facilities, celebrities, location and ticket fare along with some safety information. These events are organized keeping safety in mind. That is why, they also ask for any of your Identity proof. Simply register to the event with mobile number and required personal details and pay through any available payment mode of your convenience. Enjoy this Holi making this eve a memorable one.
What to Cook This Holi Festival
1. Red lentil tarka dal
2. Peshwari naan
3. Sweet Potato and Lentil Curry?
4. Spring onion bhajis
Food is the only universal thing that binds and has the power to bring everyone together.Celebrate Holi and order Instant food with online food Delivering Apps
To The Food lovers, Here is the List of Top Food Apps
1. Foodpanda
Foodpanda which serves in 24 countries across the world. The user can select local restaurants and place orders from an app or by visiting a website.
2. Zomato
A popular mobile app which is having a collection of restaurant information and convenient feature of scanned food menus, review ratings and the gallery of Restaurant. The company also provides online ordering, table reservation, and cashless payments.
3. Swiggy
A single window for ordering from a wide range of restaurants to taste and offer customers from every corner of the city by providing deliver of food to the doorstep with Reasonable rates.
4. TastyKhana
Taste a Delicious food from TastyKhana app which is availble for IOS and Android platform and also lets user to get an access over 7000 restaurant database to choose from. It lets user to create profiles, save location, and check photos of restaurants with the flexible payment feature.