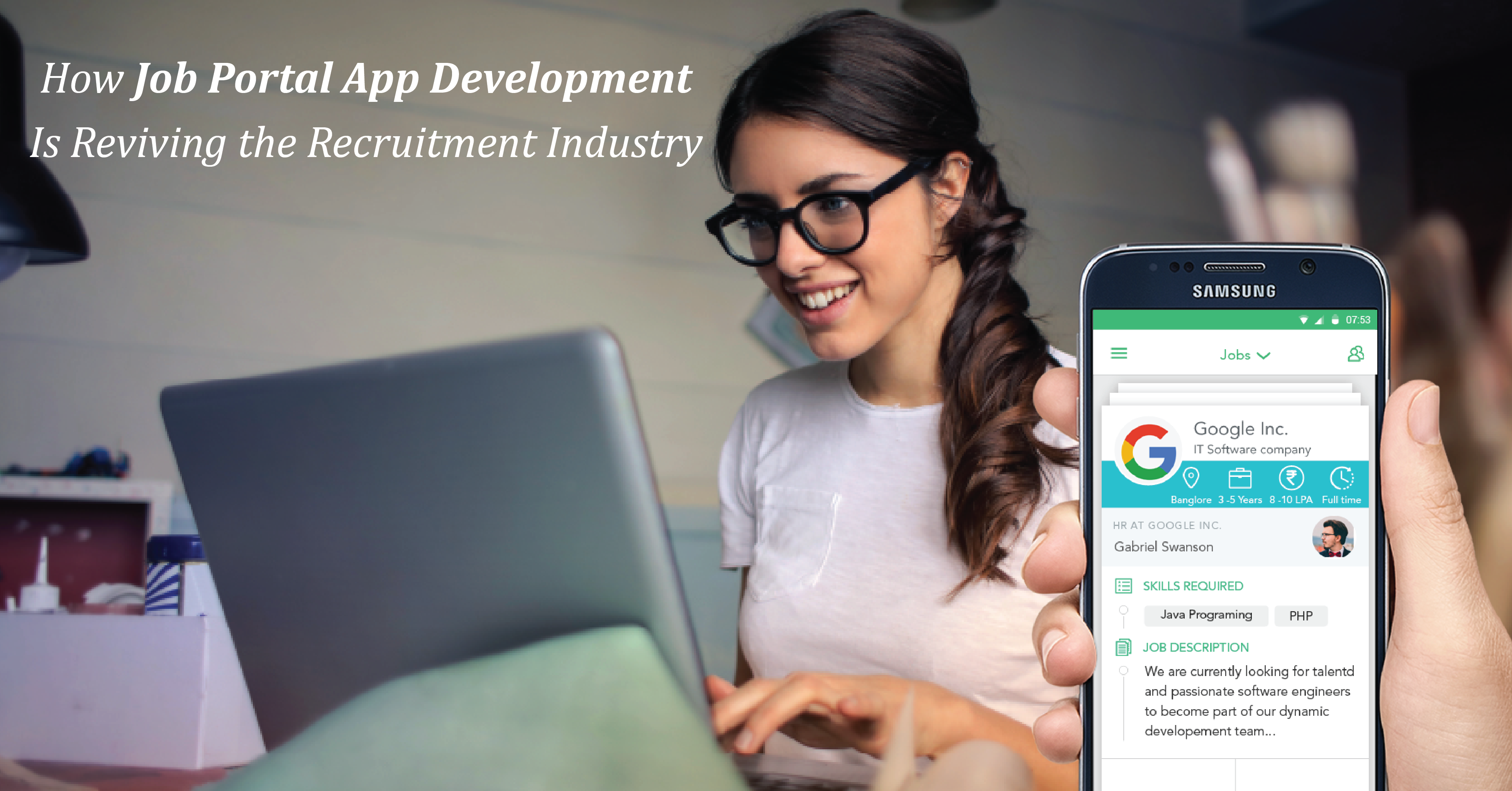 Published January 04,2019 by
Sridhar Sriramula
How Job Portal App Development Is Reviving the Recruitment Industry
Finding a desirable job is definitely among the most stressful impediments in today's modern life.
Job seekers are hunting for jobs all over the world 24×7, of which 65% use their smartphones.
These mobile devices have made it all the more essential for recruitment companies to use apps to reach out to potential job seekers.
This has led to the upsurge and popularity of job portal apps, which have entirely transformed the scenario of exploring the right job in recent years and has made job search a comfortable task. They can assist job seekers in creating resumes, connecting with employers, tracing appropriate jobs, and realizing opportunities.
Thus, through Job Portal App Development, companies have simplified the monotony of resumes, interviews, and consultations to facilitate the needs of job seekers.
The process has been customized into four segments of professional networking, job application, job discovery, and employer-employee communication to address the varying requirements of job seekers.
Job portal development has led to the emergence of popular job portal apps like naukri, LinkedIn and Glassdoor, which are available for the users of Android and iOS devices.
Several apps have emerged to streamline and upgrade the procedure of finding jobs. With the onset of a smartphone-dominated society and enhanced networking, people are locating and applying for new jobs effortlessly, while interacting and communicating on their own terms and will.
Technology has boosted the recruitment industry in becoming highly efficient. However, it is crucial for you to maintain a mobile-friendly job portal app. Although job portal development companies have immensely assisted job seekers, now, the focus has shifted on providing employers with a more useful platform.
Developers are realizing the value that a quality app can have for the employers to connect. Herein, we have listed the benefits and must-have features of a job portal app to make things hassle free for you.
Benefits of a Job Portal App Development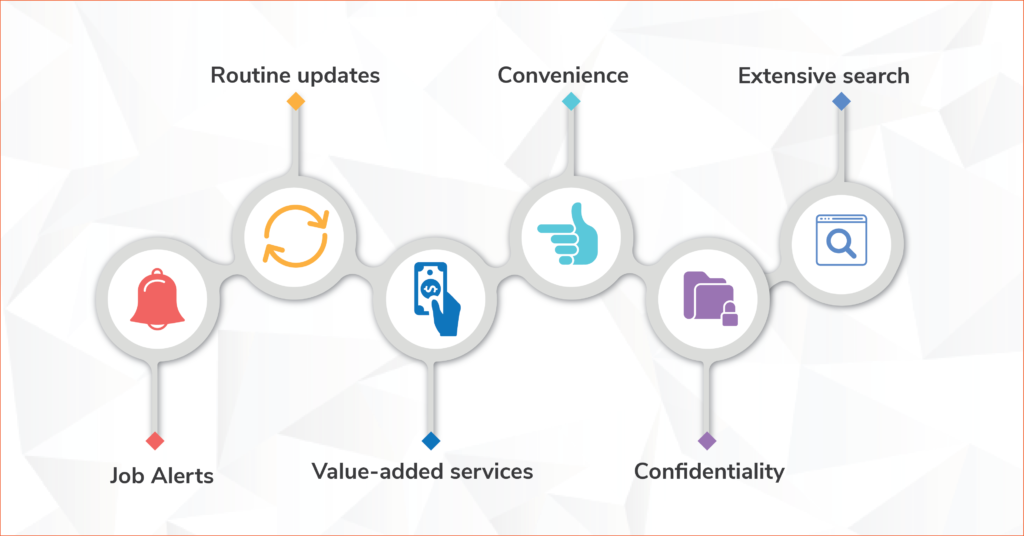 Today, job portal development has transformed the employment setup for not only job seekers but also employers. It was an arduous task for job seekers to realize their dream profession a decade ago.
Almost all organizations and businesses have enlisted themselves on numerous job portals to obtain the perfect candidate for a position. They get to use multiple choices and parameters on the job portal apps. Job seekers just have to sign up on these portals to get spotted by a number of top companies. They can upload and modify their resumes at any time.
Job portal app development has allowed employers and companies to post jobs, recruitment news, and questionnaires for job seekers.
Moreover, it has also allowed job seekers to find a suitable job suiting their preferences. They can apply for numerous jobs at a time.
Let us consider the benefits of job portal apps.
1. Job Alerts
Job portal apps assist in delivering job notifications through email and text messages to job seekers regularly. Job alerts are very beneficial because they eradicate a job seeker's need of visiting the portal frequently.
Job portal apps showcase updated and new jobs. Job seekers are notified about job openings so that they do not miss any opportunity.Routine updates
Job portal apps showcase updated and new jobs. Job seekers are notified about job openings so that they do not miss any opportunity.
2. Value-added Services
Popular job portal apps incorporate value-added services like writing a resume for job seekers to locate better job options. Although job seekers need to pay for such services, it helps in making their resumes more professionally appealing.
3. Convenience
A job portal app is handy and user-friendly. People with a basic understanding of smartphones can use such an app. Some advanced apps provide telephonic services to job seekers if they face difficulty in using them.
4. Confidentiality
Job portal apps completely preserve the confidential data and information of their users. Whenever a job seeker gets registered on these apps, all their personal data and qualifications remain classified. Only the employers can browse through their personal data.
5. Extensive Search
Organizations throughout the globe post their job openings on job portal apps. Whenever a job seeker searches for a job depending on their qualifications, they get notifications for numerous excellent jobs from all around the world.
Essential Features of a Job Portal App
We have listed the must-have features of a job portal app to make sure that your app becomes one of the leading apps of the recruitment industry.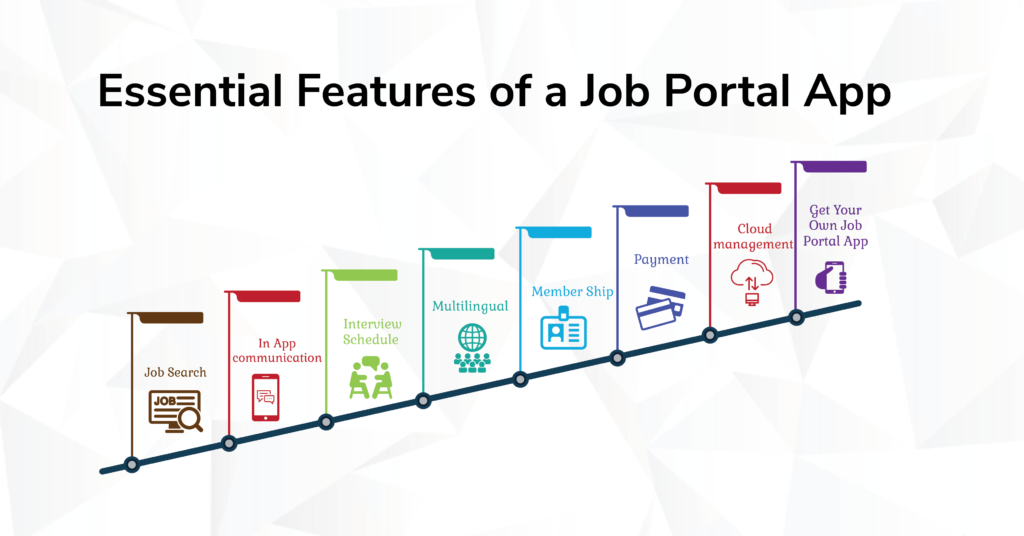 Let us check out those features.
1. Job Search Based on Key Skills, Designations and Companies
The search bar is the most important characteristic that you must incorporate into your job portal app. Ensure that your app allows job seekers to search for jobs on the basis of categories like skills, qualifications, companies' names, designations, salary structures, and locations. Moreover, you should provide a filter option in your app. This will make the search results more productive. This will attract more users to use your app.
2. In-App Communication
With in-app communication, your app can assist in trouble-free communication. Every business or organization relies on the feature of messaging for gaining maximum users. You must provide a seamless messaging platform to expand your app's outreach.
Communication is the keynote behind the triumph of any job portal app. It is important for you to stay connected with your app's users. You can connect with both job seekers and employers through text messages, emails, and push notifications. It will help you in updating job seekers about the newest jobs, companies, and changing trends.
3. Membership
With a membership feature, the users of your app can avail premium memberships and access to a set of exclusive features. They will not be required to look for deals again and again. This feature will help you capture the attention of job seekers and also helps in reminding them about the services and top offers assuring the most convenient job opportunities.
4. Cloud Management
Your job portal app must device cloud technology to manage all the data in a secure way. All the data related to the job seekers and employers can be stored in the cloud to make the functioning of your business seamless. Cloud technology will assist in making your business scalable. It will monitor and secure every data accumulated on the secured servers. Moreover, it will protect and integrate your business.
5. Payment
You should assimilate some digital payment options like internet banking, e-wallet, and credit card to benefit your job portal app. With the help of multiple options, job seekers can opt for any service and avail them any time. This will ease the process of getting registered for customized features and memberships.
6. Multilingual
Job seekers are hunting for their favorite jobs throughout the world despite their mother tongue, culture, and lifestyle. They belong to different locations. Therefore, a multilingual job portal app is always going to be beneficial. You consumers will be able to operate your app in their desired language. This, in turn, will simplify the job-searching process. Job seekers will effectively showcase their abilities and requirements. This will also keep your consumers engaged in your app.
7. Interview Schedule
It is vital for your job portal app to assist the employers in scheduling interviews with job seekers. This will not only encourage your consumers but also create a good impression of your app.
Get Your Own Job Portal App
Now that you have acquainted yourself with the benefits and essential features of a job portal app Development, you will start hunting for someone who can do this for you. Don't worry! We at Tvisha Technologies can help you develop a perfect app based on your requirements.
Here's is a list of the technology stack that we use for app development:
Push notifications – Bandwidth and Twilio
SMS, voice, and phone verification – Nexmo
Payments – Braintree and PayPal
Programming – GWT
Data management – Datastax
Emails – Mandrill
Operating System – Debian
Database – Mongo DB, Hbase, Cassandra, Mail Chimp Integration
Cloud Environment – AWS
Real-time analytics – Hadoop, Spark, Big Data, Apache Flink, Cisco, IBM
Our developers have efficaciously designed, developed, and delivered a considerable number of apps on iOS and Android smartphones. Within our job portal app development, we conceptualize, design, develop, and promote your venture. We use authentic tools and skills to deliver complete mobile solutions.
Understanding and elevating your business is our primary concern.
Our firm has deployed a great variety of apps employing pioneering approaches. We create browser-enabled web apps, online mobile apps, offline mobile apps, native apps, and hybrid apps.
We are experts in developing business-critical mobile apps, increasing stability, reducing support costs, and lowering final app development cost. Contact us to develop a job portal app with high-end services, top-notch security, swift automation, and customized experience.