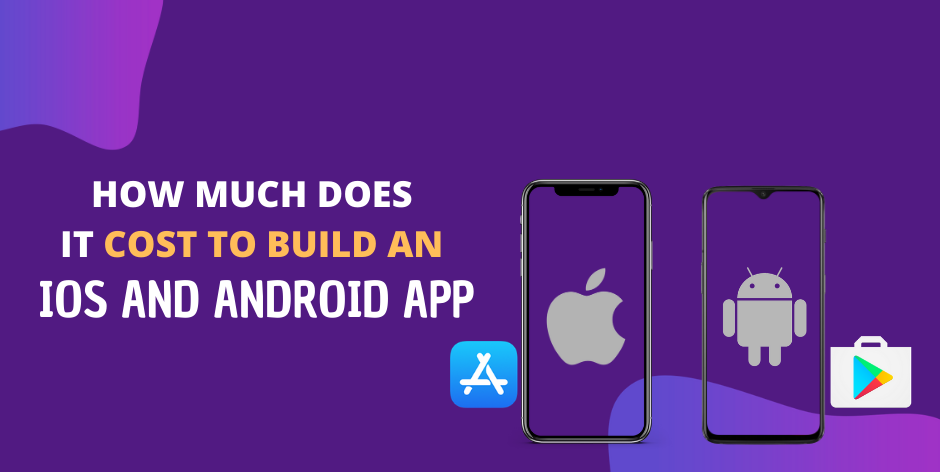 Published April 12,2023 by
Vamsi Bandi
How Much Does It Cost To Build An iOS and Android App?
For every app either Android or iOS, the cost to development depends on several factors such as the business model, complexity of features, app platform (native/web/hybrid), UI/UX design, prototypes, modules, custom solutions, changes required at different phases of Software Development Life Cycle, number of integration, deployment, beta testing, new features updates, and maintenance and support.
Before going for the cost required for Android or iOS app development, it is always better to know everything beforehand.
"The Unplanned And Unprepared Nature May Cost You Hefty Sums."
Factors That Affect the Cost of iOS or Android App Development
In this article, we will discuss these factors which contribute towards the cost of the iOS or Android app development.
1. Company's Brand and Developer's Experience – The Ultimate Cost Decider
You can hire a mobile app development agency or freelancer or utilize in-house developers. Freelancers may not have all the resources since they are adept at one specific skill and not able to support you after app deployment. At agencies, you will find multi-faceted teams of programmers and developers for different platforms and the proper project management(streamlined workflow, regular updates, hassle-free collaboration, support, and maintenance).
If you hire a top mobile app development company that has experienced app developers, then you will be charged more but quality and flawless apps are ensured. Associating with them will be profitable for huge projects and startups. Though freelancers are best known for small projects, it will be always better to entrust the app design and development to agencies because your app is the future of your business that lasts for the long run.
The developers' and Quality Analysts' expertise may add extra to the average cost.
2. Basic Version or Advanced Version? and a Single Version or Multiple Versions?
Both the Android and iOS mobile platforms have different versions. Based on the mobile version type and the number of supported versions, you will be charged.
If you want to build an app for the latest version, you should analyze
the number of the version users and
your targeted users
Make sure that the two things sync with each other to meet your business requirements. If you go for the latest version, all users may have or not have that version. If you use old versions, you may fall behind the competition. It is better to use 2 or more versions supported app to yield better outcomes for your business.
3. App Development Cost Varies According To The App Size
The size of the app depends on the content, images, animations, and the number of pages. For e-commerce apps, the number of pages is proportional to the number of products. Hence, the size of the app will be increased according to the number of pages. Every page is considered while developing an app.
4. The Number of Integrations Adds to the Cost to Develop the App
App integration is a crucial part of understanding the Android and iOS App Development. The cost depends on the ERP integrations(oracle, Netsuite), CRM integrations(Zoho, Salesforce), e-commerce integrations (in-app coupons), rate and review, calendar, Geo-location, mobile payments(such as PayPal), chat options, and third-party APIs. The more integrations your app has, the more you will be charged.
5. The Feature Complexity Maximizes the Cost
Features like Users, registration or email logins/ social logins, feedback, activity feed, news feed, in-app purchases, animations, group calls, privacy settings, dashboard and additional features like social sharing, push notifications, Ads, AR/VR, data collection and export, QR code, maps, backup, activity tracking, offline capabilities will contribute to the cost to develop an app.
Besides, if you want your android app development connected to your website, you will be charged an additional cost.
6. App Type and Platform Decide the Average Cost
The type of app depends on your business type and services like games, business, education, data-driven, lifestyle, entertainment, custom utility, and social. Every project is different and also their requirements. Native or hybrid or cross-platform app development makes another variation in the cost. The average cost to develop an app on 1 platform will be $25000.
Here is a Rough Estimation of the App Development Cost
Simple App: The cost to develop a simple app starts from $10000 and the time required for this app is a maximum of 1month.
Database API/App: The cost to develop a database API/app starts from $10000 and stretches to $50000 and it takes 2-3 months to be designed and developed.
Enterprise App: The cost to develop this type of app is in the range of $50000 - $150000 and 3-6 months are required to develop this complex app.
Game App: The cost to develop the games app varies between $5000-$250000 based on the complexity in its features.
If you want reduced costs, then you can go for a minimum viable product (MVP) applications. In this type of apps, you won't include all features right away but occasionally you can add the additional features whenever you want. It costs you less than the full-featured app.
7. Design that Differentiates the Cost
The design part includes layouts, themes, frames, buttons, style, visual design, UX, icon, and content. The icon design may cost between $2000-$10000, visual design may cost you $5000, the UX design may be in the range $10000-$25000, and the logo may cost between $1000 to $5000.
8. Technical Requirements Add Value to the Cost
The cost depends on the technology stack used for database(MongoDB, PostgreSQL, MySQL), mobile API(NodeJS, Ruby), content management system(angular, ruby, backbone), analytics(Google analysts, Mixpanel), back-end servers, UI, tools such as sketch, Build fire, and Adobe Experience (XD).
9. Hourly Rate – The Accurate Calculator of Cost
Furthermore, time is money. So, suffice to say that
(Features * Time) * Rate per hour = Cost
Cost of the App=Development Time∗Rate per hour
This hourly cost varies from region to region. Freelancers take $10 per hour, iOS developers take $20-$100 per hour, and Android app developers take $25 to $50 per hour.
10. Other Costs that Finalize the Actual Price
Last but not least, the additional costs for server maintenance, legal fees, continuous support, and maintenance, etc. will contribute to the total cost to the App development.
Summing it up
Don't make it a nightmare of epic proportions by going for Android or iOS app developmentwithout knowing anything beforehand. An iOS app is quick to build and cost less than the Android app. However, decide the best platform by solely deepening on your business requirements.