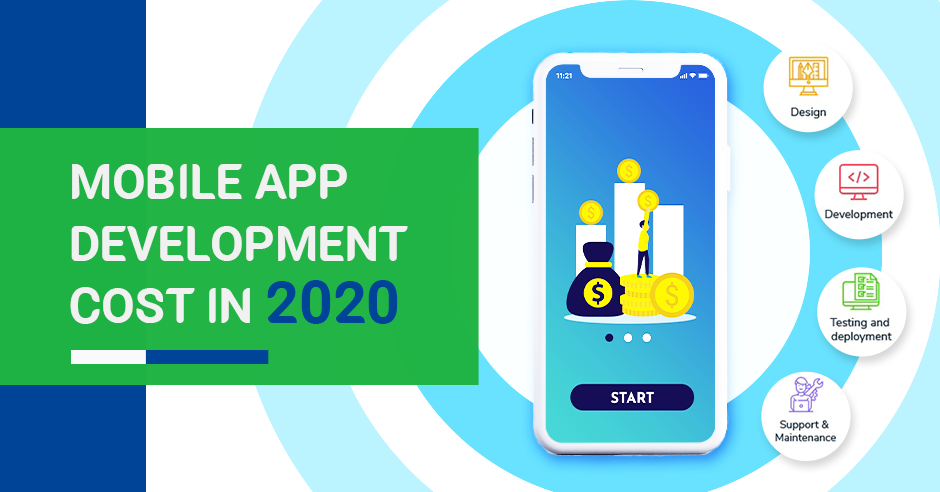 Published February 01,2020 by
Sri Kumar
How Much Does Mobile App Development Cost in 2020?
There is no easy answer to this question - what is the mobile app development cost? because the price for the individual programming of an app depends on numerous features. First of all, questions regarding target groups, application scenarios, interface design, range of functions, platforms, data, security, performance, integration, operation and project management must be clarified.
Here target groups, user stories, and user experience define the range of functions and thus the costs. If the central question is probably about the target group.
Who should use the app and for what?
How many users are there and are they known?
Is it a B2B or a B2C solution?
How many user stories need to be integrated and how complex are they?
What expectations are placed on the user experience?
Which requirements regarding interface design have to be met?
The range of functions of an app can be derived from the mobile app strategy which is an essential factor in estimating the cost of mobile app development. The basis for the development are defined user stories with functional descriptions, technical specifications as well as wireframes and graphic mockups of the required screens.
Platform and technology as potential cost drivers
The application scenarios and the target group usually also define the platforms on which the app must be made available. As a rule, with B2B solutions restricting usage to one platform, B2C solutions must always cover several platforms if you don't want to limit the range of the app unnecessarily. Although there are different approaches to cross-platform development, Android, iOS and Windows UWP basically have little in common technology which can result in a multiplier in the development costs. Added to this is the variety of device types, resolutions and operating system versions that to be supported.
The technology with which the solution is ultimately developed depends on project-specific requirements for user experience, performance, hardware integration, and investment security. This is the only way to make the right decision about expected development costs concerning the question of whether native, hybrid, cross-platform or even purely web-based development.
New concepts for integration help to reduce costs
Since only very few apps can do without data exchange and integration in back-end systems, this aspect must also be assessed when estimating costs. The range of systems to be integrated is almost infinite: from baking machines in retail to the SAP system, every system can be integrated with an app. Since only very few systems can communicate directly with an app and provide the required data formats, mobile app gateways or individual middleware systems have to be provided. This is usually complex and therefore costly.
New approaches via cloud solutions as well as mobile backend as a service can reduce development costs by up to 80% since they already provide many required functions as standard and do not require dedicated infrastructure for operation. Concepts for the offline capability of apps are also easier to implement since corresponding synchronization mechanisms for data are available.
Appropriate project execution helps to save costs
Depending on the size of the project and the degree of maturity of the technical requirements, the choice of the appropriate method for project execution can have a significant impact on the course of the project and help to reduce costs - regardless of whether you choose an agile method or a classic project management method based on the waterfall model. Of course, the costs of project management must also be calculated. The use of experienced project managers makes a significant contribution to leading high-quality projects to success on time and avoiding unnecessary undesirable developments.
So what does Mobile App Development Cost?
The typical budgets for mobile app projects have implemented in recent years have been between 30,000 dollars for smaller solutions and more than 2 million dollars for complex large-scale projects.
The total cost of ownership of an app
The best Mobile App development company always recommends its customers to plan not only the project costs but also the running costs of an app after Go Live in a good time. In addition to the costs for operation and support, efforts for the further development of the app and the adaptation to new releases of the operating systems, changed libraries or new end devices will also be taken into account. Nothing is worse in the eyes of users than an app that is visibly and noticeably out of date without the latest technology.
Different types of applications that can be developed:
Different types of apps can be developed. For example, iOS App Development provides the following categories - Food, Lifestyle Sport, etc. There are also categories in which the apps are classified according to their architecture. For the sake of simplicity, the different apps can be divided into the following areas:
Simple table function:
Kind of the hierarchical solution:
The start screen has large subject areas if you click on one of these, you will get a new list that you can click on. The email on the iPhone is a good example of this. This category is the easiest to build and design and is a great option for companies who want a simple app that shows basic information. Table-based apps can be implemented with a good iPhone designer where more detailed programming knowledge is often not necessary.
Database-based and customized functions:
Although it is not an exact description of a category, it is probably the best way to describe the publication of content. Imagine you have a large amount of data and content (e.g. text, images, etc.) that you want to use. An example of this would be hundreds of different types of bread that you want to organize and display differently. This cannot be represented in a simple table function, at least only suboptimally. Development is already becoming more complex here, since decisions also have to be made here, such as - should the data be "native" (built into the app) or "dynamic" (built into an online web service).
Games:
These are the most complex to create. From simple games such as Pacman to complex 3D games, there are many variants. Earning points, the UX / UI (briefly simple and easy usability) UI design Services, movements of the device and logging into the online game center are some functions that have to be implemented.
Improvement or modification of the end device software or hardware:
This means the improvement of the functions of the phone already supplied such as alarm clock, camera speed camera, etc. A good example of this is the filters that the Camera-Plus app provides with which you can edit images.
Fully dynamic apps:
Similar to the database-supported programs, these are completely dependent on external data such as e.g. Facebook, Instagram, etc.
Useful tools:
This type of app is designed to allow the user to enter content in a certain way. Examples: Pages, Adobe Ideas, and Numbers.
Everything else:
These programs are mostly very specific but I would argue that the list above corresponds to over 90 percent of the programs available in marketplaces like Apple iTunes.
Conclusion:
The system you want to develop depends on how much content you want to provide and how much control you want to have over the entire process. It is important to understand that such apps are easy and inexpensive to create. If you go into the development process prematurely without knowing the options, it can entail high costs.
Also Know: Top 10 Mobile Application Development Companies in India