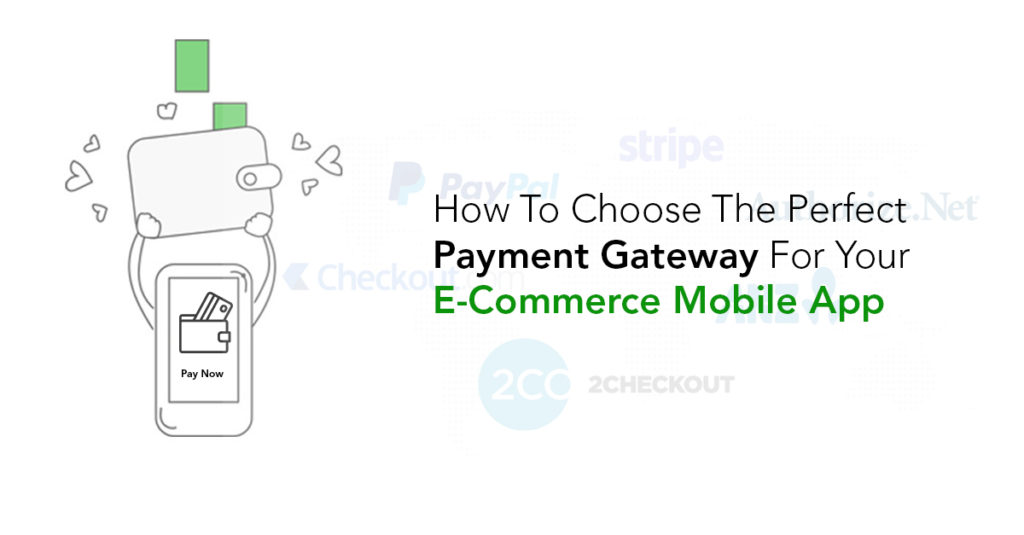 Published July 23,2018 by
Elon Musk
How To Choose The Perfect Payment Gateway For Your E-Commerce Mobile App
Online shopping has become the need of the hour and everybody loves to shop without having to step outside their house. The convenience of being able to click on the items that you need to purchase and order them online without having to move an inch is definitely something that people enjoy doing. While this is incredibly beneficial for customers, companies on the other hand, need to be a little more careful with regards to setting up their E-Commerce platform that enables customers to come and shop on the platform with ease. A number of companies hire an eCommerce mobile app development team that will help with creating an app that helps complement their website as well.
No customer would like to shop on a platform that has complaints in the past or does not manage to clear the payment for the transaction in the first go. Although the number of e-commerce platforms, specifically on mobile phones, has increased in recent times, it has become a challenge for business owners to decide what kind of payment gateway they should choose when it comes to creating a mobile app for their E-Commerce business. There are a number of things that a business owner needs to keep in mind while creating the perfect e-commerce platform and incorporating a payment gateway for the app to work smoothly, effectively and fast. There are various features that you should keep in mind while choosing the right eCommerce mobile app Development Company, but if you want to make sure that you have chosen the right e-commerce development company, then here are a few things that you should definitely look for.
Flexibility :
One of the most underrated features of any payment gateway is the flexibility it has to offer. Business owners usually look for the more popular payment gateways without realizing that these payment gateway giants may or may not be as flexible as compared to a few others that would work in your favor better. It's really important for you to check and see some features of the eCommerce app development team such as whether or not the payment gateway that you plan on integrating with your mobile app is going to work seamlessly or not. Different payment gateways have different programming languages and you need to ensure that the one you choose works well with the e-commerce platform that you have built. If you end up selecting a payment gateway that is very different from the programming you have set up on your platform, you would need to make a lot of changes and this would delay most of your plans.
You also need to make sure that when you select the payment gateway you see what currency the payment gateway is accepting. While you may only ship locally, there are a number of people who would want to purchase things from outside of the country for people living in the country and if you narrow down your payment gateway to a particular currency, you will lose out on a few customers.
Once you purchase a payment gateway you may not be able to return it and this is why you need to make sure that when you purchase one from eCommerce App Developers that suits the business that you are into and you will be able to use it effectively.
Time :
It's really important for you to take into consideration the amount of time the payment gateway will take to release the payment into your account. While some payment gateways transfer the money almost instantly, there are others that take almost three months to get the money transferred to your account. Make sure that you choose a payment gateway that transfers money in a timely manner so you don't have to worry about waiting for a long time for the payment to hit your account.
Processing Fees :
Always check the amount that the payment gateway will charge you as a processing fee for each payment that you receive on your website. Although some payment gateways charge you small amounts of money, there are also other deductions. So try to read all the terms and conditions clearly before you choose a payment gateway. Choose a flat fee for each transaction rather than anything else as it works in your favor and you will end up saving more money when you pay them a flat fee.
Apart from the processing fees, most payment gateways have a list of other fees that they would charge you. These include service charges, setup cost, registration cost and maintenance cost.
Although most fees may seem small however, when you need to pay them every month it turns out to be quite a big chunk out of your payments which isn't always necessary. Try coming up with a contract with the payment gateway for both of you that will be beneficial to each other and where you choose the services for a long time and they manage to provide it to you at an affordable price.
Security :
One of the most important features that you should check when you are picking a payment gateway for your e-commerce is the kind of security that they have to offer. Search for only secure payment gateways because if you are not using something that is secure, it will automatically go to an unknown person and while this might be risky to you; it will be even more risky for the customer. In order for you to have a reputed name in the market, you need to have a reliable payment gateway that is secure and will ensure payments that are made safely and in a confidential manner.
Conclusion :
When selecting the right payment gateway for your E-Commerce platform on a mobile app, make sure that you do your research properly. Always take time to read reviews and compare the platforms with each other so you select something that works in your favor. A payment gateway is very essential for your business to grow and become successful so do not make a hasty choice when it comes to choosing the right one.