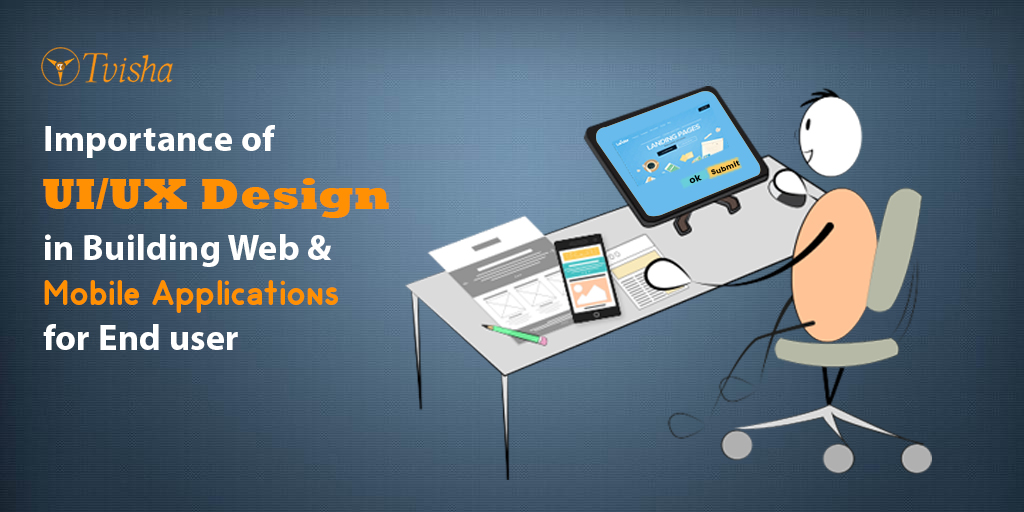 Published November 24,2022 by
Tvisha Technologies
UI and UX Design Importance in Making Web and Mobile Apps
User interface (UI) and user experience (UX) are the two inseparable sides of a single coin. While a well-designed and organized interface speaks to users' eyes, at the same time an informative and structured look and feel heightened user experience, letting them spend more time on that particular page. So an ideally designed UI/UX is vital for increased time of retention.
While it is a matter of user attraction and engagement, for both small-screened mobile apps and web apps, highly effective UI/UX Design software is extremely imperative. UI enlightens the look and performance of your app, and on the other hand, UX focuses on user experience speaking to evolving usability issues. Talking about the look and structural appearance of an app, captive color elements, finger friendly UI elements, font size and colors adds glamour and trendiness to your app being indispensable. A professionally designed UI/UX not just pulls customers but get back the best possible ROI. Hence, the importance of ui and ux design in building applications must provide an extensive set of user-friendly features tuned to mobile phone usability.
What is UI and UX design?
The ui/ux full form is the user interface and user experience. So UI is an application's graphical layout. It includes text users read on, buttons they click on, text entry fields, images, and other things which they interact with. The UI designers are the ones that decide what an app is going to look and feel like.
An app's user experience can be determined by how they interact with it, like user interface elements a UI designer has made. The UX designer governs how the user interface structure is and how it works.
What are all the basics of UI/UX design?
Many confuse UI and Ux design in terms of app and web design. They are like a coin's two inseparable sides. But you will get clarity when you understand the difference between ui and ux.
The UI designers will work on creating an application's user interface look and feel. They make sure the application's interface is themed, visually attractive, and stimulating. They ensure every visual element feels united in purpose and aesthetics. They choose interface elements such as input controls, containers, informational components and navigational components.
Principles of UI Design
User control.
Familiarity.
Clarity.
Hierarchy.
Accessibility.
Flexibility.
Conversely, UX designers will design how a user interface functions. If it feels seamless and operates well, a user will have a better experience. They need to have a clear understanding of how users are interacting with the user interface.
Principles of UX Design
Consistency.
Hierarchy.
Confirmation.
User control and
Accessibility.
A Great UX Design Aids for Business Expansion with
Increased user satisfaction
Conversion optimization
Reduced cost of support and maintenance
Diminishes development and documentation cost
Increased app installation
Increased average time of retention
Increased sales
Drive customer loyalty
UX design indicates User Experience Design & UI design refers to User Interface Design. User Experience Design is the widely known method for strengthening the overall customer satisfaction. It establishes a strong relationship and easiness between the product and its end users.
User Experience encloses all applicable features of end user's interactions with the UI Design Company, its products and the great services. Importance of UI and UX Design in Building Web & Mobile applications for End user has become the need of this digital world.
Importance of UI and UX Design
So why ui ux is important? Here are the reasons.
1. Simplicity
Simplicity speaks more. A simpler app is more user-friendly with easy navigation. And Mobile App Development Company must make their apps simple enough to encourage its usability and installation.
2. Capture Attention at a First Glance by Designing User Friendly Apps
The web or mobile app needs to be robust enough to impress users at first sight. The user must be able to understand and operate the ui and ux design app easily, making the users fall in love with the application.
3. User Privacy
The website must be designed in such a manner that the privacy of the users shouldn't be hampered. Talking about one of the ui/ux design examples like social communication apps, communication over social platforms facilitates business development and promotion of the products and services offered by mobile or web apps. Designers must highlight every app feature in detail so that users can trust them.
4. Attractive Appearance
The importance of user interface design is that a catchy user interface needs to be very attractive so that users can enjoy and feel comfortable using it. UI design must be very responsive, simple and cater to the users' frequently changing needs for any UX Design company. Try to add on features that users must like it.
Some software like word press offers a few templates, which any non-techie person can use on these personal websites templates for creating user-friendly and functional websites
5. Undo Feature
At times, users mistakenly delete the data and information which is important to them, and they may need the same for future reference too. The app must be designed in such a manner that data retrieval should be easy. There must be a way out to sort out the errors made by the users.
6. Feedback Section
The web interface must be designed in such a way that users can add their comments, reviews or feedback. Feedback section is highly indispensable part created using ui/ux design tools since it facilitates designers to know their areas of improvement.
So these are the reasons which let you understand the importance of ui ux design.
Conclusion
There is great importance of user interface and user experience design as UI and UX design skills relate to one another, even though they play complementary roles in web development. When both UI and UX designers work together, they can contribute to a more transparent and cohesive UI and UX design process that allows you to create and get a useful final product.
FAQ
What Is The Scope of UI/UX Design?
The ui/ux designers create a customized user experience, and they are in depth involved in all the processes from behaviour analysis to marketing and data collection.
Which is better UX or UI design?
It is better to choose anyone based on your interest. But according to a recent survey, UX is more demanding than UI. It is because they create effective and top-notch UX designs.
Is UI UX design a good career?
Yes, UI UX design is a great career if you prefer to work in a growing area with many opportunities. The ui and ux designers are responsible to create a user interface that looks best.