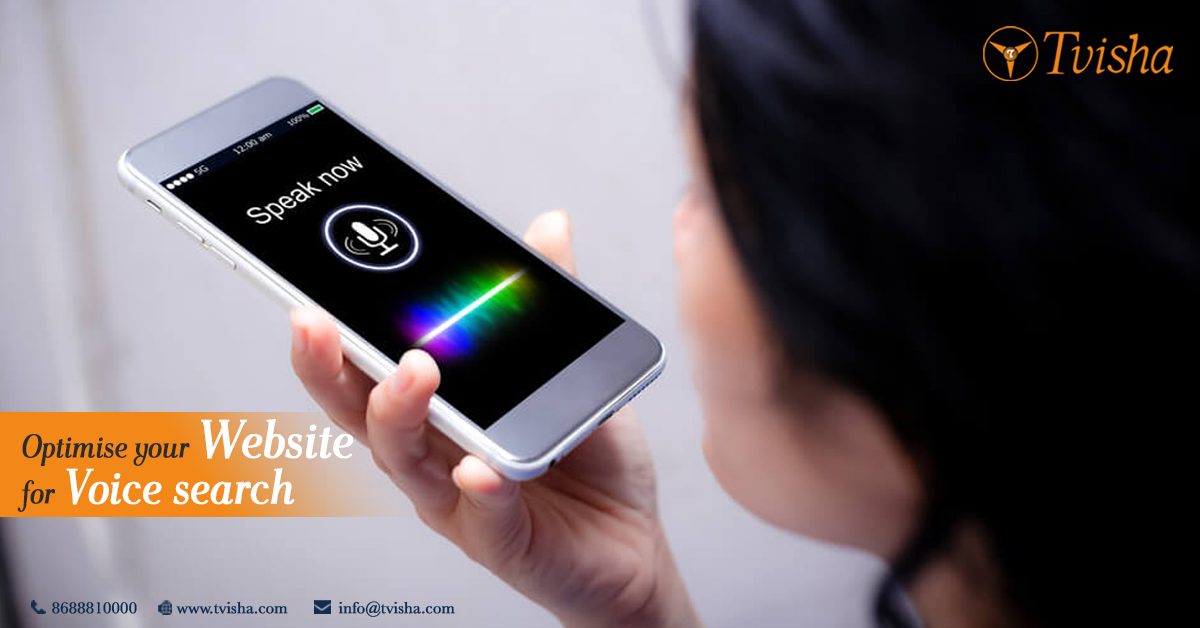 Published June 16,2022 by
Tvisha Technologies
In 2023, Why Should You Optimize Your Website for Voice Search
In the earlier days, talking with the robot assistants regularly was represented as science fiction. But in the present moment, for finding the local restaurant or day spa, you can just ask your phone's voice search assistants like Alexa and Siri for suggestions. Searching through voice is more accessible and better than typing your query. Most people are now finding your business through voice search. So the voice search occurs when a PC or Smartphone user speaks to the device they use to search for a specific business or topic.
For instance, if you want to visit a cafe for the best coffee, you can just voice search on Google by saying In which cafe I can get the best coffee? The voice search assistant will display the results from which you can choose the right one based on your preference.
Using voice search is becoming popular among adults and even teenagers too. So the best web application development company needs to optimise their website for voice search.
What is the Reason for Optimising your Website for Voice Search?
Voice search is convenient to utilise as you don't need to type. You tend to obtain one answer for your search when you use smart speakers like Google Home, which means you don't need to look at every search result. You can use a voice search not only on your Smartphones or other mobile devices but also on your PCs, tablets, or Smartphones. It doesn't matter whatever device you are using. You can utilise voice search with great ease. It is the more convenient and better way to find answers easily to your queries.
It is why your company needs to do website optimisation for voice search to be a part of your search marketing strategy to attract the customers that search about your service or product through their Smartphones. Therefore, ensuring that your website's structured data is also optimised well is necessary. Optimising your website well for voice search will help you deal with web development challenges and solve them. You can speak on the device with a voice search assistant by saying what are web development challenges and solutions. The results will be displayed based on how you can solve issues while developing a website. You can solve these problems quickly if your website is optimised well for voice search as it is better than text search.
Ways To Do Website Optimisation For Voice Search
Here are the ways of doing website optimisation for voice search, They are:
1. Utilisation of Long-Tail Keywords
It is essential to use phrases and keywords for finding content. However, regarding voice search, performing SEO using long-tail keywords is prominent. It is because most people ask complete queries instead of asking in a short phrase or single word.
For example, if you search 'pizza Hyderabad' or 'where can I find the best pizza near me? The voice recognition will identify the 'where' phrase to begin the search, the 'best pizza' term as the subject and the 'near me' phrase to find the location where you can get the best pizza based on your Smartphone's GPS.
Even the term 'pizza Hyderabad' is helpful in search results but is not as detailed as the voice search.
2. Answering Queries in your Niche
The best way to attract the visitor's attention is to answer a query. It is necessary as many of them speak and type in search engines to get their answer for the specific query. If your answer is accurate to the question asked by an individual, then there is more scope to attract various visitors.
The better way to recognise the questions from searchers is by utilising some tools such as Answer the Public. Here you just have to type your search term, and this tool will analyse the things people are searching on the web for a particular keyword. So, for example, chicken pizza displays the search results like how long it is suitable for keeping chicken pizza in a Refrigerator.
3. Understanding the Voice Search of the Audience
Most of the time, Search Engine Optimization(SEO) includes mistakenly spelt terms the searcher speaks. But unfortunately, it is a similar idea to how people talk. So the, voice search assistants like Alexa and Google try to solve the mispronunciations but still get it and display the results for searchers.
It means website developers don't need to create a separate landing page for every language during the web design and development process. However, it is essential to understand the people you are marketing for and the terms they use for particular items.
4. Google My Business
Using phone books is out of date as most of the users utilise voice search for local businesses. Adding the information to Google My Business will help the voice searchers know if the particular address is near them. You can't depend on adding the address to the website and waiting for information. Adding data to Google brings the best results for verifying your business. It enables your establishment on the maps, improves the likelihood of people, and makes them buy your products or services.
For example, if people find a store near to them online, then 72% of them will visit it.
5. Being Descriptive in Content
Staying descriptive is better in content. Your content must make a visitor understand it quickly. If you don't do it, you will start losing your audience. It is better if you create viral content that easily attracts new visitors.
Providing more details gets you excellent results when asking a voice search assistant a query.
6. Using other Networks
Not only search engines but also Facebook and Yelp are the aspects of voice search trends. However, while using these other networks, you have to be on them. Therefore, these remaining networks are advantageous more than just voice searching.
7. Continue to Test Always
The better path to know if your voice search optimisation is functioning or not during front-end development and website development is possible only through testing on different platforms. Keep this thought in mind when you optimise the website during the component-based UI development that you don't get results instantly because you are competing against a large market. So search in-depth until you discover your content through voice searching and analysing what worked and how you can enhance it.
When you tune the SEO for voice, you will acquire better outcomes. It will also increase your page ranking in traditional searching methods. The complicated part of using this plan is that you must test on as many devices as possible. You can do optimisation on the platform that is available to you and then move on to do it on other platforms. You must target Windows, Android, and iOS platforms to improve your website's traffic. It also means that you must utilise the search results from voice search assistants like Cortona, Alexa, Siri etc., for a successful business.
Advantages of Optimising your website for Voice Search
Let's discuss the benefits of voice search optimisation on your website.
1. Increases Online Visibility and Brand Awareness
When you optimise your website pages, voice search will be shown on the result page of any query and will rank first in the top list than your competitors. So when you offer an answer to their question, you are ahead of your rivals, and there is an increase in visitors visiting your site. They will likely find your business if they search for a similar solution.
2. Raises Brand Awareness
Voice search optimisation will enhance your website traffic and let others find your site easily. It will also rank your site higher in the search engines. It also enhances a user's experience as your website page will offer accurate answers that users are searching for. It also enables you to analyse website data to know which pages work best and which others need to be optimised.
3. Increases the Number of visitors Coming to your Store
Many people perform local searches like looking for a local store or restaurant, which helps increase the number of visitors to your store. The individuals who utilise voice search will find answers instantly and buy your store items immediately. It will automatically raise the chances of getting more customers to your business. The way how to choose an SEO agency depends on more than a few factors that can benefit your traffic such as voice search optimization. It can happen just by being on the results page. To increase the number of visits, include information like address, recent photos, and working hours in your Google business listings.
Conclusion:
Thus, this is the reason to perform optimisation of your website for voice search. It is also discussed here how voice search optimisation for your website is performed. It also shows why voice search engine optimisation benefits your business. For various companies, it offers unique opportunities for reaching out to their potential customers. Because of these technological changes, the way an individual finds information keeps evolving.