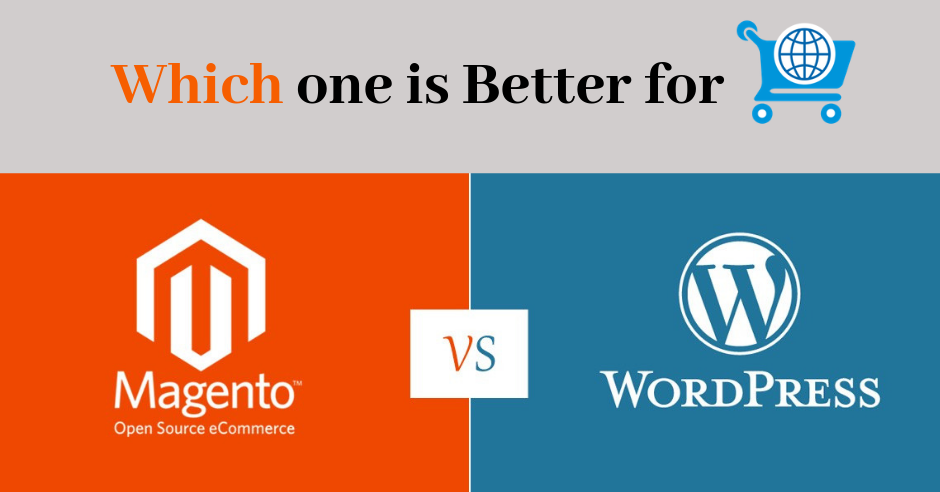 Published November 17,2022 by
Tvisha Technologies
Magento Vs WordPress - Which is Best for E-Commerce Development
When it comes to building an e-commerce site, choosing the right CMS system is extremely crucial. You can get a number of options out there. However, for your benefit, you need to choose the best CMS system. Out of all the known CMS systems, two of the systems are quite popular among the e-commerce site owners and that are Magento and WordPress. Both these systems can be used for the development of an e-commerce site, and that are Magento and WordPress. However, both the systems are different from each other in many aspects. If you wish to know the difference between Magento vs WordPress, you are in the right place. Before comparing WordPress and Magento, let's discuss both of them.
What is Magento?
Magento ecommerce has a built-in PHP which allows programmers to develop ecommerce websites. Many of the big companies like Samsung and Nike used this platform to establish and began their ecommerce store. It is a platform which is free and totally professional. You have to understand basic English language skills and technology to create an online store using Magento open source platform.
Is Magento Better Than WordPress?
WordPress is an open-source and online ecommerce website creation tool written in PHP. Magento is written in PHP, but utilizes object-oriented programming techniques for creating ecommerce websites. Both are open source and the best content management systems for building ecommerce sites. But magento is the ideal one to create an online store compared to WordPress.
Comparison of Magento and WordPress
When talking about Magento vs WordPress, the main question that needs to be answered is which platform is better for an e-commerce website? Users who are confused between the two platforms can go through the comparison laid out below in order to clear their confusion. This will help you to pick the best e-commerce website development platform for your online store.
There is no doubt in the fact that WordPress is one of the most popular content management systems that is equipped with thousands of plugins, themes and other useful tools. The numerous features of WordPress help you to create anything that you want. Starting from a personal blog to an e-commerce site, you can create anything according to your wish. WordPress is mainly known for it's a user-friendly interface and highly customizable options. These two factors are the main selling points of WordPress.
Coming down to Magento, it is basically a platform that is completely meant for e-commerce development. You can avail an array of features that can help you create your e-commerce site easily. You can create your e-commerce store right from scratch. It is because of this reason that Magento is quite popular among e-commerce site owners. Even when comparing WooCommerce vs Magento, most online stores prefer to use Magento to create an ecommerce website. Because this platform provides you both highly customizable options and functionality support. With the help of this platform, you can incorporate advanced features like shopping cart, one-page checkout, product catalog etc., into your e-commerce site.
Difference Between Magento vs WordPress
Let's compare Magento vs WordPress to find the differences between them so that you can choose one for ecommerce website development.
1. Ease of Use
WordPress is mainly known for its a user-friendly interface. It happens to be one of the simplest CMS systems in existence. It provides the users with a hoard of e-commerce plugins that makes it easier for the users to customize create and tweak their online store in order to increase their sales. Since the platform is made user-friendly, it becomes easy for even non-tech savvy people to use it.
On the other hand, Magento is a bit on the complicated side. Unlike WordPress, it doesn't have a simple and easy-to-use user interface. For a newbie or a non-tech savvy person, the platform may seem to be quite difficult to understand in the beginning. You may also face plenty of difficulties in managing your product packages, multiple product categories, and checkout processes etc. there are chances that you may have to hire an e-commerce website development company in order to simplify the development process for you.
2. Security Options
Security is one of the top-most priorities for every e-commerce site. This is mainly because of the fact that huge amounts of transactions are being carried out on the site. When it comes to security, WordPress fails to impress its users. Despite being a popular CMS system, it doesn't have much protection against security threats and hacking attacks. Building your e-commerce site with WordPress can leave it vulnerable.
Magento, on the other hands, is mainly known for its excellent security features. Since the platform is mainly meant for developing e-commerce sites, it is equipped with all the advanced security features that you need. With the help of Magento, you can manage to create a secure online store for your customers.
3. Flexibility
When it comes to flexibility, WordPress seems to take the limelight. It is known to provide a wide range of plugins to its users. With the help of these plugins, you can easily create a full-fledged online store.
As far as Magento is concerned, it too provides you with a number of plugins, but not as many as WordPress. Most of the plugins offered by the platform are e-commerce related and are known to serve various purposes. In comparison to WordPress, Magento has limited flexibility.
Conclusion
After going through the difference between Magento and WordPress, we reached to a conclusion that WordPress is a simple and user-friendly platform, whereas Magento is just the opposite. However, Magento is ahead of WordPress when it comes to security options. But then in terms of flexibility, Best Free WordPress Themes takes the cake. Therefore, it is important for you to choose a CMS platform based on the requirement of your e-commerce site. So, comparing Magento vs WordPress will let you understand the differences and helps you decide the best one to create your ecommerce online store.
FAQ
What is WordPress?
WordPress is a prominent content management system(CMS). You can make use of it for powering your website on your personal hosting plan. You can utilize it to create an online store. Landing page, blog, or forums.
Is Magento same as WordPress?
Both are powerful open-source platforms, but they differ in an extreme way. Magento is built for running online stores, whereas WordPress cannot be able to support ecommerce exceptionally.
Which is the best Magento or WordPress or Shopify?
When you compare Magento vs WordPress vs Shopify, Magento is the best. It is because it offers more security than Shopify and WordPress while creating an ecommerce website.