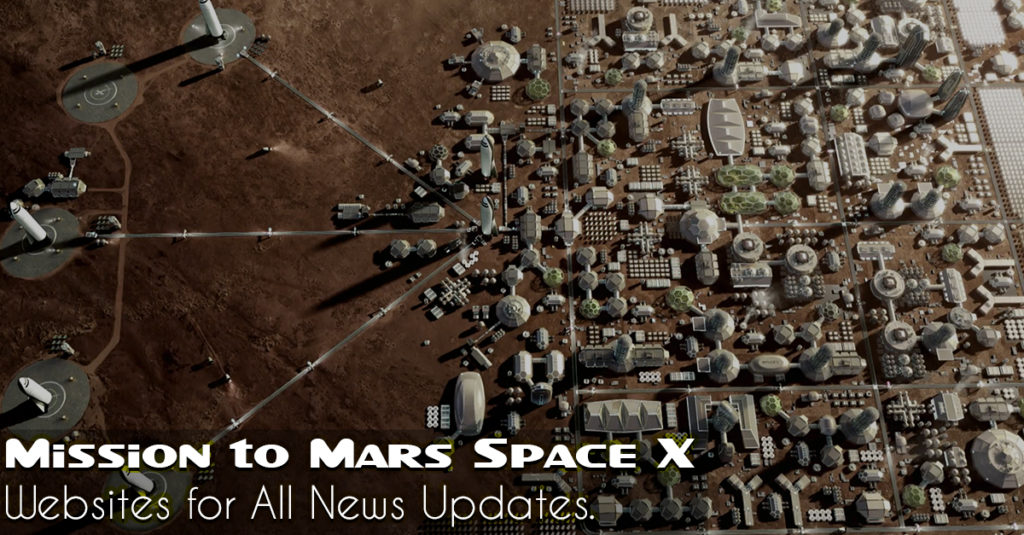 Published June 14,2018 by
Tvisha
Mission to Mars SpaceX: Websites for All News Updates - Elon Musk
One of the most common themes in science fiction is a permanent human habitation on a faraway planet. Elon Musk is trying really hard to transform that fiction into a reality. His company SpaceX aims to send its first cargo Mission to Mars in the year 2022. The objectives for that mission are to identify water resources and potential hazards and to set up initial power, mining, and life support infrastructure. SpaceX also intends to send a second mission with cargos as well as crew by the year 2024. The primary objectives of the second mission would be to build a propellant depot and prepare for future crew flights.
Elon Musk's Mars Colonize Concept
Elon Musk intends to use the spaceships from those initial missions as the beginning of his first Mars base, from where he will try to build a flourishing city and eventually a self-sustaining civilization on Mars. The 2024 mission will comprise four ships, out of which two will carry the space cargo and the other two will carry the first Martian explorers. Once those four ships have successfully landed, there will be regular cargo launches that would maintain a sufficient supply of food and other essentials for those people.
Space X has built an environmental control and life support system for one of its spacecrafts, which keeps its astronauts comfortable and alive. Over the next 50–100 years, approximately 1 million people would be shipped so that a human colony is established on Mars.
Technology and Spaceships Used for the Mission
Musk has designed a Mars vehicle, initially called the "Interplanetary Transport System" but now rechristened to BFR (short for "Big F—ing Rocket), that could be approximately 350 feet tall and can carry space cargo of up to 300 tons. BFR can enter the atmosphere of Mars at a speed of 7.5 kilometers/second and decelerate aerodynamically. It has a heat shield that can withstand multiple entries, but due to the extensive heat on entering Mars, it could experience some ablation of the heat shield.
Traveling from Earth to Mars :
BFR would be the fastest vehicle ever built and could make some of the longest trips in approximately 30 minutes. The secret to that great speed would be the absence of friction and weather in the outer space. For a better understanding of the time taken to travel to Mars, have a look at the following table posted on SpaceX's website.
| Route | Distance | Commerical Line | Time Via BFR |
| --- | --- | --- | --- |
| Los Angeles to New York | 3,983km | 5 hours, 25 min | 25 min |
| Bangkok to Dubai | 4,909km | 6 hours, 25 min | 27 min |
| Tokyo to Singapore | 5,350km | 7 hours, 10 min | 28 min |
| London to New York | 5,555km | 7 hours, 55 min | 29 min |
| New York to Paris | 5,849km | 7 hours, 20 min | 30 min |
| Sydney to Singapore | 6,288km | 8 hours, 20 min | 31 min |
| Los Angeles to London | 8,781km | 10 hours, 30 min | 32 min |
| London to Hong Kong | 9,648km | 11 hours, 50 min | 34 min |
Websites for Latest Updates on Mission Mars and Elon Musk?s Mars Colonize :
Now that we have garnered your interest in the Mission to Mars, you might be hungry for more information. Don't worry we have also shortlisted some great websites that can feed your insatiable hunger for space.
The above information should hopefully quench your thirst at least temporarily when it comes to SpaceX's Mission to Mars and the listed websites can give you your regular doses not only of SpaceX's Mars missions but also of other advancements in the space research and technology domain.