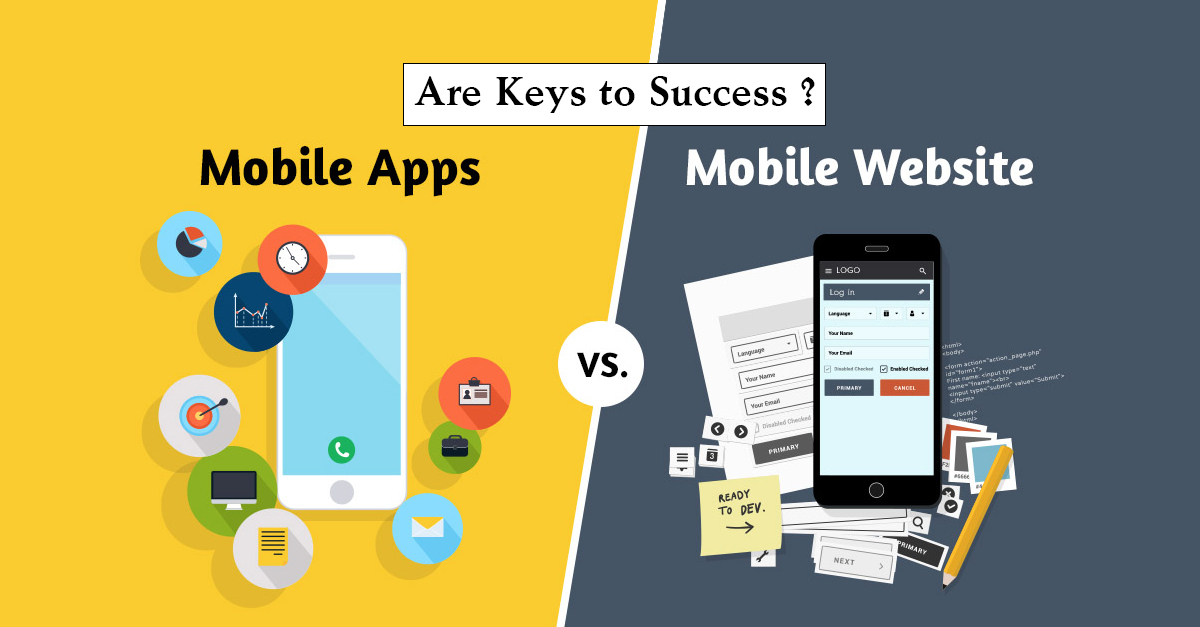 Published July 05,2018 by
Tvisha
Mobile Website and Mobile Apps Are Keys to Success
Devices that influence our day-to-day life in the modern and digitalized world are important for the success of any business. Developing business mobile applications for companies is an effective way to connect with consumers and to share business content. Mobile users employ more than 80% of their mobile time on apps and websites, which are exceptionally popular among users and frame the mannerism of users' interaction around the globe. Have you ever planned to create a website or an app to modify the way your business runs? Well, now is the best time to implement your plan.
Undeniably, this rise in mobile app use has added to the success of mobile applications. App development in India is progressing rapidly, and it has made websites and apps crucial tools for both big companies and startups. The formula is to have the right web development agency or app development agency. With proper planning and an accurate picture of what you want your webpage and app to perform, you can successfully ensure your business right into existence.
Importance of Website and App Development for Business Success
This article will allow you to figure out the importance of a website or an app for a successful business. Keep reading to transform your idea into an effective and prosperous product.
1. Establish Brand Value in Market
Developing a business app and website is a fabulous way to expand your brand and upturn business visibility. Through a website, a company can display its logo, varieties, products, and prominent qualities of its brand. Your brand depends on how it is viewed by people. So, you must present your business accordingly. Your priority should be to actively present your brand and its motto, so that people promptly identify your business by having a look at your mobile app or website.
Furthermore, mobile marketing is rising perpetually and showing some exciting outcomes. Hence, it is impossible for companies to picture a growth in the market if they don't track the modern business tactics. Your mobile application should aim to provide diverse benefits to consumers and to serve as a mode to promote your business. Mobile websites help companies reach and influence new customers.
2. Easily Cater to Customer Demands
People demand a flawless experience that can be provided only through a single platform. Whether your business offers a foreign vacation, an economical flight, or a good hotel, your website and/or mobile application should cater to your customers' necessities and demands, and should provide an array of customized deals for them.
Regular use of your website and app will allow your customers to locate and find the required information with a click or a touch. This will allow your customers to make their purchases directly from your app and website, instead of going to a store. Besides, the experience, user interface, and amenities offered on a single platform will drive customers to make a purchase based on their personalized demands.
A few of your consumers would be interested in receiving personalized offers. They can surf and shop at any time of the day whether they are working, driving, or resting. You must ensure to address their demands and give them a formidable experience for your overall success.
3. Increase Visibility by Linking to Social Media
Assimilate various social features into a mobile application. Studies show that a majority of social website users just log in to see the activity of their friends. Integrate this strategy into your marketing plan and people will possibly appreciate your brand when they communicate with their friends.
Your app and website is not a human and will not witness mood swings and poor health. And, through a firm mobile and website presence, you can ensure presenting a fixed face to your customers. Linking your website to social networking platforms enables your customers to experience, study, and decide on your products and services in an enhanced way.
Embrace services like in-app texting, commenting, liking, and photo-sharing abilities. Similarly, permit signing in to the app via Facebook and Instagram. This method has proven effective in growing consumer engagement, enhancing sales, and promoting monetization.
4. Provide Better Customer Engagement
People want a way to find the company that deals in a particular product or service of their interest. If you are remote, you invite the risk of losing consumers. A mobile app or website hence becomes convenient for better customer engagement. You can provide assistance on your website or app so that customers can raise their queries, complaints, comments, and purchase orders.
Your customer engagement becomes successful when all queries of your customers are resolved. Make the purchasing and booking process as fluent as possible and secure. Consumers feel dejected by prolonged procedures.Your website is the best platform to launch a promotional offer, announce your products and services, or share something stimulating. You can instantly interact with your customers and convey your message to them with the help of your business website or app.
5. Provide Security to Your Customers
If you want to develop a website or update an app, it is essential to keep in mind that the development procedure is not just about maintaining an affirmative user experience. The security of your customers' information and data should be your primary concern. You must ensure the protection of data that is being operated by your website and app. These data should be controlled in a safe manner. You should validate everything that is going on your mobile website for enhanced security.
The ability to disable and control a security breach against your website in a proper and precise way helps you in authenticating prevailing security diagnostics. This allows you to identify threats and safeguards your payments and booking transactions. You can protect any confidential customer data on your app and website with a password. Safeguarding your customers' information is the key to your company's success.
A well-crafted business app or website will assist your business in standing out from the struggle. To establish your stronghold in this era of competitive business and marketing, you must make your goods and services easily accessible to your consumers. Creating a personalized app is a proper measure to ignore market competition. A well-designed website features your business's personality and identity. Companies are working exceptionally hard to excel and emerge victoriously. They are investing in both web development agencies and app development agencies. An impressive website and a compelling mobile application also attract new customers. Therefore, a website or an app is a must for your business's success and its effective engagement in the market.