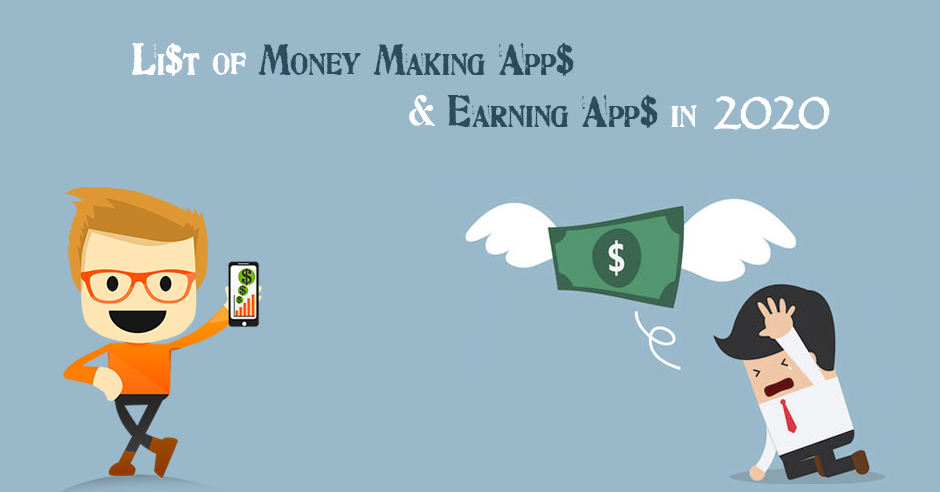 Published March 01,2020 by
Peter Aiken
Money Making Apps and Money Earning Apps in 2020
We all use smartphones these days for almost every need through apps. Isn't it cool if you can make extra income using them? Well, the answer is yes you can by installing money making apps. In this post check the list of money earning apps in 2018.
Best Money Making Apps
1. Ibotta
This app allows you to earn cash back when you shop online. You can submit the receipt or link your loyalty account by downloading iOS or Android device. You can sign up for ibotta for which you simply need name and email address. Browse the offers for cash back and grab them. For instance, you can get 5% cash back on Best Buy Purchase, 20 % cash back on an appetizer from your favourite restaurant, etc. Isn't it cool? Before shopping, head to ibotta and unlock the cash rewards completing simple tasks. After shopping scan the barcode and send the image of your receipt and verify it. Remember when using the loyalty card, scan the card and enter the phone number to get the cash back. When you reach the earnings to 20$ you can request the payment via PayPal.
2. iPoll
It is one of the apps that make you money for completing the surveys. In addition to cash, you can also earn gift card or airline miles. Download the app and sign up for iPoll account, you have to add some specific information about yourself. This will qualify you for certain surveys where you can make up to 30$. For the lucrative offers, you have to turn on the location feature and you will be qualified for the maximum number of surveys. For instance, grocery poll may pay you 10$ but it will require the photo from the place of the supermarket store. The app sends notifications when you happen to be near the participating survey. This will help you to participate while shopping and earning extra income by completing the survey. Getting the desired skills through free online courses with certificates is really helpful.
3. ShopTracker
This is one of the leading money making apps in India through which you can earn by sharing your purchase history. They will pay you every month you share. When you sign up for ShopTracker, it will keep all the information private except for the order information, order date, product title, ISBN number, release date, quantity, seller, and other details. Remember you must shop on Amazon in order to earn money through this app. You must be 18 and above and live in the US. It takes two minutes to download this app on your Windows or Apple or Android. Take some time to share your purchase history to earn 3$ each month. Your information is collected securely through The Harris Poll which removes your name, shipping address and any personal information before reporting the history of your purchase.
4. Decluttr
If you have old DVDs or CDs or other electronic items which are currently having no utility to you then you can make money from them through Decluttr. It buys your old CDs, DVDs, video games, game consoles, iPods, etc plus you get an extra 5$ while checking out. You simply need to scan the barcode with your Phone and Decluttr provides an offer with them. Price may vary from 3$ to 50$ per item and you can upload 50$ to 100$ a week. The best thing – shipping is absolutely free. Company emails you the labels. You just have to print the labels, pack in the box and ship them. Decluttr accepts all items with 97% acceptance rate and works on a strategy to say yes when going through your electronic items.
This is the best apps that helps you earn money through passive income. It is one of the companies which pays you for installing the app on your smartphone or computer for installing and keeping them installed. You also get to play the game and win great prizes including iPads and Samsung TVs. Most people have won the 25$ Amazon gift card. The main aim of this app is to collect the data and see at what time people are browsing, the time they spent on the website and apps, the popularity of the apps and other information related to the behaviour of the audience on the mobile devices. Try installing this app on your smartphone or iPhone and start earning money.
Wrapping it up!
These are some of the money-making apps which will boost your passive income. So, what you're waiting? Download them today and start earning money from them.