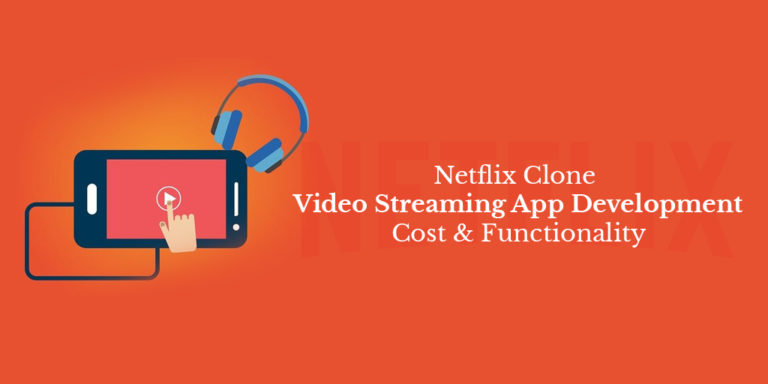 Published October 15,2022 by
Tvisha Technologies
Netflix Clone - Video Streaming App Cost and Functionality
Ever since the internet became a household phenomenon, people have increasingly moved toward the digital media. An increasing number of users all over the world are using more and more digital products with each passing day. This transition from traditional media to a digital one has opened up a new market, one that is based on mobile devices and already has millions of users ready to be tapped up. Here, we will be discussing the Netflix Clone Video Streaming App Development process thereby assisting, how you can successfully implement an app like Netflix clone website on your own.
What is Netflix Clone?
Netflix clone is an on-demand video streaming app solution that lets you launch your own demanding OTT platform like Netflix. It broadcasts TV shows with different genres like thriller, drama, comedy, action etc, and movies over the internet to new locations with various users.
Planning Stage of Netflix Clone App
Before you delve into the Netflix clone app development stage, stop for a second and think about a few points.
Do you have a strong business model to make this venture of yours work?

Do you have a high-quality content ready for your Netflix clone website? Content is the most important component of your system, or let us just say, it is the backbone of your venture here. The product you will be selling is not your app, it is the content, and if your content is of questionable quality or if it deviates from the preferences of your target/existing consumers, no amount of slick App Development can save your business.

Do you know your targeted users? This is one of the most important bullet points to think over while in your planning stage. Knowing your targeted users not only allows you to curate your content, but also guides your design and color schemes during the mobile app development stage.
Mobile App Development and Functionality
Now that you have answered these questions, without further ado, let's move on to the mobile app development stage. This is where your real work starts. Your targets, as well as competitors, are video-on-demand giants like Netflix, Hulu, and Amazon Prime. So, what are the features that you must have in your app to entice users into your ecosystem?
Essential Functionalities of a Netflix like Mobile App
Here, let us take a look at some essential functionalities of a Netflix like mobile app. These features are a must for your video-on-demand app, features that are commonplace in market leaders, like Netflix.
1. User Registration
This is the most basic feature for a Netflix-like mobile app. Your users should be able to register themselves on your site with basic details and then later log in using their credentials.
2. User Profile
In the best Netflix clone app, Your users should be able to set up their profile by adding inputs and filters like genres, directors, etc.
3. Payment Gateway
This feature is a must if you are planning on receiving payments from your customers. Having a payment gateway ensures that users can pay you securely when they wish to purchase.
4. Content Search
Content search is a very common feature in almost every app out there, regardless of its category. It is a must-have feature in a Netflix clone app, for the convenience of your users.
5. Comments, Reviews, and Ratings
In this age of social media, having a comment feature is a bonus. People can provide their feedback, give their reviews, and rate your content accordingly.
6. Push Notifications
This feature in one of your Netflix clone apps lets you inform your users via a single message through your own apps. You can send them a push notification whenever there is an update available or when your user's subscription is due to end.
7. Playlist Curation
You may provide your users the freedom to make a content list according to their personal preferences so that they can watch them anytime later or share them with others using social media.
8. Settings
Settings will help your users to customize Netflix clone free app according to their preferences. Some important features that you can add in the settings are video quality, audio quality, subtitles, etc.
9. Multiple Device Support
This is a very important aspect of your app. You should not limit your Netflix-like mobile app to just one single platform. Your video-on-demand service should, at the very least, support all the three major OS players available at present: Android, iOS, and Windows.
10. Multiple Language Support
Having multiple language support will help you diversify and reach out to a greater demographic, thus helping you expand beyond the geographical boundaries your app is based out of.
11. Screen Mirroring
Screen mirroring will help your users liberate themselves from the constraints heaped on them due to smaller mobile devices and allow them to view your Netflix clone app on various other devices like television and laptops.
Now that you have an outline of your Netflix Clone Video Streaming App Development ready, let us take a look at how much strain will it put on your budget.
How Much Does It Cost to Develop a Mobile App:
The estimation for mobile app development cost depends primarily on two factors:
The first factor to consider is the geographical location where your mobile app development is based out of. While the hourly rate charged in developing countries like India range from $25 per hour to $80 per hour, app development in developed nations like the USA and UK will probably leave you short by $80 to $200 per hour.

The number of platforms for which the app like the Netflix clone is being developed should also be considered while undergoing the app development process. The charges will increase as you include more and more platforms, something you must do despite a sharp initial investment if you want a good return. The most popular platforms to consider are Android, iOS, and websites.
Cost of Netflix-Like Mobile App Development:
The overall cost for your Netflix clone mobile app will depend on the two above-mentioned factors and the number of features you are going to include in your video-on-demand service. A full feature-rich Android or iOS app for your business might end up burning a $30000 hole in your budget, while for both Android and iOS, the budget estimate should go up to $70000. If you want a web platform to go along with these two, be ready to pitch in with $30000 more.
Conclusion
There is a great demand for video streaming applications, on which you can see TV shows and movies with HD quality. One such type of app is Netflix. You can create a video streaming app like Netflix with a better catalog, and UI is possible with the Netflix clone. Understanding the cost of developing this type of app requires the proper budget, and nevertheless, the latest version of Netflix clone APK is in high demand. To determine the price and functionality of the app, you have to consider factors like the number of platforms, features, and geographical locations.