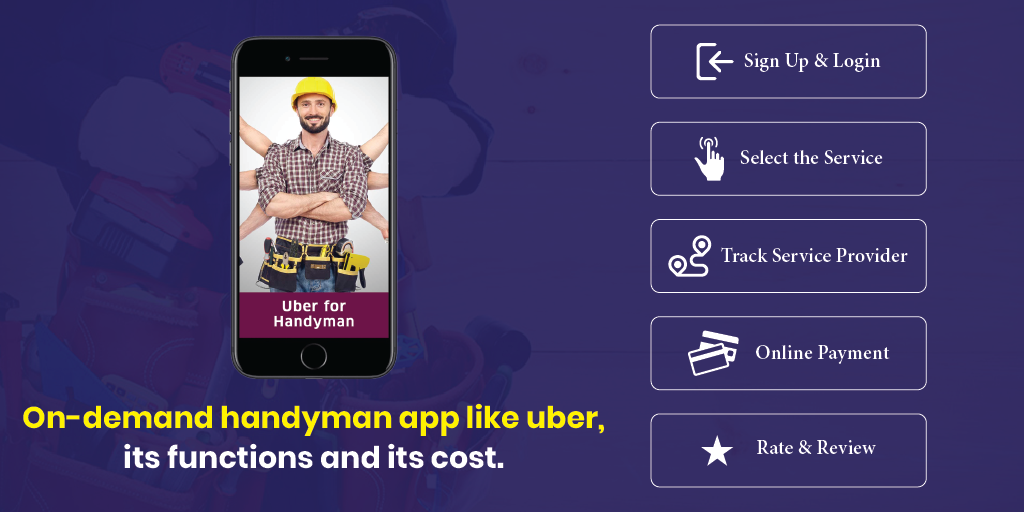 Published November 12,2018 by
Jamie Campbell
On Demand Apps Like Taskrabbit : Let's Get More Work Done In Less Time
To ensure that our social commitments are maintained while keeping up with our professional deadlines there are a lot of occasions when we find it difficult to take out time for home improvement or regular domestic tasks. Here is where a requirement for On Demand Apps Like Taskrabbit to offer a handy service to user to maintain a household chores effectively .Today On Demand app services have entered in every sphere of our daily functioning. We rely on such app for cab bookings, travel bookings, food delivery and the list is never ending. A research conducted by Harvard Business Review shows that. $35.5 billion are being spend by USA consumers on-demand economy*.This figures are evidence how the on- demand app market is expanding.
Hence looking into this situation most app development companies are working on – on demand app development. Specific apps are being developed by app developers that addresses a client's need for completing his household chores like furniture assembling, moving and packing, grocery shopping or even getting a general handyman. Apps like Taskrabbit helps in easing a person's everyday requirements pertaining such household requirements bundled in a mobile application that not only makes getting such services handy but also quick and by an experienced verified service provider.
Taskrabbit app developers ensure that the app helps its clients to find the best service provider for task. Apps like Taskrabbit provide a platform that address the task same-day .It instantly connects with skilled service providers to assist with domestic jobs and errands, so that one can be more productive and make time for his other commitments.
On Demand app development which provides enormous service assistance has gained a lot momentum due to the growing needs of the urban households. Apps like Taskrabbit gives their customers services such as:
Features of On Demand Apps Like Taskrabbit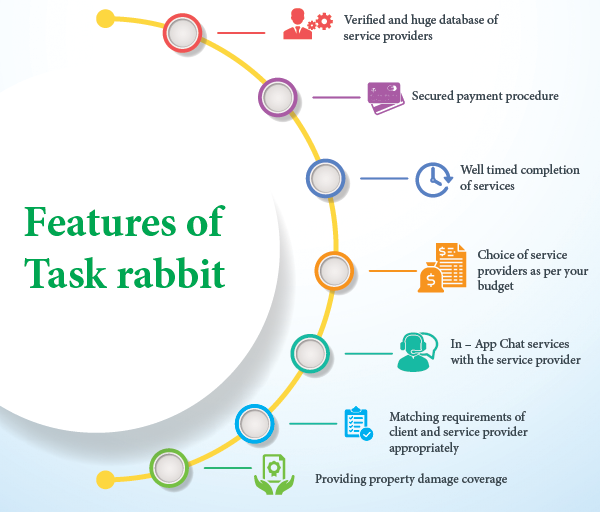 Verified and huge database of service providers
Secured payment procedure
Well timed completion of services
Choice of service providers as per your budget
In – App Chat services with the service provider
Matching requirements of client and service provider appropriately
Providing property damage coverage
On Demand Apps Like Taskrabbit assists clients in getting the best possible service providers or technicians for the required task in a most convenient and affordable way. It safeguards the interests of both the client as well as the service provider making sure that both their budgets and fees are matched. One can put in a range in which he wants to book his service provider and his requirements to which will match the appropriate technician. Taskrabbit app developers have designed their app in such a way that it promptly matches and enlists all the details of the service provider making it a transparent transaction.
Also providing property damage coverage by On Demand Apps Like Taskrabbit gives the clients a peace of mind. It gives them the security that in case any mishap happens which is unlikely the company is ready to take the responsibility. It not only provides a peace of mind but also increases the company's credibility. Clients are ensured that their task would be completed and they bear the minimum risk which makes the whole process very smooth and peaceful.
With such wonderful features that On Demand apps are providing it undoubtedly has become a compulsory app in all smartphones. One app that make our daily a lot hassle free and provide a lot ease.