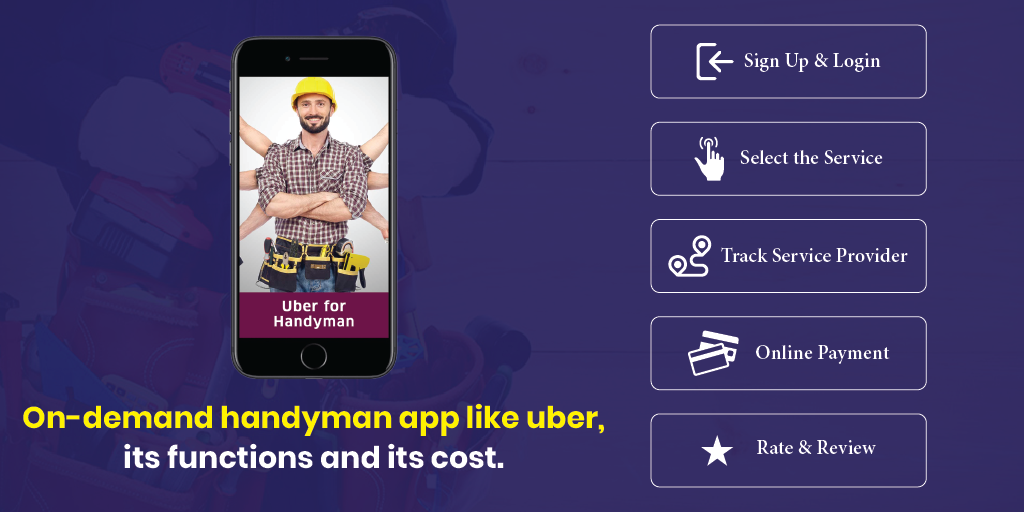 Published August 18,2022 by
Tvisha Technologies
On-Demand Handyman App like Uber - its Functions and its Cost
Calling for a handyman to do trivial jobs have always been a headache. Many a time, they don't show up on the designated time, or they just don't carry out their jobs in the stipulated time frame or quite lax in their approach.
Calling a handyman simply means that you will have to take some time out of your busy schedule and also, be ready to postpone some other work just due to gross incompetence or ignorance of the service providers. While the above claims may not be true on every count, it is the story pretty much revolve everywhere around the world.
However, all this has changed for the better since the advent of the internet and mobile applications. As more and more businesses started going online, the handyman business followed the suit too. The thing about the internet is that it is quite transparent and easily accessible for everybody in this world, both globally and locally. Thus, any form of lazy service can stand out in forms of comments and reviews.
This has helped weed out the bad apples in the industry and has made handymen a lot more dedicated to their jobs. The mobile technology too has gone a long way in making these services a lot more accessible. These apps have simplified the job of acquiring services of the handymen as well as their overall service standards. A lot of people are currently using such apps for their jobs and are happier than ever.
Which App is Best for Handyman?
There is a great on-demand for handyman app services nowadays. Although there are various handyman apps, the porch is one of the best handyman apps to make money. It is a handyman mobile app that deals with household repairs and home services. Even handyman can provide their services through this app. Customers can easily access services like home repair, application installation, electrical works, moving, security installation etc.
What Are Some Handymen Apps?
There are many handyman apps available to hire handyman services. Some of the best apps are :
Task rabbit - It is the best handyman app for self - employed.
jobFLEX - It is the invoicing app for a handyman business. You can even use the invoice template to generate the invoice for the business
Angie's List - It is a great app to market your handyman business.
Still, there are many handyman apps like Handy Pro, Urban Company, Thumbtack, Angi etc, which offer amazing handyman services.
It is why On-demand handymen services are certainly the future and if you want to be a part of this business, better late than never, you should jump right into it.
How These Handyman App like Uber Work
You must be wondering how is it exactly that these handyman app like uber work. Let us demonstrate it to you in a step by step manner:
Step I (Consumer Asks for a Service)
The consumer can ask for any kind of service specified on the app, be it handymen, electricians, plumbers etc. The users are then provided with a list of providers who have been rated and priced according to their experience and customer satisfaction index. Once, you have pinpointed towards a particular service provider, you will have to wait for affirmation from their side of the business.
Step II (Job)
Once the provider has accepted your job, he arrives at the location specified with all the tools and supplies required for the job. Once he is ready to start the job, he starts the time on the app. The rate is hourly and depends on the provider's experience, their availability, and the distance covered to reach the location.
Step III (Concluding the Job)
Once the provider has completed the job, he can stop the timer and generate the final bill which is then shared with the customer, on the app in what is a very easy and transparent process. If any external tools are required, they can also a part of the job; I.e., the provider can add these items to the bill too.
So, these were the processes involved on the client side of your business. As you can see, the app like handyman clone simplifies the process of hiring people to do your job for you manifolds. If you aren't convinced yet, let me point out to you the merits of a handyman app like Uber:
The ease with which you can hire handymen is unprecedented. The app provides its users with real-time jobs and providers rather than some links which need to be worked on further. This certainly saves a lot of time and unwarranted efforts.
The providers too have the convenience of taking a job according to their schedule. There is no haggling or unnecessary conversations involved. Secondly, they can receive their payments in due time either by means of an online transaction or through the normal cash / card method.
Another benefit for the providers is that this arrangement allows them to grow their businesses outside their local loyal client base without much efforts and advertisements.
Apps like handyman come equipped with proper security features for both, the customers and the providers. There is an emergency button on the application in case of a threat to either of the parties. Both can be constantly monitored using location-based services to mitigate any chances of a mishap.
As you can see, it is quite obvious that if you want to jump into this business, now is the time to do so. Ahandyman app having a handyman app script like uber can change the fortunes of your company. The global online presence will help you grow out of your geographical bounds. Here is a general outline of features that your app should have:
Choices:
The users should be provided with a plethora of options sorted out on the basis of location (the closer, the better) and provider's ratings so that your customers get a quick and the best service possible.
Payments:
Your app should have a payment portal compliant with all the industry standard safety and stability features. You may even create your own wallet if you wish to, but you should have the option of having one or more third party wallets among your prescribed payment methods, keeping end users in mind.
Booking:
Your users should be able to book the service of a provider they deem good enough for their job. These bookings should be effective immediately and be communicated to both the concerned parties. Apart from that if the user wishes to schedule the job for a later time, such flexibility should be permitted too and any such arrangements should also be communicated to all concerned parties for a smooth work experience.
Security:
Your handyman app like uber and its operation is based on trust. However, once in a while there may arise certain situations where security of one of the parties concerned is under any obstacle. In such cases, your app should incorporate emergency functionalities and its inclusion in the design should be pretty obvious. Apart from that, location services based tracking and monitoring system can go a long way to establish a sense of trust among your user base.
Stability:
Stability of an app is not a functional requirement, but more or less an unspoken rule. A stable app is more likely to endear its user than an app that is susceptible to crashing quite often. Crashes annoy users and, in this era, where the competition is quite extreme, you certainly would not want to take any such risks.
Your mobile app like handyman can be expensive to build. It should not come as a surprise for you, considering app development as a process is quite intensive and similarly expensive.
However, the final cost of your project can fluctuate depending upon various parameters. One such parameter is the location of your development team. Indian and south Asian developers can charge somewhere around $10k to $15k for the same amount of work that American and European developers charge $25k to $30k.
Also, the amount of features you wish to include in your app is also going to affect the final bill. So, now that you have knowledge on how to work things around, we wish you all the best in your venture.