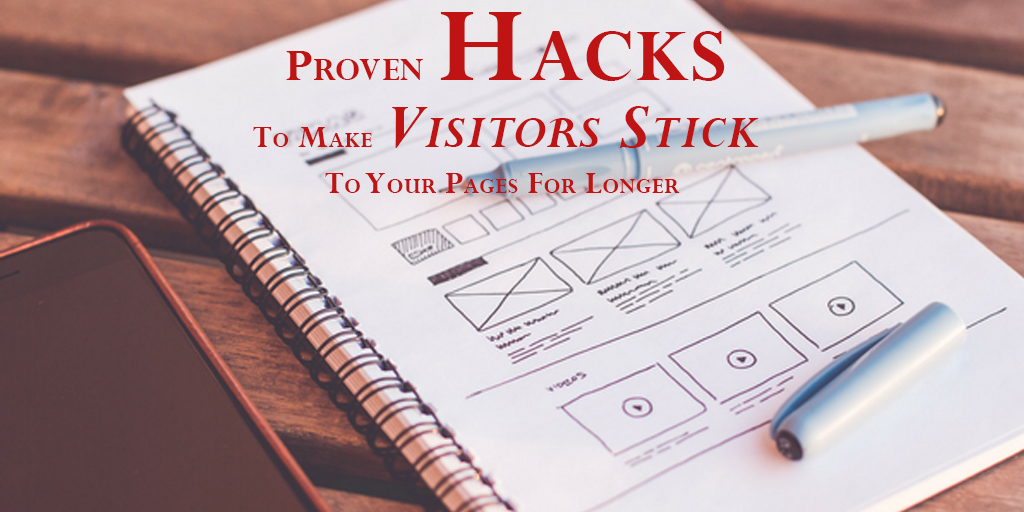 Published June 29,2017 by
Tvisha
Proven Hacks To Make Visitors Stick To Your Pages For Longer
Technology has shrunk our world and has made it a bit that can fit into palms. There has been a seismic shift in the shopping trends of customers. Customers prefer to shop being at the comfort zone without leaving homely convenience. In this digital world, whether you are a grocer, book-seller, service provider, own a coaching institute or sell apparels, one of the major problems in today's marketing arena is reaching out to super busy customers. The answer to this problem is online platforms through which you can list your products with an extremely competitive price range to attract as many home shoppers as possible.
Websites have become the lifeline of any successful business strategy. As Jay Conrad Levinson said, "Your website is the window of your business. Keep it fresh, keep it exciting." The web designing and development companies come to one's rescue to establish a strong online presence.
The web design services can help you develop the online face of the company and increase the traffic on your website. But the major important aspect of online presence is to have customer engagement. This relationship with the customers will help you convert the window shoppers into potential customers.
Effective Tips to Drive Customer Engagement and Maximize ROI
Here are few tips you could use to keep the customers engaged and increase your ROI:
1. Impress The Viewer
"Dress how you want to be addressed." While designing your website, keep it simple providing hassle free navigation. Always think from the customer's perspective. Do not bombard the client with too much information. Try and keep a tutorial as pithy as possible with a lot of attractive features on the following screens that would lure the customer to your products or services.
2. Be Mobile-Friendly
There has been a tectonic shift in the shopping habits and preferences of the customers. They are always on the go and want apps or websites which are easy to use on their mobile phones or tablets. Thus, it is important that your website is compatible with all the devices. So ask your web development company to change the standard website to a responsive website. The responsive website recognizes the device being used and resizes itself for optimal viewing.
3. Call to Action
The best way to engage the customer is to have a "call to action"link on every page of the website. They can be "Try now", "Subscribe for updates" or "click here". This simple hack can improve your conversion rates like never before.
4. Welcome The Users
Greet the customers with a welcome message. This significant gesture will make the customer feel welcomed and has a huge potential to initiate the conversation. The customer feels valued and wants to try or purchase the product or services. A welcome note is a stepping stone to a loyal customer base.
5. Track The Customer Behaviour
Customers are the sole reason that your business exists. Do not take them for granted. Keep constant track of the customer behaviour and monitor their feedbacks. Update your app regularly to meet the market requirements as users tend to stay loyal to a well-maintained and updated website or app.
6. Get Your Customers Experience
The best way to market your products and services is through word of mouth. Let your customers share their experience with your organization. Create a community, where the existing customers can vouch for your credibility through their opinions and thoughts. This customer engagement technique will increase not only the brand loyalty but also customer base. Also, keep in place a robust mechanism to address their grievances to avoid negative publicity.
7. Include Blogs
Customer wants to be satisfied before investing into any new product. They depend on search engines to get answers to their queries. Usually, these search engines have a link to a website that sells a similar product. To mitigate this risk of losing the potential customer, include informative blogs on your website. Link these blogs to the corresponding product or service so that the queries are killed then and there.
Customers have a fleeting attention span. Make your website creative, informative and attractive to increase the traffic. Use the above-mentioned customer engagement strategies to convert these walk-ins into probable patrons. Don't forget, "A bad website is like a flat tyre. You can't go anywhere until you change it."