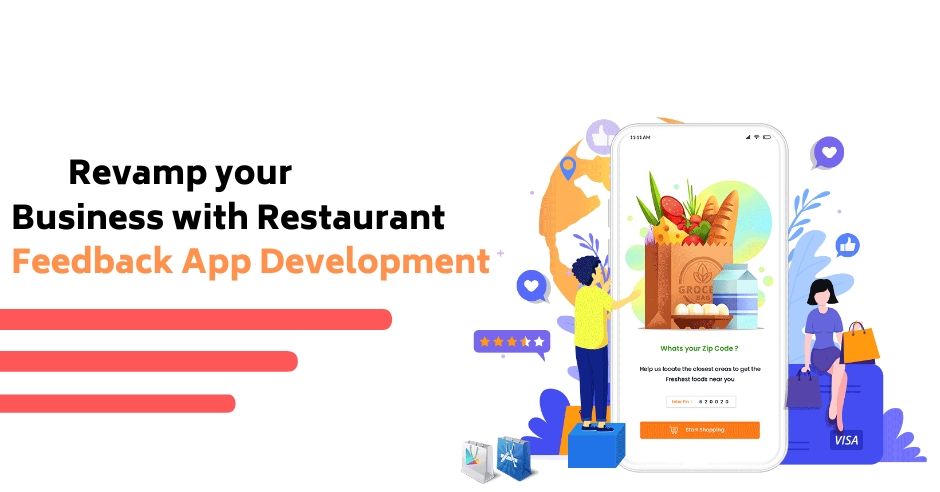 Published November 13,2019 by
Tvisha-Technologies
Revamp your Business with Restaurant Feedback App Development
Customer feedback furnishes accurate insights for a business than a businessman's analysis based on the statistics. Developing a mobile app for customer feedback alone!. It may sound strange. However, it is crucial for making a restaurant a business giant. Let your restaurant facilities, delicious food, and services get feedback from your customers. Listen to what customers so that they can help you in rectifying the issues if any. Mobile app development lets you revamp your business to a top-notch. In this competitive business world, to stand out among the crowd, you need to update yourself with new technology and marketing methods. If you make your adopted technology and marketing methods go hand-in-hand, then only your business will go hand-in-hand with ROI.
Here is the article that helps to regain lost customers, retain existing customers, and attract new customers with customer feedback app.
Let's get into the details.
Is Customer Feedback Essential?
Yes, here are the valid reasons that urge you to make an app for your hotel/restaurant, online food delivery, food catering, or any kind of business.
1. It Improves Brand Credibility
These are the days where having a mobile app is considered as a merit. In this scenario, having an app for listening to customers is a great idea!. It sparks an interest in customers on your business. Thus, improves the brand of a business.
2. It Helps in Giving Insights
You are not a customer's mind reader. You can't hear them without speaking to you. The feedback from all the customers helps in knowing
The perspective of the customers and what they want
The menu ideas
What attracts the customers most
Your staff's behavior and service quality
Thus, with the Restaurant Management Software, restaurants get insights into the business.
3. Businesses Can Manage Online Reputation
The feedback helps in managing online reputation for business by alerting on complaints and negative feedback. If businesses respond actively to those negative reviews, then they will solve the issue and can create a positive impact.
4. It Helps in Customer Engagement
It enables customer engagement in your business. The alerts from the app to their inboxes in the form of messages and push notifications help in hanging out with your restaurant and in getting repeated footfalls.
5. It Improves the Business
With this app, you will get all the reports and analytics related to staff behavior, food quality, availed services, ambiance, and hygiene level, etc. It helps owners in improving in the areas where there is a lack of customer satisfaction.
6. It is a New Marketing Strategy
This app acts as a new marketing strategy as their feedback acts as word-of-mouth for your business.
7. It is a Revenue Generator
The customer satisfaction which comes with this feedback app development is the prime mover in generating revenue and profits for a restaurant business.
How does it works?
The feedback app is integrated with a restaurant POS system. The customers will provide feedback via feedback button in the mobile app on several things such as freshness of food, quality, quantity, the taste of the food, staff, services, fares, billing system, surroundings, interiors, management, etc. It helps in conducting customer satisfaction surveys across all platforms such as Android, iOS, iPhone, windows. The survey consists of some simple questions related to the aforementioned things.
Thus, the customer feedback app help, improve and promote businesses.
Let us consider an app that was built for having customer feedback named "FEEDBUCK".
Feedbuck – a real-time customer feedback app:
It is a customer feedback mobile app that has been taking the businesses to the next level by taking the advice from all the customers. This real-time application can be used in all the verticals of industries apart from restaurants such as retail, banking, hospitality, events, showroom, etc. It helps in knowing what a customer wants exactly related to your product or service.
Features of Restaurant Feedback App Development
1. Tablet-Based Feedback Management
Customers can provide feedback by answering some questions related to the restaurant, food, and service after availing of the service on the spot on the tablet in which the Feedbuck app was integrated.
2. Complaint Management
Restaurant owners can get a message alert when a customer raises a complaint so that they can rectify it as soon as possible.
3. Sync Securely
All the feedbacks are synced securely in real-time.
4. Analytics
It is a vital feature where the restaurant owners are provided with all the business reports and analytics.
5. Membership Management
This feature act as a marketing strategy where regular customers are rewarded with coupons, discounts, rewards, etc. to retain them.
6. Customized Surveys
Customers can answer all the questions that are provided by the owner. Apart from providing the feedback, they can also upload a selfie of them in the app to complete the survey. They can customize the themes, templates, polls, and surveys too.
7. Instant Alerts
Customers can be notified with instant alerts about new recipes and any updates.
Conclusion
To sum up, incorporate the customer feedback system for your restaurant with mobile app development. Design your customer feedback app and see how it works out in bringing your businesses back. You can also collaborate with the existing mobile app Feedbuck for further help and assistance.