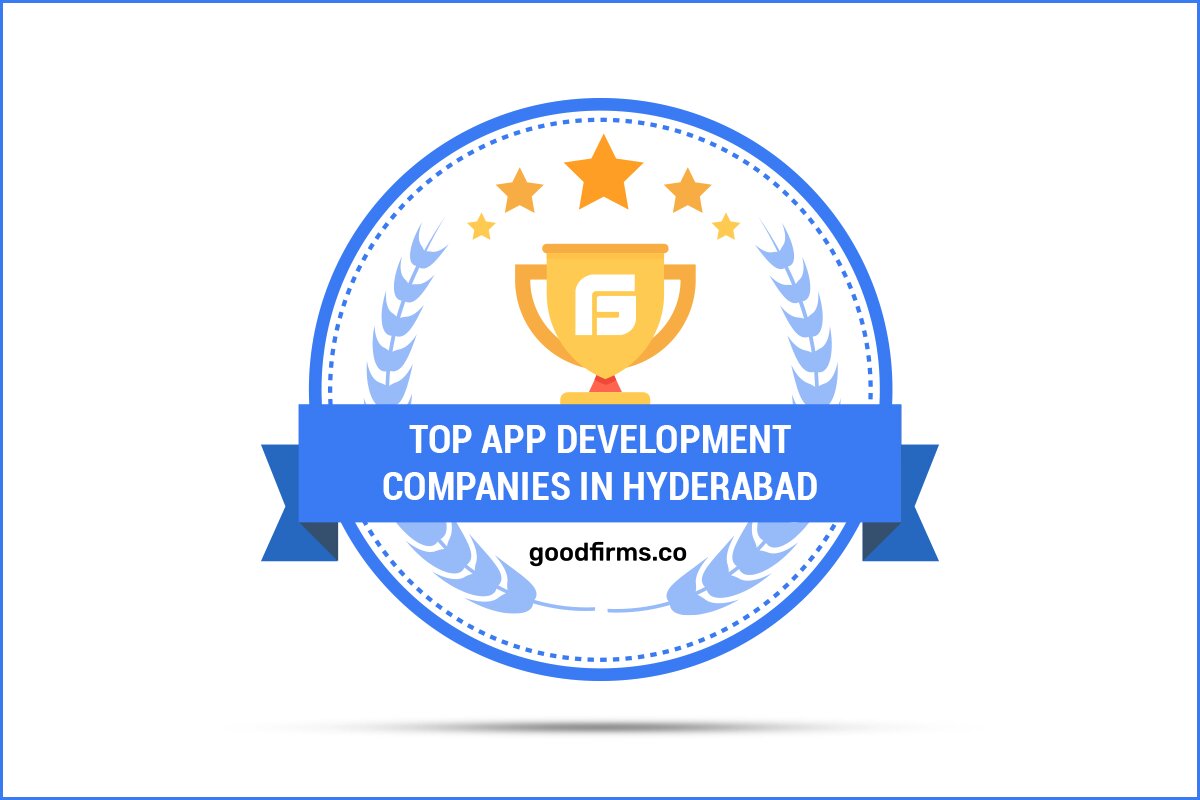 Published March 12,2019 by
Davu-Siva
Tvisha Technologies Named Among the Top 5 Mobile App Development Companies in Hyderabad by GoodFirms
Tvisha Technologies wins a prestigious position at GoodFirms and shines among the top app development companies of Hyderabad.
GoodFirms is a leading B2B research and review platform, which pioneers in executing scrupulous research to feature the top companies.
About Tvisha Technologies
Tvisha Technologies is an IT company that offers industry-leading solutions. The firm started its journey in 2002, and since its inception, Tvisha has continuously been growing, and today it has earned a leading name in the app development industry. The prime reason for such enormous achievement is its innovative solutions, apt product-quality, technological strength, and adaptive approach.
Tvisha has a team of experts who are adroit in offering services like mobile app development, web development & designs, software development, and eCommerce development. The firm has gained tremendous experience in serving all size of companies belonging from varied industries like IT, eCommerce, Banking, Education, Infrastructure, and the Transportation sector.
Not only this, but Tvisha holds a sturdy knack in serving numerous clients from various industries and having customized service requirements.
GoodFirms Research Process
GoodFirms executed detailed research wherein the researchers minutely evaluated the services of Tvisha Technologies. This research process involves three pre-defined set of parameters – Quality, Reliability, and Ability. The highly experienced research team at GoodFirms assessed the service performance of Tvisha by using the research attributes mentioned above. Below is the detailed performance of Tvisha Technologies and their ranking categories.
Performance of Tvisha Technologies
Mobile App Development
The agency believes in offering quality-rich applications by following effective practices. The app solutions, which Tvisha develops always, come with unique attributes and value-added features.
The developers at the firm are experts in developing apps for all sorts of platforms including Android, iPhone, iPad, as well as Windows. Various startups, mid-size, and large enterprises count on Tvisha for incorporating new app development ideas, and the crew leaves no stone unturned to content the clients.
Various clients have shared reviews for Tvisha Technologies at GoodFirms, wherein they mention about the agency's app development services.
Client Review Snippet at GoodFirms
After minutely analyzing the services of Tvisha Technologies, the researchers at GoodFirms recognize them among the top companies for mobile app development in India.
Tvisha Technologies' Mobile App Development Scorecard at GoodFirms

E-commerce Development
The clients' demands are continually changing with the growing popularity of e-commerce and online retail websites. The team at Tvisha affirms the facts, and thus, develops brilliant and eye-catchy websites for various eCommerce platforms. These sites illustrate the persuasive skills of eCommerce developers at the firm as it has all the features, which the clients seek.
For developing user-friendly eCommerce sites, the developers at Tvisha use Magento. The team works on including effective catalog-management tools and ensures the websites is SEO friendly.
Such enormous eCommerce tactics and industry-expertise makes Tvisha a leading company, thus, it thrives among the top eCommerce development companies in New Jersey at GoodFirms.
Below is the detailed scorecard for the firm's eCommerce development services
Tvisha Technologies eCommerce Development Scorecard at GoodFirms
Web Designing
Tvisha Technologies has a team of designers who are creative, tech-savvy, and highly proficient in designing exciting websites. The firm's designers are well versed with the fact that websites are the direct representation of every client's businesses. Thus, they come up with designs, which are interactive and responsive.
Every website designed by the group attracts visitors and pin them on the site for long session durations. In addition, these sites have multiple interfaces that enhance the capabilities of the sites. Not only this, the team at Tvisha amazingly inserts all the client specifications in the website and makes it a great package that hit the right target audience.
A Raving Client Review for Tvisha Technologies at GoodFirms
By continuously delivering ecstatic websites and satisfying clients with scalable designs, the team at Tvisha gets recognition among the best web designers in Hyderabad at GoodFirms.
About GoodFirms
Washington, D.C. based GoodFirms is a maverick B2B research and reviews firm that aligns its efforts in finding the top App development and eCommerce development companies delivering unparalleled SEO, Advertising and PPC services to its clients. GoodFirms' extensive research process ranks the companies, boosts their online reputation and helps service seekers pick the right technology partner that meets their business needs.